Thanks mate

Sure hope I can get some paint on before our (now post Covid world, re-instated) European vacation
At least you are probably warmer down there than we are in Brizzy…



When my wife and I renovated, we insulated, fitted hydronic heating (radiators) and double glazed windows, so I've no doubt about that
As for the rest of Melbourne, going by other houses I've lived in down here, who knows?

Max of 12 in Brizzy Today…Yikes
Ooo! Melbourne temps
Hi folks,
just a quick update to let you know that I'm back on the tools and things are ticking over…
After finishing the prep to get the deck houses/masts ready for paint, I decided that in the time I have left before going on vacation, it would be best to prep as many of the small details as possible, so that I can make the most the time spent painting as efficient as possible…
That said, I started with the deck supports I've circled here…

A close up shows how fine they are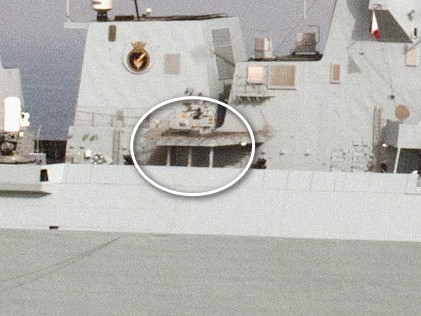 Here's Airfix's efforts
Well, these won't do, so I decided to thin them down as best as I could
Here comes the forest of bits on sticks, deck fittings ready for painting

I hope to have one more update for you before we fly out
Oh yes, mate. We're off to the Czech Republic on long overdue vacation to visit my wife's family


Have fun Mate…Cheers Mark
@surfsup Thanks mate

I think I can squeeze a bit more bench time in before we head off…
Onto the bridge… Ah, to say that things got interesting around now is, well, kind of an understatement…
The instructions don't factor in how anyone could paint it at all and do it justice. Instead you're just expected to sling it all together and hope for the best…
Some of the mouldings… sheesh!

Onto the solution…

next up, more filling and sanding…
Good to see some progress Russ,
I remember the Bridge when I build Dragon.
I would like to see Airfix put the same attention to engineering and design the do in some of the recent aircraft into their ships.
Keep up the good work
Cheers, Si
Hi Si, thank you for your kind words mate
I couldn't agree more: Airfix have a great team of designers and some of their recent A/C kits have been really good. If they were to dip their toe in the salty side again (HMS QE/POW and Type 26, in 1/350,please, if you're reading this Mr Airfix
) then I hope that they take the time to study the way the competition design their kits, then they could really hit a home run with them…
The missing part of the whole Airfix equation IMHO, is that their quality is lacking. If they could mold their kits on par with what's coming out of Central Europe, I think they'd receive far fewer complaints to the spare parts department and a far better public image among the model making community…
Meanwhile, I've got just enough time to post one more update, so watch this space

Beam me up, Scotty!

Speaking of Enterprise, that darn 1/350 kit from Merit/ILove of CV-6 is still staring at me from my LHS's website… argh!

Ooohh that will be fun. Will be interesting to see how you get around it…Cheers Mark
Hey mate,
great work, the glacier is moving, and its again moving steadily (what I can't jet say about mine…)
Glad to see you back on Dauntless, and you are doing a fine job battling the oddities of that kit - in the end, she will turn out great!
Looking forward to your update, and then enjoy your vacations!
Cheers
Jan
@surfsup Hi Mark, yes, the kit certainly has thrown up some challenges, mate.
@JJ1973 Hi, Jan! Thank you for the kind words mate-always helps to keep the glacier going
Progress has been relatively quick up to now, but not without it's share of challenges
I imagine that things will slow down when I start getting into the PE details and aftermarket additions…

News flash!
HMS Dauntless is currenlty undergoing sea trials after completing the power improvement program to fix the issues experienced during hot weather conditions… Seems that UK has turned on the hot weather just for the exact purpose of trialing the new diesels.
This is the first time since 2016 that Dauntless has put to sea in a functional capacity and will hopefully return to active duty thereafter
Dauntless is the first of the class to receive the PIP, with Daring and Dragon to follow on next…
One final update before we head off on our family vacation!
The fun continues tonight with trying to hide the seam in the roof of the bridge, which is of course sitting around 0.010" above the walls (0.25mm). Some strips of plastic card and sanding soon dealt with that!
A bit of wet n dry sanding to bring level, and also the walls of the deck added and seams filled and sanded and we have our bridge components ready for paint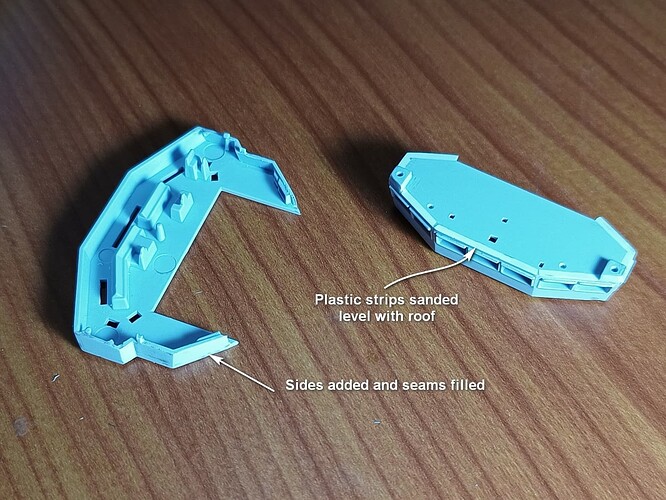 That will be the last update for a few weeks as we head off on our
DARING
adventure

I'll still be around to follow along all the great builds going on hereabouts, I just won't have access to the workbench
Hey hey hey! I see you've changed th flag beside your avatar, Russell! No longer Aussie? Or just temporarily?
Have a safe flight to Europe and a great time with your family in Czech Republic.
Torsten