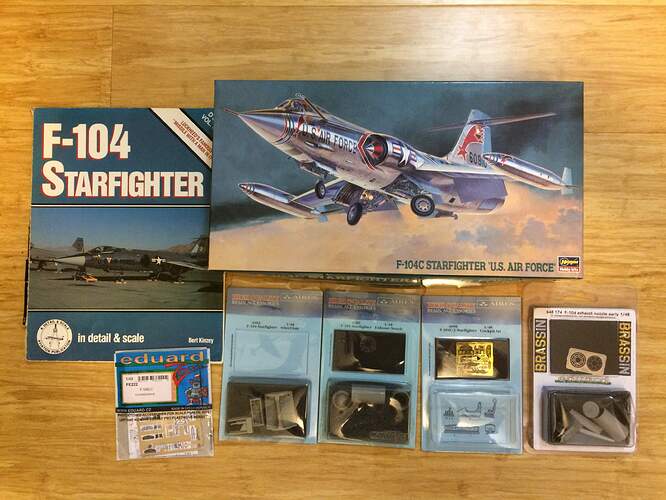 I've decided it is time to create a build log of my current project: Hasegawa's 1/48 F-104C in bare metal finish. I hope to log the build in full, but It will take me a few weeks to get the documentation caught up to my current progress on the model.
It has been my ambition for some time to tackle one of these century series beauties with a polished aluminum foil finish! Of course, the first step will be to finish the cockpit build, which has become something of a project on its own.
For references, I have collected dozens of images of the inner workings of several versions of F-104 (Primarily G, S and J), however, I have also been heavily reliant on the panoramic cockpit of the F-104C at the National Museum USAF (http://www.nmusafvirtualtour.com/cockpits/CW_tour/CW-22.html) Additionally I have on hand an old and dilapidated copy of Bert Kinzey's F-104 Starfighter in Detail and Scale, which I have found useful mostly for its explanations of Starfighter variants, serial numbers, and instrument panel layouts. The 360 panoramic images of F-104 internal details located at http://vintagetin.net/F-104Starfighter/ have been quite useful as well.
As for aftermarket goodies, I am using several Aires resin kits: cockpit, wheel bay, and afterburner, as well as the Brassin afterburner set, and Eduard cockpit PE.
Anyway, I'm happy to get around to trying out the new forum. I will post some progress pictures over the next few days.
Cheers!
Marty