As discussed in the What the postman brought thread yesterday I am doing it in US Olive Drab as per colour illustration and without side plates.
@BootsDMS
I found this:
https://olive-drab.com/od_mvg_odpaint.php
and now I am even more baffled as to the OD to put on.
I found one site that suggested it was FS 34087 which is mentioned in the article above and I have this in stock: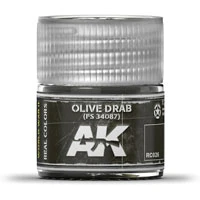 @Johnnych01
I have made a start on it.
I am following the build sequence in the instructions at least for the time being so it starts with the six suspension units.
You have to be careful when cutting some parts of the sprue, the circled area in the next picture is just a continuation of the sprue gate and would be very easy to remove by mistake
The next picture shows the six units assembled. The link arms on four of them have grossly undersize holes and if connected would mean the workable suspension is locked in one position.
So I cut the end off and glued the other ends and when/if you can see them from the side they will appear to be there.