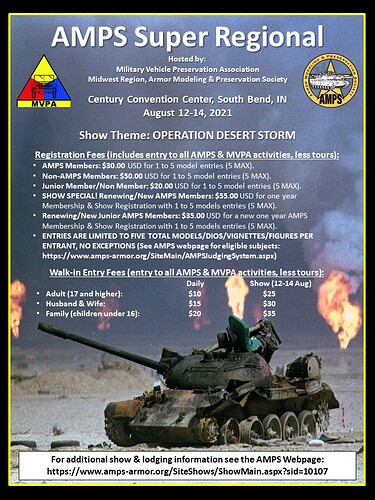 AMPS is so very pleased to announce that our partnership with the MVPA (Military Vehicle Preservation Association) for a great combined show at the South Bend, Indiana Century Convention Center August 12-14 is progressing well, and show preparations are well underway! This show will provide over 100,000 square feet of military vehicle goodness, with scale military modeling AND authentic 1/1 scale real world military vehicles throughout the venue.
For the military modeler, this show will present all of the best features that you know an AMPS show provides; seminars presented by a lineup of noted authors, modelers, and historians on modeling techniques and in-depth discussions on military vehicle subjects, the world's largest armor-centric hobby shop, a terrific raffle, and the chance to enter your models (strict limit of FIVE entries, please!) to be judged by AMPS standards in the competition. The AMPS portion of this show is themed OPERATION DESERT STORM, in honor of the events of 30 years ago.
The MVPA will be featuring literally acres of historic vehicles to be examined, seminars on all things vehicle related, some great tours of local military vehicle producer facilities and museums past and present (visit the MVPA website: Convention, click on the upcoming conventions tab for details), a huge number of vendors of military vehicle related items and much more!
This massive show will feature the best of the military scale modeling and full-sized military vehicle worlds!
So to summarize, we will be featuring hundreds of vendor tables chock full of goodies, hundreds of scale military models for competition /display, hundreds of authentic full-size military vehicles to examine and photograph, the usual fun AMPS raffle, great seminars, some fine tours, and the opportunity to enter your models in competition for some nice awards! This will be an unprecedented show in both size and scope!
Three very nice hotels within easy walking distance have been lined up for the show, book soon to avoid disappointment! Please note that ALL local department of health recommendations regarding COVID-19 requirements (use of masks, etc.) will be strictly followed, no exceptions.
For details and much more information please visit the AMPS 2021 South Bend Super Regional Show Webpage (Home Page - Armor Modeling & Preservation Society) for complete details!
The Show Theme is Armor of Desert Storm. Operation Desert Storm was one of the largest armor engagements in the Middle East during the 20th century. In February of 1991 coalition ground forces assembled in Saudi Arabia awaited the word to pounce on Iraqi forces that had seized Kuwait. When the order came to the coalition units to attack into Kuwait, it was fast, intensive, and deadly desert warfare with the Iraqis on the losing end. Any model, vignette or diorama that depicts an armored vehicle of coalition or Iraqi forces that fought in the Desert Storm ground war is eligible for this theme award. The figure category does not qualify for this theme award. It is highly encouraged for modelers competing for this theme award provide research with their model discussing the documentation of the Desert Storm vehicle they are depicting. Research credit applied to a model's score by the judges is covered in the AMPS rules. The AMPS Chief Judge will resolve any questions or conflicts on the eligibility of the model for timeframe or subject, with his decision being final. Good luck and see you at the show!
Chuck Aleshire & John Charvat
SB Regional Show Co-Show Chairs