Even if you don't like football check out Army's uniform tribute to the 1st Armored Division WW2 North Africa.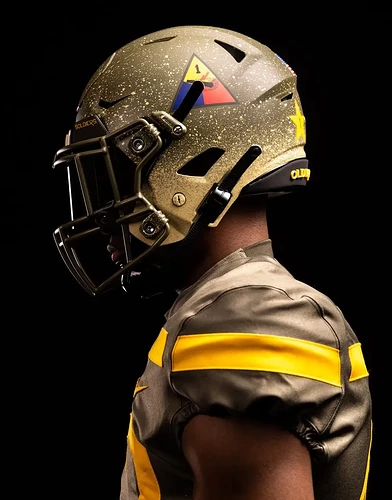 Very cool.
"Go Army, Beat Navy!!"
I like the look they were going for.
Go Navy, Beat Army.
Go Army! The markings on their uniforms look like the ones on early WW2 tanks. Very cool. I bet most of those cadets don't know the origins of those markings……
@metalhead85 the West Point history department does a great job with Nike in making a new uniform every year. I believe the reveal is done two weeks prior to the game in front of the whole Corp of cadets. Usually it's accompanied by a spirit video that gives a quick bluff of the markings. By far one of the best jerseys they come out it. If you look back to 2016 you'll see where the New Jerseys began to come out, starting with the 82nd
… and they are not all millionaires
Looks like Army pulled it off
Yep. After my DVR decided it wasn't going to record the overtime. It cut out at the end of regulation time. Score 10-10
I always look forward to each years uniforms and helmets,I thought Navy's have been better in the past.
As for Army,i liked last years desert camo and 2019 Cavalry patch helmets better.
This years Army helmet and jerseys were a hit in my book. The pants looked wrong.
In the past Navy wore a blue and gold uniform that was a real winner.
Navy just fired their coach after 15 years
Wow! I guess yesterday was the last straw.
@barnslayer yes an no. He's one of the winningest coaches at that school, that being said his last three years have been rough. Last year he beat a great army team and salvaged an otherwise forgettable year. He's had great moments, beating Notre dame multiple times, winning his AAC division but in recent years things have changed. NIL has made other teams more competitive as well as he's in a conference where everyone is now cutting time into practice to ready themselves for his offense. Being in a conference is a catch 22 when running the triple option, you need to do different things every year or people catch on and then you can't keep continuity. I wonder if Navy hires another triple option coach or if they look to do something different.