Hi folks,
after my debut with a WW I plane, I would like to show a rather modern subject for a change. I saw a Bell X-1 from Tamiya at a friend and he was happy to sell.
I thought that this kit - being a Tamiya - would go together like a charm and planned it as an intermediate project.
Ha - you already know what happend.
Anyway. After managing some hurdles (some from the kit and quite a few from myself

) I finally did finish the truely little thing.
Here it is:
From the beginning I wanted to recreate that loading pit which is located at Edwards Airbase and was used to push the X-1 into it. Then a modified B-29 rolled on top of the Bell and the experimental plane was attached to the carrier plane.
After quite a bit of studying the layout of the pit this was a first proof of concept attempt.
To get more grip for the following layers the foam pieces were covered first with tissue paper soaked in diluted white glue.
Then everything was encased with cardboard.
An attempt to craft the airfield from clay failed. Instead I covered the cardboard with varnish and afterwards with Stone Effects from Vallejo.
Thats the way it looks after a lot, a lot of layers:
An initial shot with gray turned out much too dark. That is the final shade of grey the airfield received.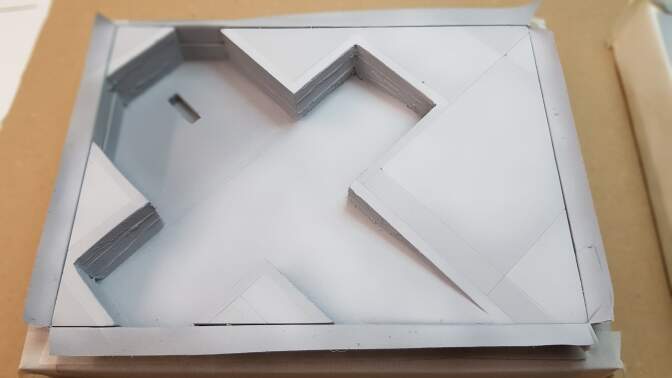 Some details were added, some seams were filled and painted.
The plane.
Some of the kits details were too coarse for my likeing. Here some of the alterations.
The windshield gave me a hard time and it took some styrene and sanding and polishing to make it flush.
Tamiya recommends a light grey for the wheel wells. I am certain, that this is incorrect and colored them in interior green. Unfortunately my research came too late for the cockpit, so this had to stay grey.
The exterior color really gave me a hard time. It took ages to cure and no matter how long I waited any touch - whether with gloves, let alone without - left stains. I was close to smashing it against the wall.
Well, I did not but modulated the color a little bit, put decals, and a final layer of satin varnish. Having sanded the struts of the canopy away I tryed to recreate them with small strips of black decals. It turned out fairly ok but not as good as I hoped it would.
I wanted to add a pilots figure to show how small this aircraft was and opted for a USAF pilot from the Korea period. Comparing his cloth with some of the pics I found of pilots flying the X-1 I thought that this is not completely off.
And here is everything together:
Despite all the hassle I am quite happy how it turned out in the end.
During the build Chuck Yeager passed away, so I somehow felt that my little model might commemorate him a bit.
So. Now it is your turn.

Have a splendid sunday
Cheers Michael