Welcome to our world of bewilderment Micke !! — luckily, we all know who the real winner should of been
At least here in the US, IPMS contests have different judges or mixes at every show. Home cooking is a thing and not saying the home judges did it this time but bias does happen. If they have a no sweeps rule and maybe thought his piece was someone else's that received gold. Judges are human and mistakes happen.
Hi Micke!
Besides the tank and cow there was only one more price, a silver, to this 1/48 diorama.
This one is nice. Bronze level in my mind, great but many detail could have been better.
Compared to tank and cow this one don't have a great story, just people talking.
But if you compare the work to build this and them, wow.
Different people judging different competition, few judges are a real great knowledge of the class they judge. It's not easy to judge, especially if time is short. We should not talk too much about this, better to have fun instead! /Erik
PS, I don't say that my works was better than all others. I consider the Black Ops to be a silver.
But no one else should have got the gold level, that's for sure.
I agree. Contest administration is an art on its own. Sometimes you get it right and sometimes things go sideways. One thing I have seen/heard here, two years without events hasn't helped contest committees.
One should build for themselves first and then enjoy if any awards later.
You are right Ryan, thanks!
Let's forget about it.
Keep the faith and keep modeling:)
You should enter the video tutorial into the completion, it's so well done. Very insightful
Congratulations to a lovely video
Thanks Micke! Part 2 is ready and will be released next Friday.
Meanwhile I just released the video from the AIM show.
Link: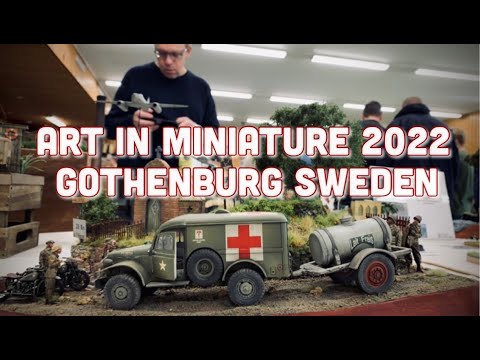 Nice little vid clip Erik. Like the others you have done, its nice seeing how it all comes together in real life and not just images. Good director and editor skills as well
Thanks a lot John:) /Erik
What John said… Very nice video clip!
—mike
Lovely video Erik, complimentig your excellent diorama. Well thought out, beautifully executed, the marking a true craftman at work