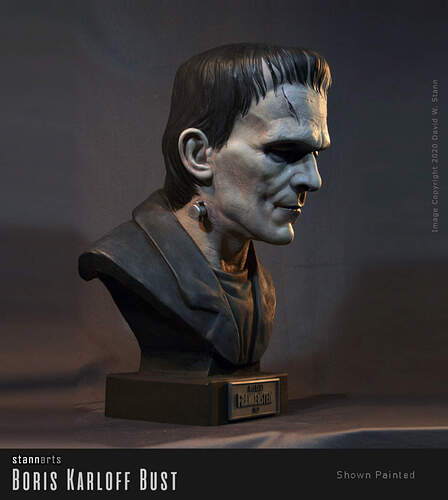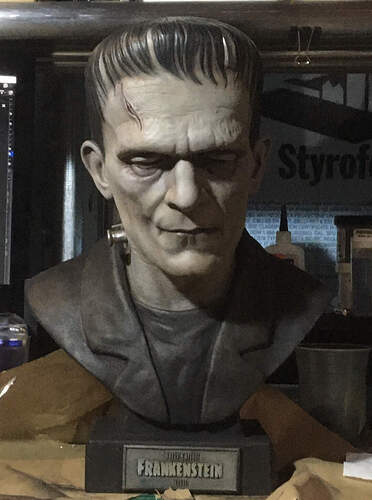 1:1 Scale (Life-Size) Bust of Boris Karloff as the 'Monster' from the 1931 classic: 'Frankenstein".
This is an unpainted, high-quality urethane resin casting that comes in a matte grey finish. (bright white is also available upon request)
The bust can be display as-is or painted (depending on your taste and/or skill level).
It is based on an original clay sculpture (shown for reference only).
The bust is hollow-cast but the walls are quite thick and it has some heft to it. There is no need to fill it with foam etc.
The electrodes (neck bolts) are cast separately and are also included along with the bust.
The only assembly required is simply super gluing the neck bolts in place.
Some slight sanding of the seam that runs down the back may be required.
The bust is approximately 8-10 lbs.
*** Please Note: the pictures showing what the bust looks like painted are only included for reference. The item for sale is NOT painted ***
Approximate dimensions:
H: 17 inches;
W: 12 inches;
D: 9 inches;
What some of our friends are saying…
"From what I can see, you got Karloff. "The Pierce Karloff". "right out of the make up chair in 1931." - davidsonact
"Its Alive! Karloff arrived today…and it is amazing the life that is in this piece. Remarkable. - davidsonact
"David Stann's Work ROCKS! This Karloff Frankenstein bust is EPIC! Love it!" - karrm_iuigliug
"Impressively quick shipping. Amazing quality sculpt. Thank you". - blakestyger
"Just an awesome kit!!! great likeness … fast delivery!!!" - dnsracing
"I received that 31 monster… and he's awesome… u got Boris' likeness down pat…hope u do some more universal monsters in the future!!!" - Kenny
"Excellent sculpt!! Well packed and shipped fast. Highly Recommended Seller AAA+" - Steved25
"The Karloff Frankenstein is gorgeous! wow. You nailed it." - Stan W
"This is seriously just so Karloff. I keep coming back to look at it. Keep up the incredible work." - Stan W
"…Our bust is still proudly on display at home for all to see and as I said to you quite some time ago that the bust was so nicely sculpted
I would not paint it. We enjoy it each day and not a drop of paint has touched it." - Mike & Irene