Saw this in Mico Marks catalogue. I'd love to paint my crew's faces more accurately and wonder if this works?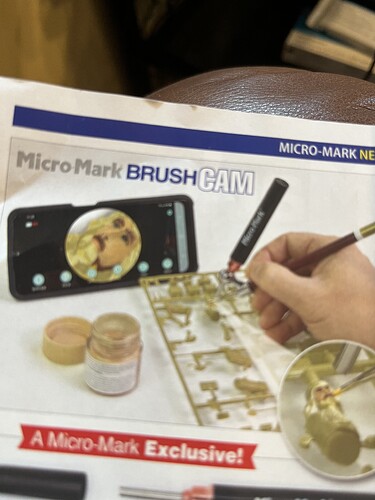 Indirect view magnification plus a lot of added weight. I don't see how you're supposed to load paint onto your brush with that thing.
Get ready for a steep learning curve.
My opinion… invest in quality loupes instead.
Looks like a gimmick to me but then I don't easily embrace new things - pure Luddite.
I.N.I.D.I.S.
( It's new , it's different, it s_cks )
New doesn't always mean better. This thing is a good example.
One person didn't think the curve was bad.
I do agree using other options like a visor or magnifying lamp (what I use) would be probably be a better overall option but everyone is different so if you like that idea go for it.
Well, that's me told. I'll leave this alone and use my magnifier instead.
Thanks all for your input and opinions.