I thought I'd share in this new forum my small contribution to the just-concluded Bundeswehr 2020 campaign on the old Armorama site.
Thank you Peter Battle for a great campaign! I hope we will be able to replicate something like the old Campaigns over here on this new forum…
Anyway, this build was a Bundeswehr Käfer (Beetle)!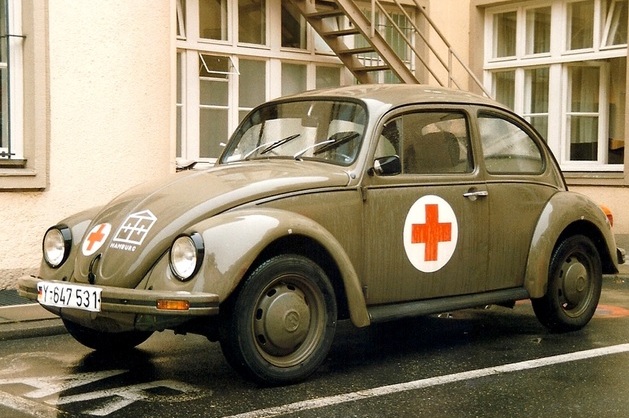 Years ago I had picked up Cromwell's diminutive 1/76 scale Wehrmacht VW staff car at a swap meet. The old resin casting was missing its wheels, and the bumper and left running board were damaged… but the unmistakable Beetle shape was there!
The kit depicts a KdF Type 60 Volkswagen from 1943, but I plan to build it up as a later Bundeswehr vehicle of the 1960s.
---
"Assembly" of this kit was straightforward; the first step was to remove the casting block at the bottom of the vehicle. The missing wheels were replaced with parts taken from a Hasegawa 1/72 VW Schwimmwagen.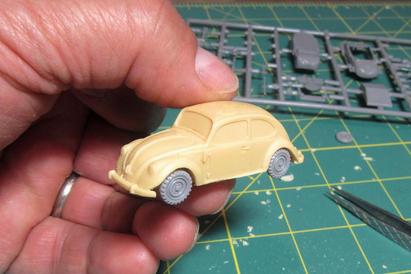 Although correct for a 1943 vehicle, the wheel design had changed a bit by the 1960s… but I'll deal with that later!
---

Simple repairs to the damaged bumper and running board complete the assembly.
---
A coat of slightly lightened Tamiya acrylic Khaki Drab (XF-51) gives the little Käfer a more military look.
I haven't yet applied any kind of groundwork, so for now the bug sits on a sheet of .060 inch plastic. The wood is a bit of scrap with a neutral varnish.
---
The tires and windows are now painted, appropriately, Tamiya NATO Black (XF-69).
The bug didn't come with any markings, but these decals from an old ESCI M113 will serve.
In addition to the medical insignia, the Bundeswehr M113 license plates should look good on the Käfer.
---
I thought it would be fun to show the bug in a winter environment.
After gluing the completed car to the plastic base, I began applying a slurry of baking soda with lots of water and a little PVA (white glue).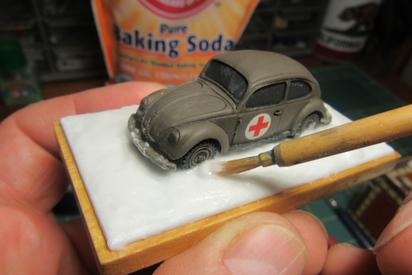 Besides looking good, the "snow" offered the opportunity to obscure some of the features that would reveal that this Bundeswehr vehicle from the 1960s is actually a 1943 Käfer!
The most obvious giveaways are the small split rear windows and very small rear signal mounts on the fenders, both of which had been redesigned on VWs by the mid-1960s.
Under a heavy coat of snow, these problems just disappear!
---
And the cold little Cold Warrior is done!