Have just seen this photo of Shizuoka hobby show, and never heard of this Dragon line "Mono", any clue?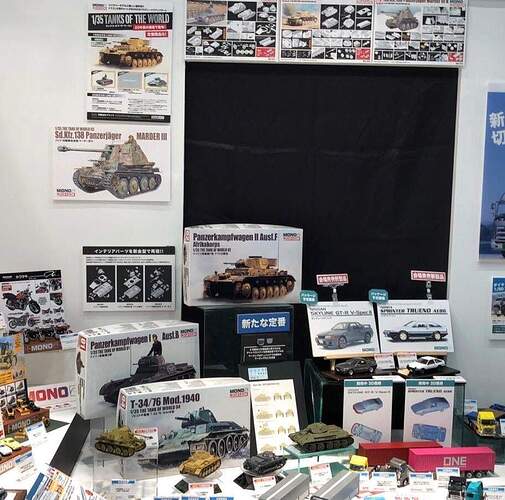 Never heard of it either… Scalemates shows nothing of them?
Hmm, interesting. I am really curious about the civilian cars and trucks shown in the lower right of the pic. Are they 1/35 or 1/32? Lots of possibilities if so.
Has anyone seen a full Shizuoka report yet? They usually come out each year.
To be honest, they look like 1:24…
The show is still going on…
These kits appear to be the result of a collaboration between Dragon and Mono (?)
There's a 1/35th scale kits manufacturer called Monochrome

https://www.scalemates.com/fr/companies/company.php?id=782&p=list
H.P.
New stuff is good,but I don't see anything that I need for the stash
Well looking at their helicopter kits ) UH 34s, they are reboxed GALLERY kits
so maybe if DRAGON & MONO(chrome) are collaborating, these are simply
reboxed kits from existing molds…just a different worm on the same hook.
Just my guess
Cheers,
Well at least you get magic tracks and an interior…
Or maybe Mono has nothing to do with Monochrome…
H.P.
Hi Frenchy,
It is only my guess…I could be totally wrong.
Cheers,
Sounds like Dragon had taken to heart all of the well deserved blistering criticism of the generally terrible Dragon instruction sheets and decided to do something about it.
Get another company to do the instructions!
I applaud

any decision that puts better instructions in a Dragon kit.
That would be a fantastic win

for modelers every where. If bonus items are added by Mono so much the better!
It seem to that products are include previous kit with new instractions(Japanese) and several additional parts.I think.
Anyway, it almost less the information about MONO-bland in Japanese site too.
Ah! Japanese instructions and an 'original box design' that looks EXACTLY the classic Tamiya boxes!!
Hehe