What kit do you recommend for my first 1/35?
Something older from Tamiya. Their M41 Walker Bulldog is a great first tank model. It has pretty good details and goes together really well with no issues.
Anything from Tamiya - high quality workmanship, ease of assembly, balanced division, high historical accuracy.
While I agree, he posted in Axis so I would go with the Panzerkampfwagen II Ausf. F/G kit. A captured T-34 or Sherman are also good choices.
Trumpeter KV-1 kit, even their captured KV-1 is great. Few parts, decent detail, lots of surfaces for experimenting with weathering, easy to assemble link and length tracks or vinyl ones.
Funny, I was about to post exactly the same thing. It's German, fairly simple, and has rubber band tracks. If you don't care whether it's Axis or Allied the Italeri Sherman is a great choice. It has a few minor glitches - the stepped barrel for one, which is about a one minute fix. And the bogies need to be cemented so they're not pulled up in the front by the tracks, which are also rubber band by the way.
I would honestly stay away from the M41 and most of Tamiya's earliest offerings. That particular kit has cast on bogies, extremely thick details, poor track detail, and motorization holes. Just because it's your first 1/35 kit doesn't mean it has to be a dog. Another thing about a lot of those older Tamiya kits - the motorization meant that the lower hull was often mis-proportioned to accommodate the motor.
Axis could also include Italian. Italeri and Tamiya both produce an M13/40, with Tamiya's being more recent and more finely detailed. However, almost all of those Italeri kits can be had for a song, and still hold up well even today.
Last month in Aurora, CO I picked up an M7 at a swap meet for $5.00.
The Italeri Sherman. Along with Tamiya's old dog of a Centurion kit, still one of my favorite builds of all time: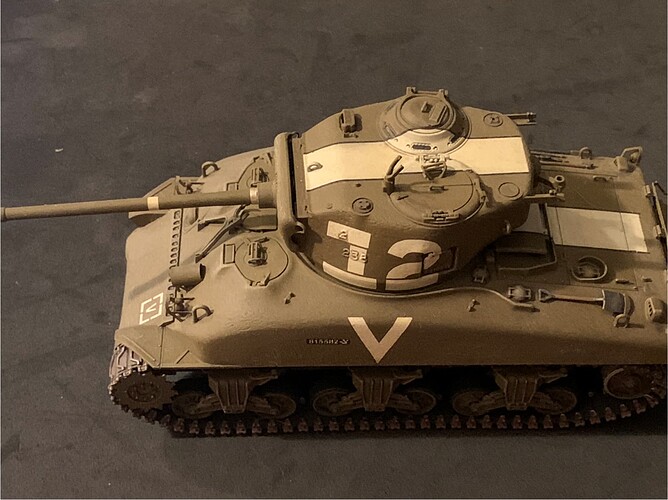 Do NOT get the awful Tamiya Panther A. Widely available, inexpensive. But just a terrible kit
I've always liked the Tamiya T-34/76 as far as ease of build and final product looking like a T-34.
It has it's flaws but I've always found it to be a fun build.
Cheers,
C.
It is inaccurate in several respects, but it's not a terrible kit. It assembles easy, looks like a Panther when completed, and is a fine starter kit. Not to mention a great canvas for trying ones hand at scratchbuilding or modifications upon, without getting bent over cost if things go south.
The 1990's issue Tamiya Pz III L kit is an excellent first 1/35 scale kit. Tamiya's afrermarket engine air vent screens help ease into using a small amout of PE to enhance the kit. It builds nicely out of rhe box. It can be found for $25 to $35 typically.
Tamiya 35215 1/35 Model Tank Kit German PzKpfw Panzer III Ausf. L
Tamiya 35215 1/35 Model Tank Kit German PzKpfw Panzer III Ausf. L
Likewise, the ~2008 released Pz III N is mostly based on the prior Pz III L kit and builds up very nicely. It can be found with the PE screens included. Its a little more expensive.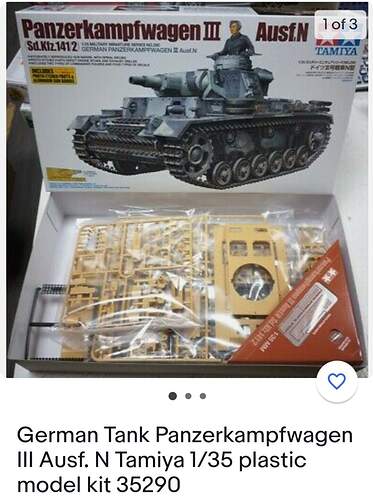 The Tamiya Pz III Stug B & G are also excellent kits that are straightforward to build.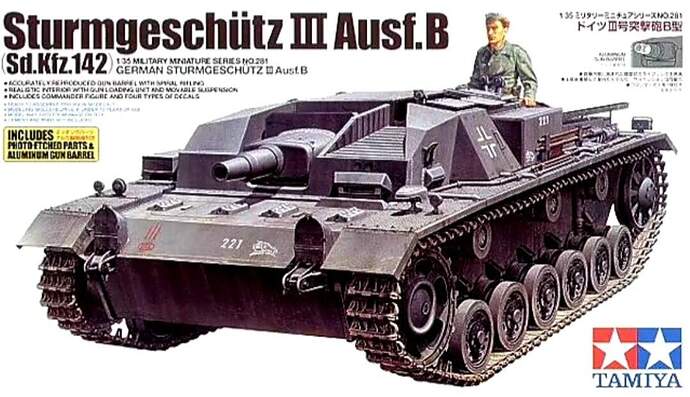 I hate threads like this - they always send me shopping…! So, cut it out, please
Yes Wade has the good oil on this. Tamiya's much older kits are great to teeth on, but the ones Wade outlined have all that and more.
If you want more Axis , then consider Tamiya's
Sturmtiger
https://archive.armorama.com/review/3758/
and
SdKfz 222 or SdKfz 232
for additional options.
Reasonably accurate, reasonably priced, reasonably available and not complex or overly fiddly
Sturmtiger does have indi links though. Which may a bit daunting for a beginner.
Zvezda new kits are quite good, link and length tracks, not very much parts and low cost.
Thanks folks. I got the Sherman locally.
Someone opened a can of worms!!!