I've always been partial to shep ……
*opening the thread, wanting to repeat that 251s delivered to the 1. Panzer before Fall Weiss were not camouflaged. Seeing the discussion about fotography. Slooowly closing the thread again and moving on with my life…
Re-opening this can of wriggly, messy worms, just for fun…who makes the best Dunklegrau/German Gray/Panzer Gray paint? And reasons why?



Best? Color match? Spraying Adhesion?
---
Speaking of 1939 two tone, Vehicles commissioned in 1939 were painted in the following manner with a base colour – Anthrazitgrau (RAL 7016) – which dominated the camo pattern by 2/3, with soft contours between colours. The second colour was Signalbraun (RAL 8002)
Anyone have additional sources to back that up or refute it?
Anthrazitgrau (RAL 7016) – and Schwartzgrau (RAL 7021) – aka Panzer Grey sometimes get confused but are two different colors.
Actually watch the two videos linked in post 53.
Speaking of two-color camo in B/W photo's, I found a sepia-toned pic which clearly shows the difference between the two colors on a 251 A in Poland, 1939: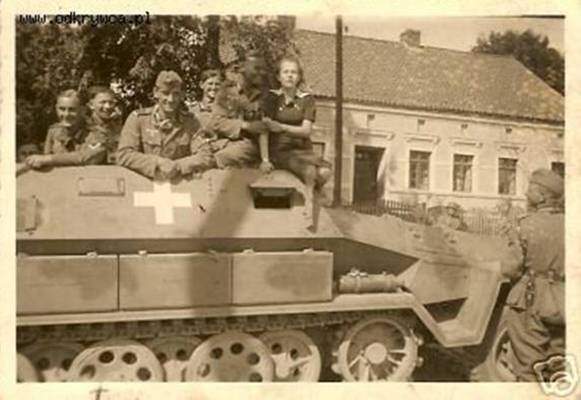 There's an obvious shadow running over the vehicle, but the other blotches must be brown.


Purportedly original "Dunklegrau": Notek vehicle blackout light with mount – fjm44
Looks like a neutral dark gray - NO blue!

The black wheel liner in the Mercedes Benz is of course all one color when clean…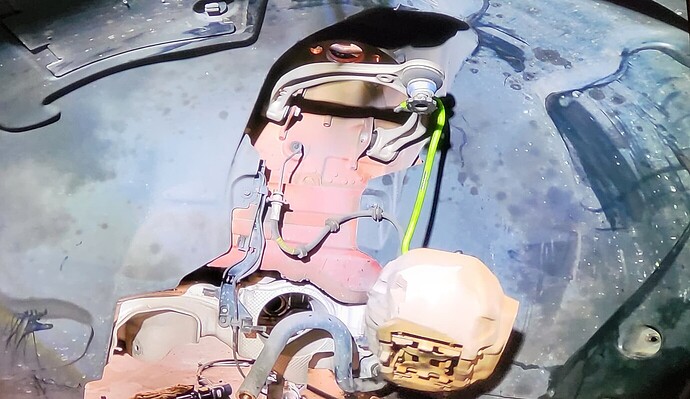 Note how much shift the black wheel well liner color from this modern Mercedes car, shifts due to dust and maybe a little brake cleaner having been sprayed. It's black, dark gray, "Panzer Gray", gray, light gray, light blue gray etc.
So what's the "right" color for the wheel well liner? Obviously, the actual base color and the color it "appears" are quite different.
And after a 1000 miles it would be multi-hued even after a thourough wash & clean
So you're saying that original items, in original paint, and near mint condition, are not valid sources for paint color? Then what is?

I don't understand where that came from Biggles50. Getting some trolling
in for the fun of it?
They are to start with, then you add weathering.
Ken
Sorry…I must have missed something. What were you objecting to?
All the photo proves is that the 251 A's were not factory painted a secondary camo color, at least not yet when the photo was taken. Vehicles could also have been painted after being received by their respective units.


I totally mis-interpreted your photo. I thought they were in a factory on an assembly line. Now I see there are actually outdoors, and those are not factory workers, but vehicle crew! I need new glasses! But the closest vehicle does show some kind of mottling on the hood (bonnet), could be dirt, grime, or brown camo.
What on earth is going on with that superstructure around the machine gun shield?
We have a winner here
https://www.bnamodelworld.com.au/military-vehicles-tanks/military-vehicles-tanks-detail-up-parts-minor-m-avm35062
H.P.
Getting back on topic…again… I'd give top ratings to Tamiya XF-63 German Grey and AK Real Colors RC057 Dunkelgrau. Reason being, they are both very close to authentic according to my Chory paint chip book, and if you thin either one of them with Mr. Color Leveling Thinner and shoot at 12-15 PSI, you will achieve airbrushing perfection. AK Real Colors also produces RC056 Dunkelbraun to go with the grey. You can purchase them separately or in Real Colors Paint Set #2.
I would agree. Tamiya German Gray is very close to the (original color) Tarnsheinwerfer that I posted above. I've always used Tamiya, anyway, just because I like how it airbrushes. But then, that is my opinion!