Once again, we ask the Ukrainian community not to neglect the Basic Rules of information hygiene, not to give out wishful thinking, and to check the sources of information before distributing it.
And the hero of Ukraine Stepan Tarabalka is not a "ghost of Kiev" and he did not shoot down 40 planes.
On March 13, 2022, major Stepan Tarzbalka died heroically in an air battle with the superior forces of the Russian invaders. Here is information about it on our official page: Iir5:/d\MU/.yaseeok.WTO / kr52 и and / ro5i5 / 3394622915550b9.
The ghost of Kiev is a superhero legend. whose figure was created by the Ukrainians! This is rather a collective image of the pilots of the 40th tactical aviation brigade of the Air Forces, who protect the skies of the capital. Who suddenly appear where they are not expected.
and military pilots are not yet studying abroad on the G-16, no matter how much we all want it.
Not a single official statement on this issue was published in the media!
! And finally, for those who are particularly creative - American bombers also do not fly to the north of Ukraine!
Stay calm and use official sources of information.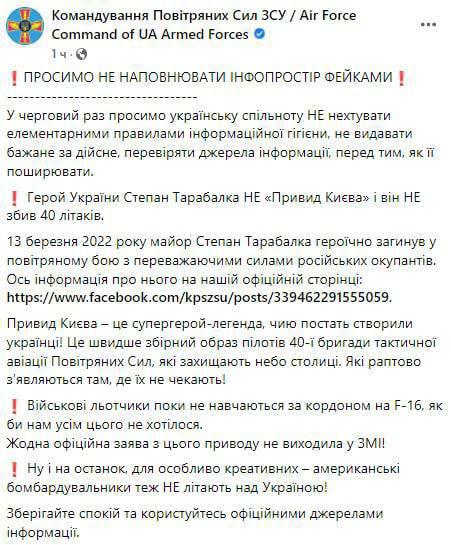 Here someone will be offended when all the fakes fall apart like that!