Interesting video !
I have made scratchbuilt of american pallets in styrene a few times ago for a campaign on the old forum.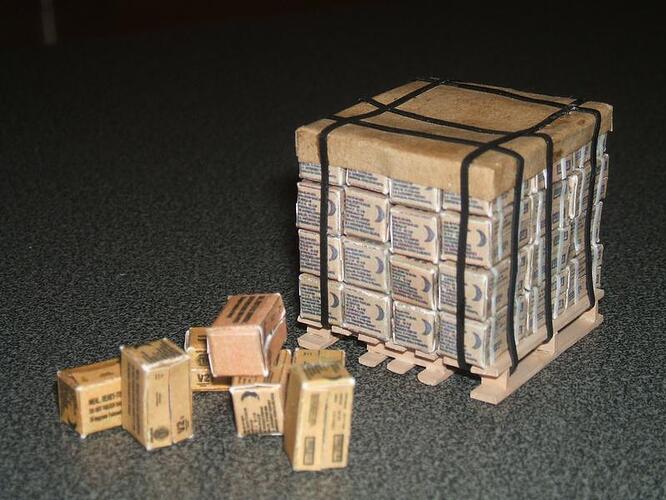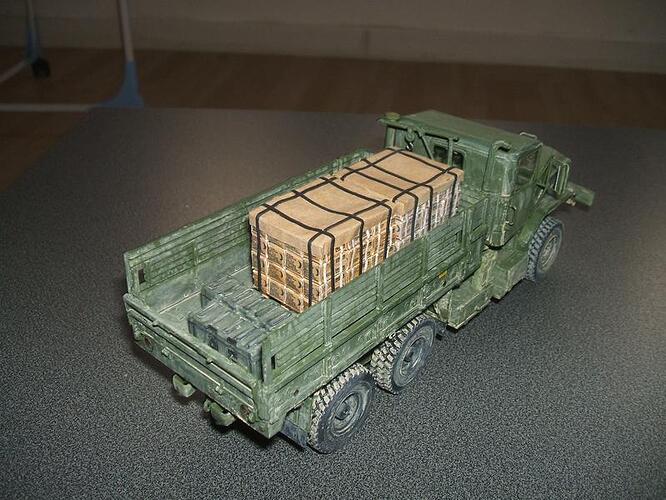 Same here. These are the palettes I've grown most accustomed to. Can't say I've ever seen any other types in all my years of visits to big box stores, lumber yards, job sites, etc. …
I believe the simpler palette design (see petbat) is primarily used where powered fork-lifts with smooth fork blades are predominant.
—mike
Yeah, that can be tricky!
Ken
Like the latest video Jorge.
How is your diorama coming along and is your next video project?
@ Peter (petbat). Thank's for those images!
Here's a quick 1/72 version that I cobbled-together the other day.

Stirring Sticks ripped down to 2.5mm, H 5mm x W 20mm x L 29mm).
The boards are a little out of scale thickness-wise, but this palette serves my purpose at 1/72 scale.
—mike
Thank you.
I am still working on the wood pallet template video series. Over the next couple of weeks, I will be
sharing a type 2 wood pallet template for both styrene and balsa wood similar to my first two videos. This type 2 version will be simpler and faster to be made.
For my next build, I am planning either a 1st Gulf 1991 war or a 2003 war in Afghanistan diorama.
Cheers!
Jorge Damico
Look forward to seeing what you come up with.
Another good video.
Need to find my hand carts.
An idea for a future video, take the current pallet design and scale it up to 1/24-25 and 1/16 scale.
Thank you for the feedback.
I'll definitely keep your suggestions on my list of possible new projects.
Cheers!
Jorge Damico