Hi all time to start this Christmas present
I'll be watching this for sure - I would like to build this as well .
Yessir…this'll be a good one for the books. Will be watching this.
Hi guys you'll need lots of photo reference for colours the kit is amazing but the colour call outs are stupid, some parts they give you 2 options others no options (and some parts are big) the diff and rear axle have no colour call outs. Jay Leno has a video of him getting his replica on YouTube $4000.000 for a replica it's like a kit unboxing so I'm using that for a lot of colour reference but there are loads of pics on line of it in loads of different colours.
More progress
Great x-mas gift. I had that one on my list as well; didn´t get it though. Will be watching
Great start Ken, I'm definitely following this one. I'm loving the number of large-scale builds going on here at the moment.
Cheers, D
Ken,
I've been eyeing this kit for quite sometime, and like Richard will most likely buy/build it later this year. So I'll be paying even greater attention to your build then I usually do.
joel
I'm another who has longed for this kit for a while. Would like to do it as a barn find, weathered finish etc with bit of tarp over a corner. Looking forward to seeing more!
Someone is making printed resin wire wheel kits for this kit - can't remember who but I think it is a new company in the UK . I'll sniff around and see if I can find them.
Edit - here it is : https://unobtainium.digital/
Yep Richard just bought the lock wire bolts ( I actually don't think there's much wrong with the kit wheels)
Hi all more work on the engine, the pipework is supposed to be gunmetal (why? Surley it would be steel or ally) anyway I decided for a bit of interest I would do it copper.
Added some weathering to the engine.
Ken,
The engine and weathering is really turning out quite well. As for that pipe, I'm guessing that from it's location it's a water pipe connected to the water jackets in the block.
the color is a crap shoot. A quick Google search turned up several pictures of restored cars and their engines. One is natural metal, and the other is a darkish red, the same exact color that the body is painted. Take a careful look directly to the right of the distributor and the same color pipe is going from or to the top of the engine from the firewall. If it was a water pipe I would think that it would go to the radiator in the front, but it's an Italian engine so who knows.

joel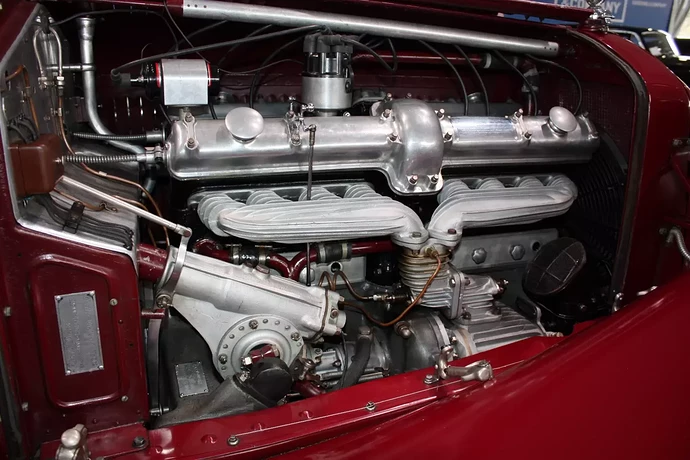 joel
Thanks for the pictures Joel.
I'm currently building the roadster version of this kit.
Yes its a minefield of conflicting info and variations. Personally I wasnt over impressed with what Italeri presented us with for the money. The instruction drawings of the engine show more detail than is present on the plastic. It is an enjoyable if gruelling build. Missing a lot of details but worth the extra effort and I like what you have done so far very much. I have a few images of various cars saved so if you are looking for a particular view of something just shout.
The engine is actually 2 separate blocks bolted together not that how italeri moulded it gives you that idea. hence the 2 sets of coolant pipes
Keep on keeping on. Keith
Hi Keith.
I've seen a lot of negative comments on the roadster kit from many sources, but also seen some amazing completed builds.
I would love to see some photos of your build so far, perhaps you could resurrect your intro thread from January last year and drop some in there?
Cheers, D
Ken, your work here is going very nicely. The varied tone and texture of the metallics on the engine look great.
Cheers, D
Good idea,
I might well do that, at the time there seemed little interest.
Keith I would be very interested, I like to think I add detail to a kit but my worst feature is I have no patience so if after a couple of attempts at improving some part of a kit I if it doesn't work I generally give up and use the kit part (bad I know) I'm fairly confident I can get any paint effect I want. I'm always so envious of people who can improve kit parts either seemingly effortlessly through skill or through patience or even stubbornness.
Anyway
More work on this.

Incidentally almost to highlight my lack of modelling skills I noticed from Joel's pics som throttle linkages on top of the rocker covers if they don't turn up you will know why.
Ken,
You're making excellent progress for sure.
I'm right with you on struggling with correcting or detailing kit parts. Always looks easy when someone less is doing it. The easier it looks to me, the harder i know it will be for me to duplicate it.
have you ever seen the work of scratch builder who makes 100% scratch built 1/8 scale Porsche race cars? I couldn't do one thing he does, yet he doesn't think anything he does is so special or difficult that most of us couldn't do it as well. To him it's all an acquired skill. Go figure that one out.
joel