Or slick it down with some Future.
Have a ton of pictures of one of these in the square of a little farming town along I94 right outside Mils City, MT. Had no idea it was at the Vet memorial/town square til I hung a U turn and boom there it was. If you have some detail questions let me know. If I don't have an up close pic I'll swing by and get you the details you need (except interior, don't think the locals would take kindly me to climbing all over it since I'm from the 'big city's.) Heading that way this week in fact.
oh nice… interior and engine deck would be useful… have some of each on primeportal but can always use more
I feel a strong sense of nostalgia for old Italeri armor kits. As a kid I wanted them all. Sadly, the money for such things was rarely available. As an adult, I bought a few of the ones I wanted most but have yet to finish a single one. That may soon change. Two days ago I finished construction on an Italeri Chaffee and washed it for painting. About two weeks ago, I started an old Peerless M3A1 scout car. There is a built up Itaelri M47 in the closet, waiting for paint. I also have an M32 and two ancient Peerless Field Artillery Tractors.
Anyway, I looked up reviews for this release of the M7. According to one review, the road wheels differ from the original kit, with solid dished wheels replacing the open spoke type. In addition, the tracks are now T54 steel chevron, have much less spring, and are supposed to build up with normal model cement.
To me, the model looks like a later production M7 because of the one piece, pointed transmission cover, upswept bogie arms, dished wheels, hull pan without rivets, and square air cleaner thingys. The M7B1 must have used a M4A3 hull because the examples I see have M4A3 engine decks. Someone with more Sherman smarts may know better.
Good luck!
Yeah. Exactly. The M7B1s were built on M4, not M3 hulls, but I was unsure which M4 hull. Based on the pictures I am finding, the M7B1 must have used the M4A3 hull because they have that engine deck. Therefore, the Italeri M7 must be an M7.
Since the M7 was built on a M3 hull, many had rivets. I cannot remember if the later M3s received the welded hulls making a welded hull M7 possible.
Many M7s also had two extra vents on the engine decks with sheet metal covers.
Ammunition stowage apparently changed over the life of the vehicle so some care must be taken to match the stowage to the particular vehicle.
The height of the pulpit apparently changed during production, being lower in earlier vehicles. I think the Italeri kit has the higher pulpit.
I am not sure if any of that is helpful. I have the Academy M7 kit and this thread made me curious with regards how the machines varied over time.
Edit: I just found one person stating the Italeri M7 is a very late M7, suitable for about December 1944 onward. That means the extra vents may not have been there. It would not be a Sherman variant unless everything was really confusing.
The earliest M7 were based on M3 chassis
Later M7's were based on M4 Sherman chassis
The M7B1's were based on M4A3 chassis
Eventually there was the M7B2 (late WW II or after WW II) which
had the gun raised up higher to allow for an increased elevation.
Sometimes the M7 / M7B1 were given higher elevations by parking
them on a reverse slope.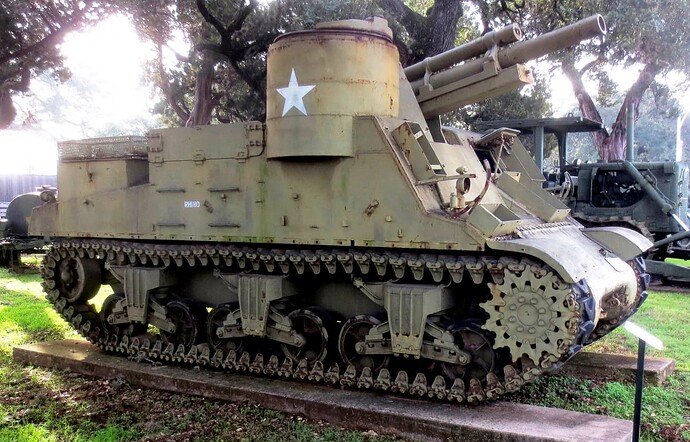 I presume that the production of Priests went through the same changes as gun tank Shermans in how the return rollers were mounted
Tankograd has published a book about the Priests
Website is down for maintenance until the 9th of April
A number of sources I looked at explicitly state the M7 inherited the changes happening in M3 and M4 production. Everything I have read states M7s were based on M3s and M7B1s were based on M4s, but I would not be surprised if those references are wrong. Sherman references often contradict one another making it really hard for people like me who are not experts. The only thing I know for certain is that I do not know for certain.

and THAT is one of the most important steps on the ladder to greater learning.
Only those who don't know think that they DO know.
Wait a few minutes and I'll check a reliable reference
Edit: Fred W. Crismon confirms M4A3 chassis as the base for M7B1.
The images of prototype M7 he includes in the book show rivets on those parts of the the upper hull which had not been modified. The very first pilot model had angled front corners, similar to the M3, but they were without rivets (the rear end has visible rivets).
The first production model has smooth sides (welded) on the upper hull and gun compartment but rivets are still visible on the lower hull.
My previous comment about M7's being based on M4 hulls is probably incorrect.
My bet is welded M3A2 hulls (counting down to the hour when someone with expert knowledge tells me how wrong this is)
The M3A3 had a diesel engine and the engine deck looked like this: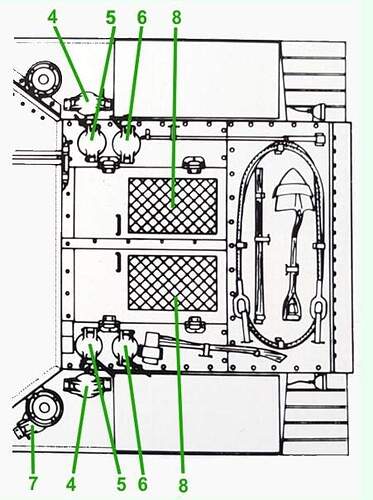 The M3A2 had a gas/petrol radial engine and the engine deck looked like this: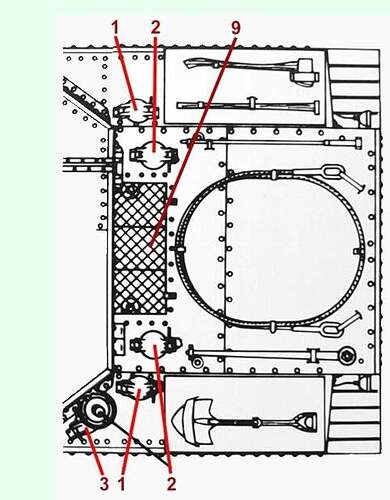 Images and text for the numbered arrows can be found here:
http://the.shadock.free.fr/sherman_minutia/manufacturer/m3grant/m3grant.html
Only 12 M3A2's were produced so I have to assume that the gun tanks were switched to diesel
and the M7 continued with the gas/petrol Continental radial
" The first M7s produced were based on modified M3 Lee medium tank chassis. To maintain a low silhouette, the howitzer elevation had to be restricted to 35°. In May 1942, after only a month of production, the vehicle was altered to increase its ammunition stowage from 57 to 69 rounds. This was achieved by placing seven rounds on the left wall and five on the right.[4] The M7 also went through a fairly rapid shift from being based on the M3, to having more commonality with the M4 Sherman. The first major example was an adoption of the M4's three-piece housing, single-piece casting and suspension. In British service, some M7s carried a radio set, which took the place of 24 rounds of ammunition.[9]"
The statement "having more commonality with the M4 Sherman" should probably not be construed to mean based on M4 Sherman
What a neat old book! I've never seen that one before.
Thank you for taking the time to look that up. While you were doing that, I found an old Steve Zaloga article on the Academy M7. It requires a huge amount of work to correct, which is probably why I left it in the closet. Of course, I now need practice models so…there's one right there…
According to Mister Zaloga, the Italeri M7 is, indeed, a very late production M7 but not an M7B1. The new parts in this release of the Italeri M7 should make it easier to make a nice model.
It would be fun to built the Academy, Dragon, and Italeri M7s side by side.
Cross kitting with an M3 maybe?
Somewhere there is a piece of paper flying around my bedroom with a list of 7 Sherman tanks and variants I want to build. In order to make them all work, each has to cross kit with something else. For example, I need to cross the Italeri M32 with the Dragon M4A2 Tarawa to get a M32B2. The Dragon Sherman III needs tracks from a Tasca M4A2 Early Direct Vision. Some day…
I know I have an Academy M3 Lee but that is even more scary than the Academy M7.
Very nice to see someone else doing these old ancient kits… and would love to see those other kits, please post pictures of them…
Have been following your thread beause of having 2 M7's in m stash, the Airfix and the Italeri.
does anyone know if the British used the M7 Priest in D-Day/Normandy ?
That's a neat project and way too much work for me.
i think the variants and the changes has my head spinning… think I will go with whats in the box and add things to it that reflect the one in the source photo… so no will be all of 10% accurate but at least it will give me some scratch building based on research…
That's what killed mine… the tracks…
running gear done (tracks a touch tight but can fix that with super glue to fix the wheels level)… onwards with the gun… started on the small fixtures & fittings and internal gun shield. currently floor plate and gun just placed to check fit (any thoughts on the drivers compartment colour? just white floor and everything else OD?
…
mmm-hmmmm
I fixed the bogies level with styrene solvent on my kit decades ago.
Tracks were tight and a few months later one of the tracks had had enough …
I hope your tracks are not quite as tight …