Those beams being offset look super organic. May I ask how you oil shaded them?
Glad you like it…
Considdering the fact that a 124 metric tonne vehicle just rumbled across them, it is almost impossible they would not have been offset…
As or the achieved result: no oils came near!!! I used the following products: first a wash of AK Panzer Grey wash, which is actually green. Next a wash of AK Dark Yellow wash, which is dark brown. And the last part is a good going of Abteilung 502 Urban Industry Dirt pigments.
Really coming along now.
J
This is progressing beautifully, Erwin!
Thanks Brother Ski. The ramps will be ready tomorrow, I think.
The Horch is also progressing… I hope to finish the diorama this year…
The ramps are ready. I actually had to remove 2 levels as they turned out to be too high. Even now it is a bit high, but not too bad…
I also added beams across the flat car, as it seems this was a common way to secure tanks.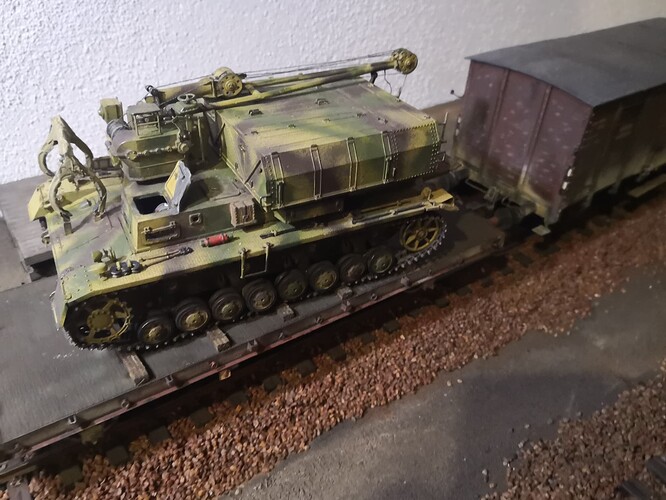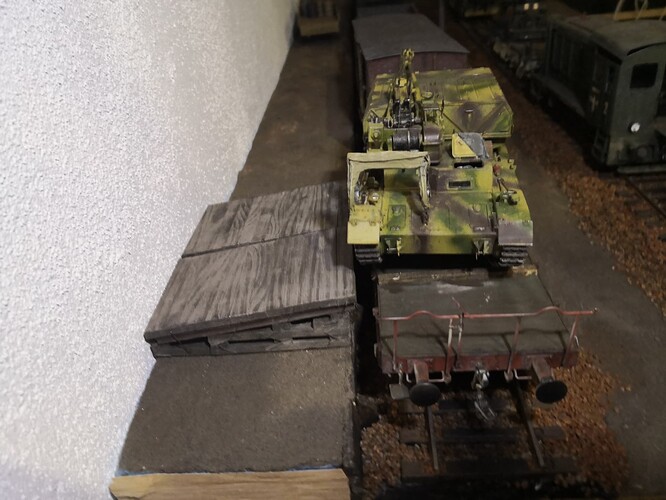 Beautiful work, executed with care and precision
Very impressive work on the vehicles and the diorama.
Cheers,
Ralph
@neofit61 @mech Thank you so much for the kind words… I do my best and am happy you guys like what I do!
Lots of excellent modeling going on here still! I can't believe the Germans spent so much effort, money and time on these giant guns. I wonder if the cost/benefit was worth it in the end?
J
Those ramps have turned out a treat Erwin, nice little scratchbuilt touch to an impressive overall build my friend,

.
G

Cheers friend, I am currently working on the Horch to add to the right side. I also have a motorcycle on order to perform escort duty on the Karl…
The Horch (Revell, previously ICM) has been finished. The only thing I don't have, or cannot find, are the tactical markings from a propaganda company.
I somehow lost one headlight and the front Notek light. Luckily bought a resin set of lights decades ago which served me well. Even better, the original lights where open with transparent parts. I feel those would be out of place, since they are all but usable in a tactical situation.
The spaying of the camouflage was a pain in the behind. I haven't been able to get the paint on consistently and a lot of overspray occurred. I painted the vehicle 2x. Didn't feel like doing it a 3rd time…
Now for the pictures

Thanks for encouraging words my friends!
The Zvezda BMW R-12 motorcycle is also constructed and ready for priming. It is a very nice kit. Very detailed, needing just the wiring to be added. The stand, which is supposed to be movable didn't want to stay put, so I glued it in the retracted position. This is no problem as I intend to mount the included figure, which will keep the bike upright anyway.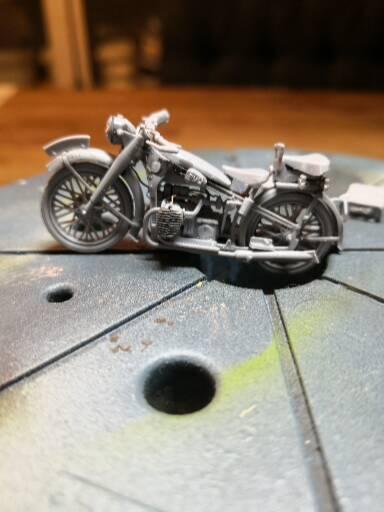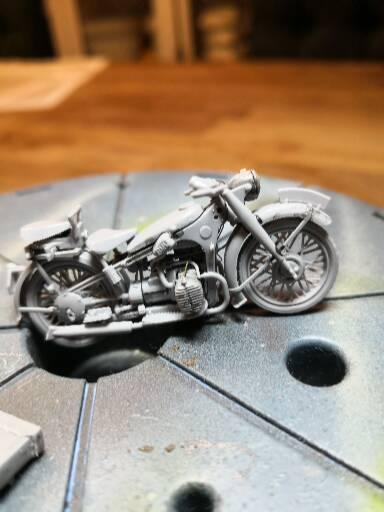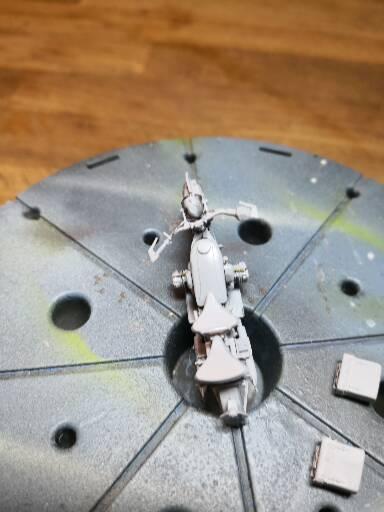 Doesn't look like you've left anything out, wow. Lookin good Erwin!
Thanks Brother Ski. The details are mostly straight from the box, thanks to Zvezda for this.
Both kits are looking a treat Erwin, glad to see you back and building again on this supersized diorama,

.
G,
Cheers, my friend! I have not been away really, just occupied with something different (again!)