Thanks Brother Ski. The details are mostly straight from the box, thanks to Zvezda for this.
Both kits are looking a treat Erwin, glad to see you back and building again on this supersized diorama,

.
G,
Cheers, my friend! I have not been away really, just occupied with something different (again!)
Well, I finally took the steps to go ahead with this dio again.
I decided to finish the small scenes one by one to keep the interest flowing this time. Started with the motor orderly and officer. The kit with the figures is made by Zvezda. Nice looking little kit and, for plastic, the figures look pretty decent too

Next up: the guys that travel on Karl. Of course this is not the full crew. The rest would follow (or go ahead) on Famo half tracks. No space for those…
Nicely done Erwin !!!
Glad to see you back at it !!!
Thank Glenn. I am glad too. Time to finish this puppy…
Great to see you picking up just where you left off over a year ago (hmm might've started a trend there…) & not a speck of dust. Those two figs look just right – customised?
Believe me, there is quite a lot of dust, I just removed it for the pictures…
No, the Zvezda figures are completely out of the box… I only added a clipboard with a piece of a map on the map case.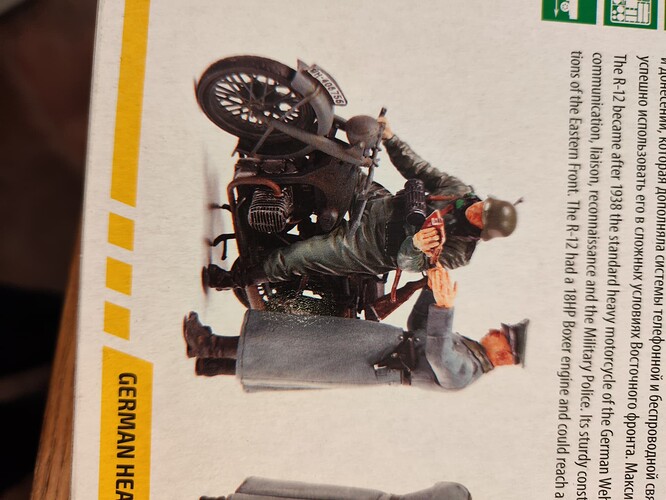 Keep it up Erwin.
This is all really shaping up excellent Erwin! Keep at it!
Thanks Matt! It is about time I finished this one…
Looks good. All the figures' posing looks natural and it makes sense.
J
My figures always make sense
Each one has a purpose and forms part of a story. Often I have multiple stories, specially in larger dioramas
Amongst all the other details, I particularly like the painting of the goggle mark panda eyes on the face of the motorcycle rider
Hey, nice! Someone noticed!

It indeed was my purpose to simulate the day in, day out wearing of goggles…
Like the guys have said, good to see this is wrapping up, excellente, Sir Erwin! I agree, nice touch on the goggle eyes.
Thanks Steve… Happy to be on track(s) again…
The next scene in ready : transferring the fuel.
The fuel drums are being removed from the gondola and loaded into the Mercedes truck, while the Leutnant keeps track… The truck is from Zvezda, while the drums, figures and waggon are from Miniart.