Thanks for looking Antal, and glad you like the painting so far …
Camo looks good, Ruck On!
Doing some damaged areas on the Zimmerit, so showing it knocked off and underneath that showing the red primer on the hull . What is the natural colour of Zimm so I can try and replicate a little of it around the edges … I've read it was a natural pale yellow and then another account saying it was a light creamy grey colour ??
And the loaders hatch… Would the inside of been dunkelgelb or Elfenbein ?
Added some Vallejo oily steel and Vallejo dark steel pigments to the track areas.
Will finish off the damage to the Zimm areas and then add some chipping. Then a wash to tone it all down. Just need to add the recovery ropes now and that's all parts fitted.
Interior of hatch would be dunkelgelb. My refs say zim is a light grey clay color.
That works for me Matt cheers
Really looking good on the camo,tracks look good,which are they,one piece DS,Magic Tracks or an AM track
Many thanks Anthony… They are the box ones, The sandy coloured 1 piece lengths
I hope they hold up for you,some have had bad luck with them drying up and crumbling off after awhile,especially when using solvents.I have had mixed results,some still okay after a decade,others not so good.
Thanks for the heads up … I had read a few people's feedback about how they perish… If that happens I'll just turn it into a hard target

Sadly, I must admit to vandalising the Houffalize Panther way back in around 1974 and removed a chunk of Zimmerit from the hull sides; it was a sort of buff colour; however, this of course was some 30 years or so after the stuff was applied.
In mitigation, it was then more or less just abandoned next to an inn, painted in grey with large crosses: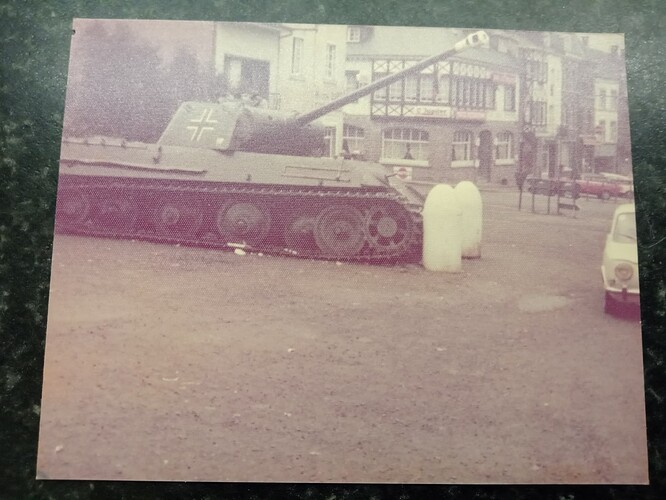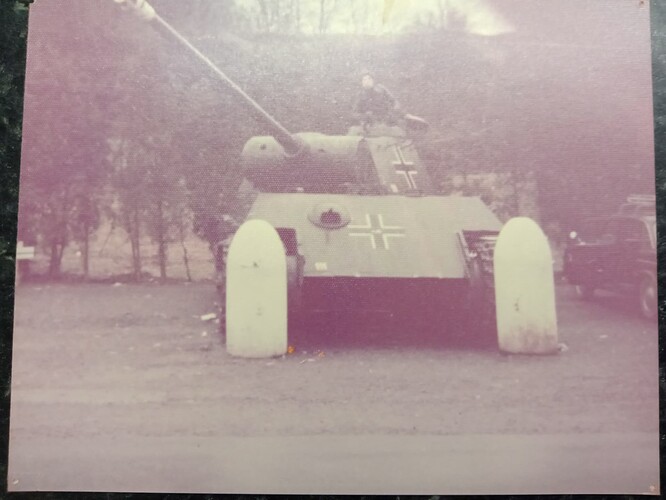 Two of the compounds used in Zimmerit were ochre pigment and zinc sulphide, both brownish colours. Mixed with the remaining ingredients (one being Barium sulphide, a whitish crystal derived from Baryte and used as a paint filler back then), the colour was toned down to a kind of brown tinged buff colour as Brian states.
Zimmerit was applied in two layers - one thin 2mm coat, then a thicker 4mm coat . Only the top coat was trowelled. When damaged, sometimes only the top layer broke free, or only part of the first layer went with it.
Will have a go with a tinted buff for starters and see what it looks like
Might interest you:
They talk of 'pine crystals'… not sure what that is…
That's very interesting, in that it refers to the production Tiger II. It may not be well known that the "Henschel" Tiger was donated to Bovington by what was the Royal Military College of Science based at Shrivenham, some years ago. When I visited there, an even longer time ago, and espied the beast there (as part of a conducted tour by a fellow Mess Member) I was informed that the bulk of the Zimmerit on the Tiger was in fact the result of a repair effort undertaken by 2 SNCOs of the Royal Armoured Corps - employed at the RMCS - utilising a proprietary floor tiling paste produced by the firm Marley. And a very good job they made of it too!
The original Zimmerit on the vehicle is on the rear plate and is, or at least was, protected by Perspex panels to deter "Tiger Fanatics" who steal things like Zimmerit (somewhat akin to me at Houffalize I admit); the Tiger 1 at Bovington also suffers from pilfering in that the wing nuts holding the track-change cables along the hull side are often removed. What the perpetrators don't realise is that they are from are a job lot bought from the local B&Q (a hardware chain in UK). Their cherished piece of purloined Tiger memorabilia in all likelihood, hails from China!
Ohhhh, so your the one who did that?
Recovery ropes on, but they needed a bit of help to stay down while the clamps set. They will need a bit of touch up then it's decals on (there's only 3) and the first wash
Last thing (apart from wheels and tracks) to be fitted will be the hull side track cable.
If you're referring to the Houffalize snatch, "Yup - busted".
I haven't nicked anything form the Tank Museum; it was the workshop guys who told me about the wingnuts when I worked there briefly way back when.
All the hull fitments are now on.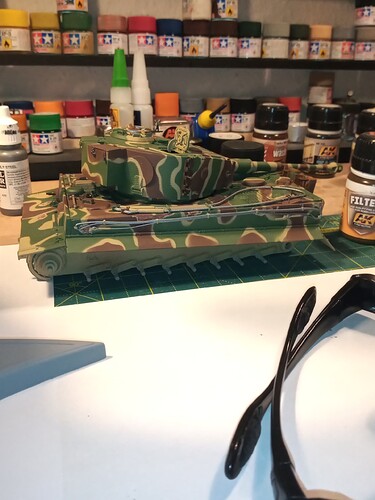 Next up is chipping and the then some touch in and detail painting, decals and the wash …
Just looking over the instructions… I was going to do the the decals for Das Reich or Totenkopf and it shows the vehicle turret number also in large on the rear turret bin … Is that right ? I've never seen the numbers on the bin before ?