Thanks all
Yes. I was for that very dark vietnam era olive drab. I mixed it myself. Turned out cool
That's a very nice build.
The rubber mats in the rear are a nice touch. I know they didn't come with the Black Dog set. Where did you get them? I never have been able to find a suitable substitute that I was happy with.
I like that you made that mold for extra projos. Depending on the RTV you used, you can even cast them in white metal. The molds will hold up quite well to the heat and you don't have to fiddle with mixing resin.
I don't seem to remember that from my days chiefing A5's. The spades just made for getting the pantel back on the collimator more quickly if you wanted to do a more "precision" shoot, remembering that it is still an area weapon. Obviously the more the gun was locked into position the less the piece moved. But for missions of any charge where dispersal was actually desired, they weren't necessary as we didn't reverify for every round. As long as the piece was "close" and still within the Safety T we were fine.
Not dissimilar to when I used to fire Soviet mortars, we'd fire off several rounds after the initial lay just to sink that baseplate so there was less re-leveling on subsequent shots.
These days with the systems in place on the A7 the gun pretty much "knows" how to get back on the proper quadrant elevation and deflection. It shoots the same if not larger charges as the M109 but doesn't even come equipped with spades any more - they're totally unnecessary.
Awesome build, and the interior is packed beautifully. That Nam dusting is spot on. Looking forward to the figures.
Thanks all
For the rubber mats i used pieces of a kind of grinding net. Cut to size and painted black.
To cast white metal is a great idea. I may check this out.
Thanks mate
Finally started on the figures.
This is the first one of the crew and one out of 2 which will bearly be visible once the turret roof is fitted.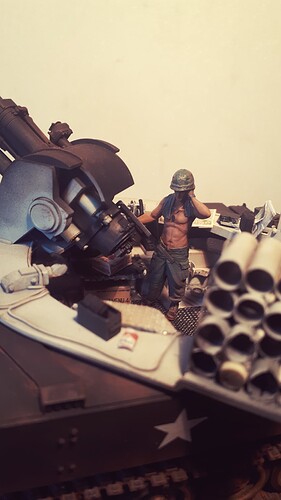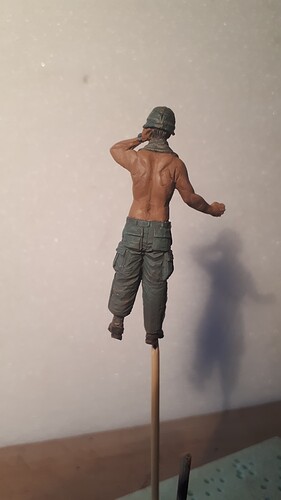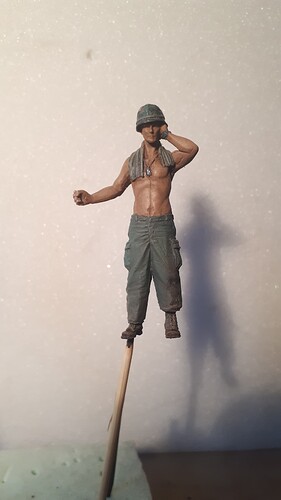 Nice. The figure looks good.
Thanks
Figure painting is always a lot try and error for me


Especially painting large areas of flesh.
First time for me i did this and there are 3 shirtless guys

We'll see…
Those figures look great. Very nice job. Figures can be torture lol
Figures look amazing and the Dio is coming along really nice.
I have a couple of points for improvement.

1/ The elevation control should be closer to the trunions
2/ no elevation quadrant?
3/ the bench would be down during a fire mission, so the
#3
doesn't trip over it as the cab is traversed.
Lastly the barrel should be almost level to reload the Howitzer.
Thanks
I know about all the thinks you pointed out ( don't tell anyone

) but i won't change anything. It's too late
I can live with it

Cheers