Looking for reference to match individual tanks to their ID number plates
Star Decals do some markings for M24s in Indochina; their sheets C1219 and C1220 respectively.
Thank you for the reply. I have Star Decal sheet 72A-1030 and tank "Conti" is the only one that shows a ID number reference on the instructions. The instructions also show tank :Antone" as being one of the 10 at DBP but I couldn't find a reference with that name. I will look into Star's 1/35 sheets.
Here's the list of the 10 M24's at Dien Bien Phu :
CONTI, MULHOUSE, BAZEILLES, DOUAUMONT, SMOLENSK, POSEN, ETTLINGEN, RATISBONNE, NEUMACH, AUERSTADT.
and here's a period picture of ANTOINE, which was not there… :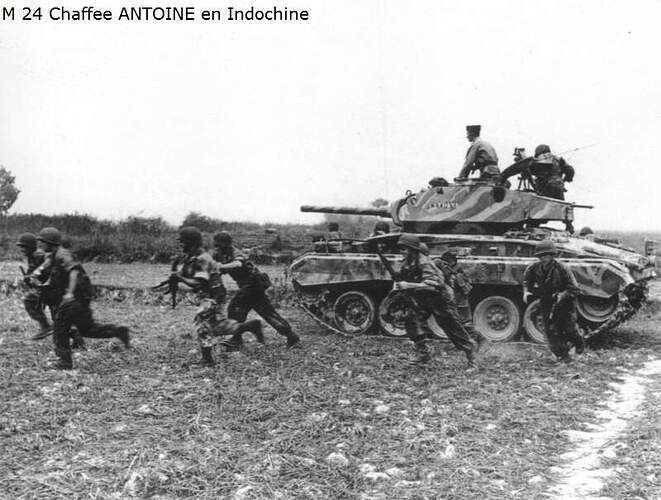 from Chars-français.net
A few more infos about DBP Chaffees (in French) :
https://www.le-souvenir-francais-thailande.com/les-chars-de-dien-bien-phu/
H.P.
For a very short time, before being "Bazeille" (the S is lacking on the tank) the name was "Aristide", first name of the tank commander.
Gentlemen, thank you for the replies. Frenchy, the two links you referenced are great. I can't believe I haven't seen either before. I've been fascinated with Dien Bien Phu since I read Bernard Fall's " Hell in a Very small Place" for the first time over 30 years ago.