3rd times a charm?
Welcome Nigel. Looking forward to seeing another of your excellent builds.
Great choice! That's a kit I've been meaning to pick up myself for sometime. As for your cammo, I recently bought some acrylic paint markers that were quite capable of drawing fine lines. Have yet to experiment with how they work on a painted surface, but they might be just the thing for these schemes.
Over the last few days I've managed to apply all of the stencils on my Mirage and get the missiles finished up. The R530's needed a lot of stripes from the decal spares!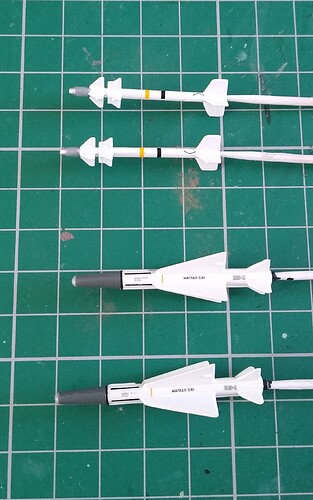 Just need to give it all a coat of satin clear, final assembly and she'll be done.
Removing the canopy masks is always a nerve wracking experience! Thankfully, this time they came off nice and easy and no paint bleed underneath.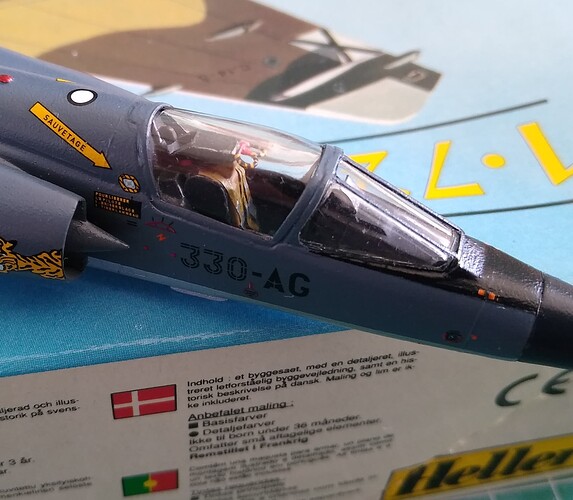 Thanks for the kind words everyone, and good progress on your plane @phantom_phanatic
The Tamiya R35 is pretty small (even I was surprised) - comparable to a Panzer I. Been busy for the past few days, but managed to finish the running gear:
It goes together beautifully and quickly doesn't it?
The only filler I used was the join on the side of the hull and where the triangular piece goes into the turret beside the gun mount, and that was just to blend it in as part of the casting.
So far I've applied putty on the hull sides, and a bit on the front because I did not properly aligned the upper and lower frontal plate. I also added a bit of putty on the turret to blend the seam to the rest of the casting marks. Not a lot of putty used for all cases
Thanks James, I'm hoping to get it finished up this weekend.
That little tank did go together really quickly!
Looks great, Stephen and James!
Got her finally sat on her undercarriage. From some angles it does have very stalky legs!
This will have to be it for a while as we're on holiday tomorrow. The final jobs can wait till we're back.
That's really beautiful. Are you going to change your handle to mirage_phanatic???
Great to see it at this stage- a handsome jet enhanced by the markings and excellent painting.
Looking excellent! Really attractive scheme.
Thanks guys. I am really liking how this has turned out.
@phil2015 I don't think I'm quite ready for a name change (although I do need to live up to that and actually finish an F-4! There are two on the desk in various stages of construction). Saying that though, I have found a new respect for the F1 with this project. It really is a gorgeous little jet. I do have the Airfix boxing of this kit in SAAF markings and I want to get one of the new Special Hobby F1's. Apparently that is a brilliant kit.
I am not a big delta wing guy, so the F1 is a really cool version of the mirage to me
I suppose deltas are an acquired taste.
Me, I like em! Always look like they're fast. Reminds me that Special Hobby are supposed to be doing a IIIC at some point. Shall certainly be getting a couple of those when they hit the shelves.
I definitely don't hate them. I have a Rafale in the stash, but I just prefer traditional wing. I love the F-teen series US fighters
A Rafale is definitely missing from my collection.
Saw one at Cosford Airshow in June. Put an an incredible performance, the pilot threw it around the air!
The revell kit is very nice!! I had the planned to do it in the box art scheme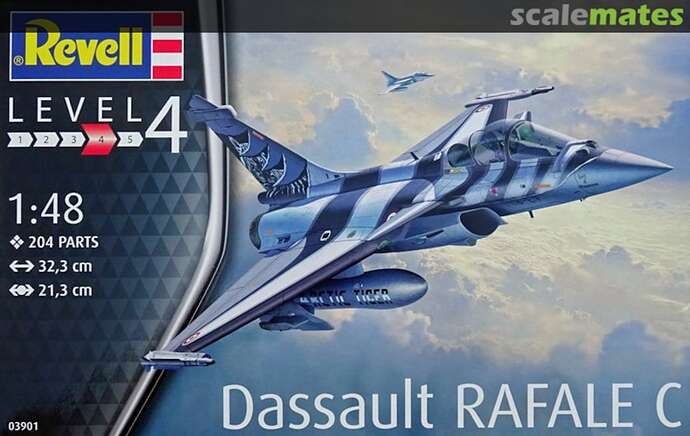 For this build but over committed
That must have been a spectacular show
Thanks I'll have to look for that one. Not my usual scale, but there doesn't seem to be much good in 1/72.
Looked up a couple of reviews and it does look nice. Lots of ordnance too!
The show was great. Not as much flying as usual (probably because of recent events), but there were a few treats like a Catalina and an F-35, which did a short display and hover. That thing is incredibly loud when hovering!