Night 12/13 August 1942 Sicily Channel
After MTB attack, while the cruiser Manchester sinks slowly, it is the turn of the MAS to push on the engines to carry out the torpedoes launch.
At 03.11 MAS 552 spotts the two leading steamers and goes to launch without the cruiser Kenya, which precedes those ships, being able to do much to defend them. Despite being engaged from Kenya violently, the small boat directs against 'Wairangi' and torpedoes it on the right flank from a distance of about 400 meters. The steamer, with the engine room and the hold 3 flooded, swerves, stops and, abandoned by the crew, sinks.
At 03.40 MAS 554 spotts 'Almeria Lykes' and attacks, hitting it in the bow on the left side, and opening a wide gash in hold 1. Left without power, the steamer is abandoned by the crew but its sinking occurs after several hours, in the morning.
Then MAS 557 comes across the steamer 'Santa Elisa' and maneuvers with the main engines at maximum speed to reach a favorable launch position. The noise of the engines alarms 'Santa Elisa' that reacts with its powerful armament and maneuvers by dodging the torpedo. Between the American ship and the Mas a violent exchange of machine gun shots takes place, remaining killed 3 servants on the ship. Reached the opposite side of the steamer, and brought at close range, the "outside" is given to the second torpedo, which at 05.05 arrives at the bow of the ship. The cargo of Santa Elisa, consisting largely of gasoline, turns the steamer into a torch and forces the crew to abandon it on the rescue boats before its final explosion.
Mas 564, almost simultaneously, attacks the steamer Rochester Castle from a distance of 500 meters but fails the target then, after starting the main engines and bypassing it, it leads again to the launch with the torpedo that reaches the target in the middle of the ship. The explosion opens a large gash but the bulkings hold up preventing water from flooding the engine room and the steamer can continue on its course.
Mas 553 carries the last attack at 05.08 by launching torpedoes from 300 meters against an unknown steamer without suffering reaction, a fire breaks out then the ship explodes, it is perhaps a unit already abandoned and sinking.
After reading this, I decided to proof myself in my first naval modelling.
Italeri MAS in 1/35…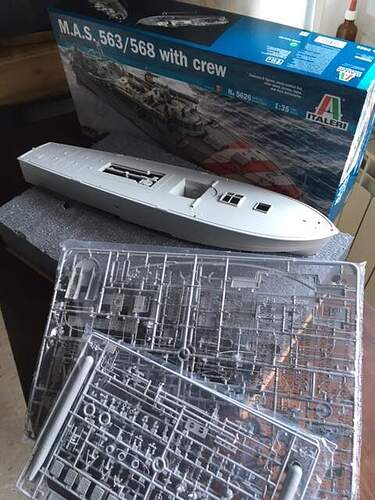 then the base in polystyrene…
and the idea: 553 launching torpedo
the most difficult work is the sea…
so now I am here…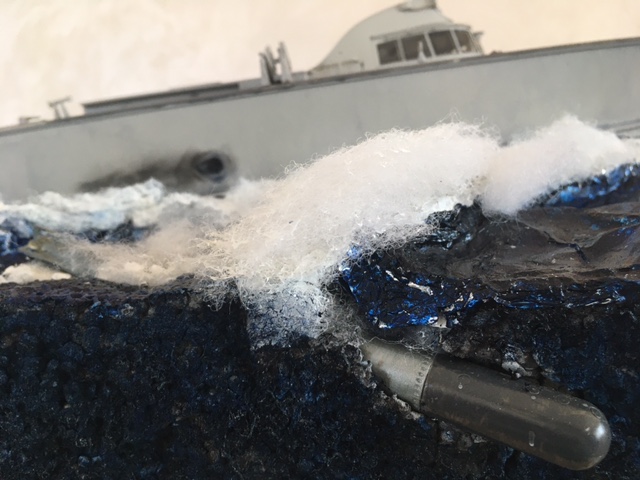 shortly next steps…