Millennium Falcon built using 910,000 matchsticks by Patrick Acton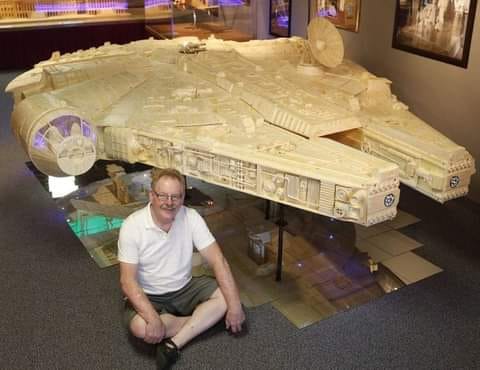 Absolutely amazing!..thanks for posting.
I'm just wondering at what point his wife left him lol
Ya know, it just seems like he wasn't really trying.
I mean, it's like he gave up 90,000 match sticks too early.

That's really impressive. Looks good with all the LED's.
I wanna know how he plans to get it out of his living room lol
You cant beat a real log fire on these cold winter nights lol … and going out in a blaze of glory !!!
She was probably glad he was building this


I wonder if he cut off all the heads though?
Hmmm…wonder if he has fire insurance??

or a hell of a smoking habit

WTF that is so so brilliant
yeah, I saw a video about this. he cuts em' off.
Cheers!
L
What I always wonder when I see something similar is if the question "now what?" pops up in the creator's head?
That's just totally sick.


Very appropriate choice of materials given that the original full size movie prop was made of plywood.
Ivar