Clever rule!

I opened a return case with eBay, and the seller responded saying that the sprue will be sent.
Hoping to get this resolved soon… Will post some close-up photos of the new sprues once I receive them.
Kind regards,
James
Got mine from EvilBay yesterday and just had to pop it open - and yup! No Q sprue. I've emailed the seller and he said he's going to send me one. This is the second RFM kit that was missing a sprue and I never did get the first one taken care of. I kinda think RFM has a manufacturing/packing issue going on - their models are first rate when all the parts are there.
Snap, so missing Sprue Q is not an isolated incident! Sorry to hear it.
Can you tell me which evil Bay seller you purchased the kit from?
Somewhat lucky for me, if the eBay seller does not fulfill his promise of sending Q, I can CAD and 3D print most of parts shown below or do the old school scratch-building with Evergreen stuff: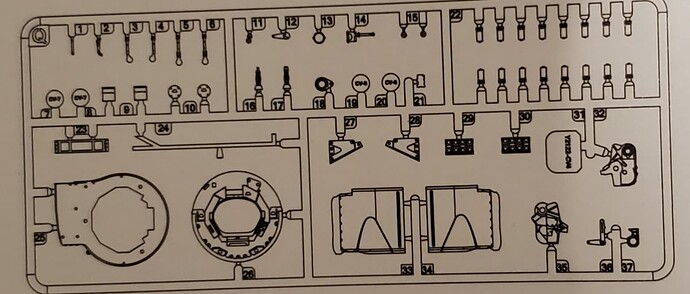 I already have made a CAD for the USMC-specific smoke grenade set-up. Or one can use the applicable parts from Academy, Meng, or Tamiya kits. The tiny parts on the top do not look too bad to CAD or scratch-build…
Q25 and 26 look tricky but should be doable to CAD and 3D print.
Q33, 34 can be made by slightly modifying other front fenders already included in another sprue.
The hardest to CAD and 3D print may be Q32 and Q35 - their shapes look a bit complicated…
Dawngrocerystore is the seller. I think I've used them before with no issues. They responded very quickly to my message so I'm hoping this works out. Again, second time for an RFM kit and I've never had this issue with any other manufacturer so somebody there needs to take a trip to Tamiya or Trumpeter and see how they pack their kits.
Lee,
Did you ever get your Sprue Q from the seller? Mine finally arrived from Hong Kong last week.
Yes, in fact I did! Got a wee box last week with the missing sprue and was sure to post a glowing feedback report to EvilBay. Dawngrocerystore took care of the problem!
That's good news, I tried scratch building that cupola but it didn't turn out well at all. I want that kit, and it's probably going to be the last kit I buy for a while, wife is retiring soon and we're going to spend a couple years traveling. I've got about 20 kits left in the stash to build or finish before then
I hope you can get the missing parts tree from either the seller or RFM.
My sister ordered it for me as a gift and it arrived at her place just about two months ago and I just picked it up Wednesday. She said she ordered it from Dawngrocerystore off Ebay. I guess I am one of the lucky ones who got the "Q" parts tree. Well, I should say, she is one of the lucky ones as it was my sister who ordered it.
How common is the missing Q sprue issue? Considering getting one of these on the Sprue bros RFM sale. I don't have an Abrams yet. Also considering the RFM m1a1 from ODS
It only seems to occur from the overseas sellers. If you are buying one from Sprue Bros, you should be fine. Plus, a reputable seller in the US, Gordon [owner of SB] would take care of any issues.
Kind regards,
James