Xmas gift that got me building again. Forgot so much!!! Not my best build but it turned out OK.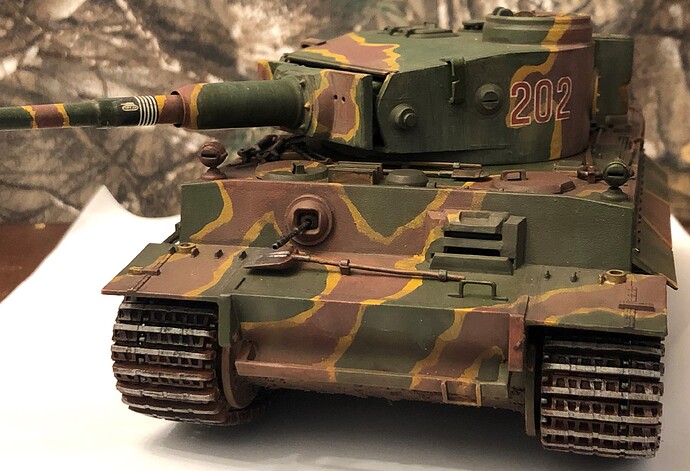 Doug
Love the paint job! Looks great!
I love that old Tamiya kit!


Cheers,
C.
Was it this one?
(image filched of the www)
I ask as years ago I purchased one and tried to replicate the image in the centre pages of the equally old Profile Publication.
I think it was an earlier box art.
Doug
Really nice job Doug, one to be proud of for sure. Thank you for sharing it with us and I look forward to seeing more of your awesome work on here. Best regards from Nova Scotia…Dale
Blimey - I didn't think rhere was an earlier box art!
You did a fine job on the classic kit. And that is a great kit to use for getting back into the hobby after time away. Looks like a Tiger to me

@Doug_Doyle Doug, welcome back to the hobby! Getting the first build wrapped is always the hardest part!
Your original Tamiya Tiger 1 turned out very nice! Paint looks great!
Charles, I have a suspicion and it's really no more than that, that for whatever reason Tamiya seemed to go twin-track with their box art; I think the image I posted and yours are of the same vintage - they seemed to do a white background one, and then a pictorial verison. Perhaps one was motorised and the other not? I have no idea, but I do recall these kits in my local hobby shop, agog at the artistry yet with teenage longing as they were just too expensive for me.
Brian,
Your suspicion sounds pretty valid to me. Probably motorized vs unmotorized like you suggest.
I just looked at the timeline for the Tiger I on Scalemates and saw the earliest release had the dramatic box art so I went with it!
Cheers,
C.
Lookin pretty good for an old girl.
I know from personal experience that was often the case, with a third version added (wired) R/C. I had the Panzer III, M60A1, and Leo 1 in different versions, I liked that you could drive the R/C tanks around using the little control box.
Ken
The full picture one may be for the 1/25th scale Tiger they did about the same time. It was just as inaccurate but BIGGER!
…and therefore BETTER!

wink
God - as a teenager I used to drool over the box art - and that of Nichimo - with my nose against the hobby shop window yet with empty pockets. I used to do 2 paper rounds and deliver logs from my local saw mill to whatever customer base I could attract yet still my earnings were insufficient for these models, so I was stuck with Airfix small scale.
Does anyone remember Tamiya's ancient T-55 - the box art was especially striking in that the tank was portrayed as sort of turquoise?
Originally, they were all motorized, the fancy box with the background had the wired RC and the plain white box had just a motor. I remember fawning over the fancy boxes as a teenager, I washed cars, mowed lawns, or shoveled snow for model money but it was seldom enough for the big ticket Tamiya kits.