Thanks Tim, that was test I was trying but yours turned out so much better.
Even given the differences in computer monitors you can still see the NATO Black is the better, warmer choice. Good job!
OK, a bit off-the-wall here but I use Rustoleum Chalked charcoal from a rattle can. It is not totally flat and has a bit of 'tooth' so a dusting of pigment will stick to it. Oh, and it's cheap.
The mold seams on actual Sherman tires scale out to about the thickness of a layer of model paint. The seams on model tires, enlarged to full size, would look like a 1/2-inch rope was wrapped around the wheel. Also, real tires don't have flats and divots where a 4-inch wide sprue point was removed, and don't ride on the seam lifting the rest of the tire and floating it in the air. While you shouldn't be afraid, you should remove them.
If you want to give a seam effect, you are better off sanding the tire flat and masking a line or edge with paint.
KL
@165thspc Michael,
I wish that was accurate about mold seams on road wheels but sadly it isn't. The mold seam would generally be much thinner if in scale than as molded and often they wear away due to vehicle weight. Photos are of course a good reference.
I took both pictures very close. Exactly 6 ft away with the Pz IV E & M60A3. That would be ~ 2 inch viewing distance in real life from a 1/35 scale model.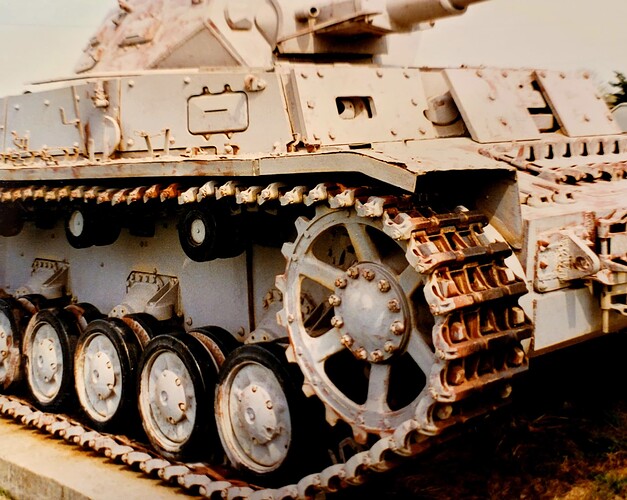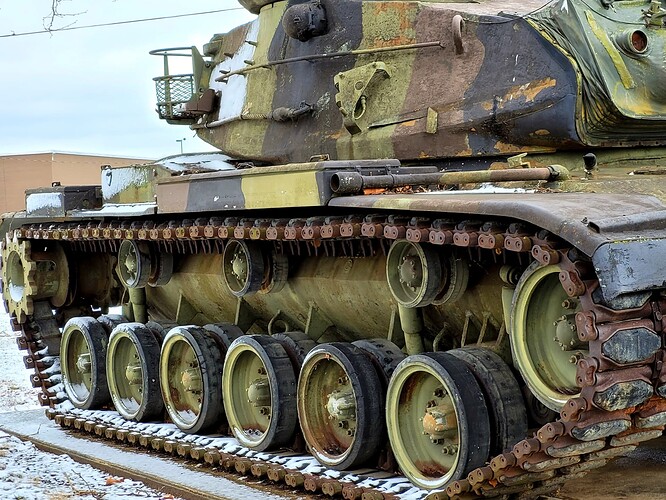 Oh well OK. (I did say knock em down a bit.) Sometimes details have to be a bit oversized somewhat just to be visible at all. That's called artistic license but it also sounds like I am making an excuse or a justification so I will now bow out of the discussion.
I guess I sit corrected:
(My own photos from the National WWII Museum in New Orleans.)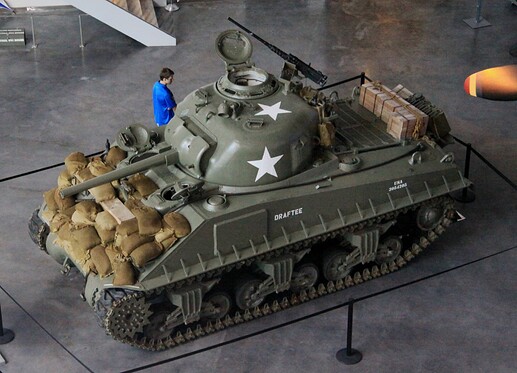 Clearly looks like well worn tires with no seams showing.
@165thspc Michael,
Nice Sherman pics!
What's the National WWII Museum in New Orleans like? Other vehicles?
Thanks
Last time I was there:
LOTS OF beautiful restored Aircraft!!!
Many with fully outfitted flight crews!
All suspended at multiple levels within a 6-8 story atrium with foot bridges at at least 3 different levels to enjoy the aircraft from below, above and in flight!
Sherman
Jeep
GPA
Halftrack (US)
37mm AT Gun
Landing Craft (Higgins Boat)
WACO Glider
WLA (Harley)
CCKW (SWB)
Flak 88
BMW Motorcycle
Assorted Weapons Displays
Enigma Machine
Homefront Displays
All photos copyright Mike Koenig ~ All Rights Reserved
Highly Recommended!
Thank you for the info. A++
Definitely worthy of a visit.
When creating a batch for tires, I add just a touch of medium blue as well, in addition to the brown mentioned above. This works well for tires with more than a few miles on them.
I have also used the NATO black, touch of brown, then when dry, use a blue filter overall. Really transforms the base color.