Hi Karl,
When purchasing these bits I spotted this glue, which has turned out be fantastic. Thin, a bit runny but brilliant. Just need to gently apply.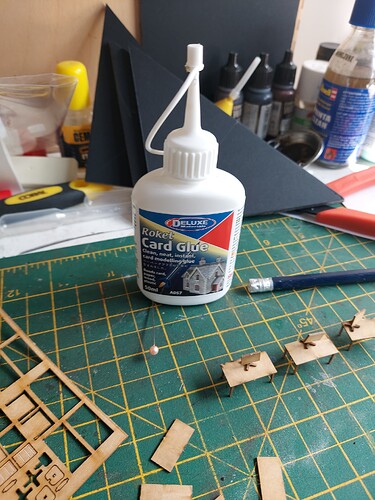 I hope this is useful.
Gavin
Thanks for that Gavin- I will have to get some.
Haha! They are large and plentiful! — a job only a rivet dermatologist could love! That is not gonna' happen here, no way, no how! After a good wash-down, this "fascinator" is headed for paint.

—mike …

Well, I'm pleased with my office work, fabricated some copiers, cabinets and more partitions for the remaining floors. Will need to give the ground floor some thought.

I thought I'd take a look in the box and see what I have in store for the Battroid part of the build.

There are a heck of a lot of decals and three possible variants to build.

Oh yes, and just as many parts.(175)
This going to be fun!
Thanks for watching.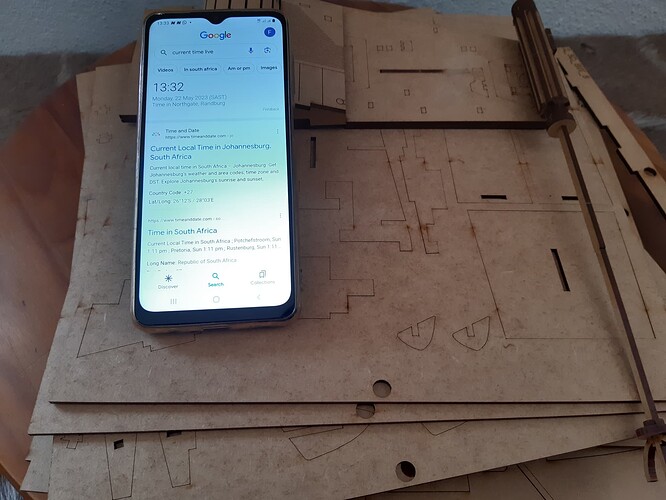 I bought this MDF X-Wing a while back. I built one wing then put it aside. Is it ok if I build it for this campaign?
Oh, something different.
Cool, that will be interesting to see how this turns out.
Werner, welcome onboard
Never seen a MDF X-wing before. It is good for this campaign. It will be interesting!
This is going to be a modular build. Hopefully not on the same "scale" as my 1/48 Valkyrie was.
Thanks for watching.
"Ist das Appaloosa?"
"Uhhh, sort of… It's supposed to be MOTTLING"… or at least I hope so."

Build for comfort, she fits in the booth nicely for today's pre-shading session!
Vallejo Black Primer (73.602).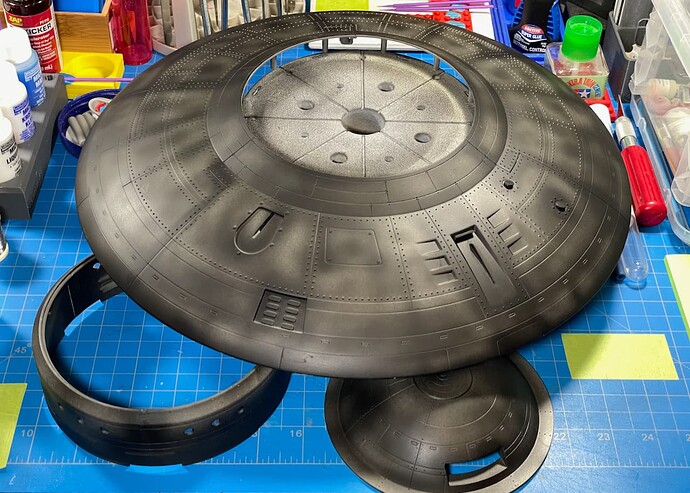 Next up, and before final commitment, I've gotta' test-out a few Tamiya rattle-can paints that I purchased recently.

—mike …

Great to see it having its trip to the paint booth. It really is a massive piece of plastic!
I am struggling to contain my joy in building this lil' beaut! I have always loved it after seeing it in the original Robotech series, now I'm building one. The polycaps make it posable which is brilliant for my diorama.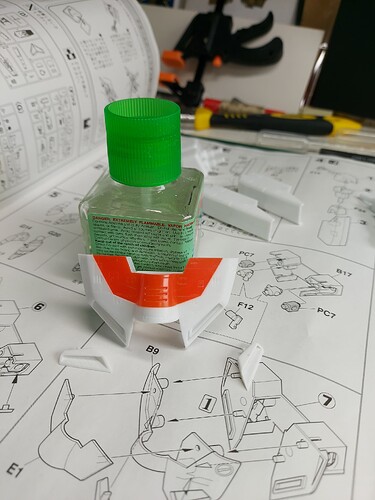 Till next time, while I chuckle to myself with glee.

Added spare parts of Legend's ammunition pouches (six clips total), Airborne Miniatures (2x grenade pouches and First Aid pouch) and Legend's MOLLE pack. Ready to wash and prime.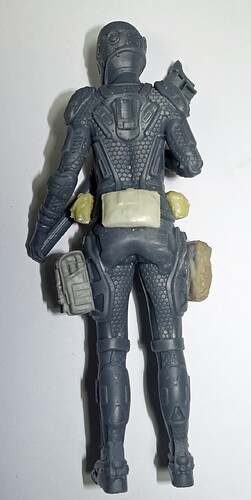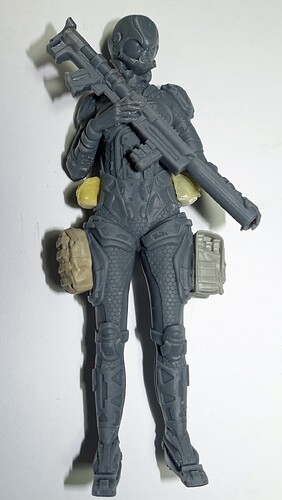 Armed and dangerous!!

The gun pack is better than the 1/48 version, probably because it is extended and deployed as a mech sized assault rifle! In the 1/48 it's slung under the fuselage on the centreline like the F4 Phantom gun pack.
Oooh, I'm giddy with excitement! Sorry, I'm such a fan boy…
Anyway, I have been busy and now have a box of sub-assemblies to paint. Gotta work out a paint strategy as I want to do away with some of the larger decals.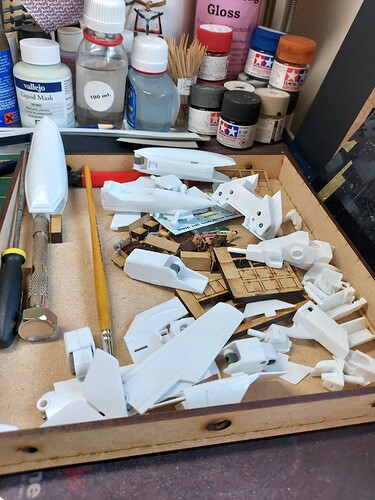 I have some pondering to do.
Till next time, thanks for watching!

Ahhh, the great outdoors!
Here we go… A serious rattle-can session happened… Since the weather was so nice, I took the Haunebu IIb hull parts out for a spin in the sun today… shade actually.
Tamiya Fine Grey Surface Primer (rattle-can)
Tamiya Ts-29 Semi Gloss Black (rattle-can)
OH SNAP! … That was a full 100 ml can and I've still got the belly dome and four turrets to paint! … Good to the last drop, I guess!
While I was out and about, I painted the Upper Hull parts.
Tamiya As-2 Light Grey IJN (rattle-can)
Shoosh! This thing is just gobbling-up paint!
Hmmm, looks a tad grainy, but I guess it is what it is.

Whaddaya think?


—mike …

Very nice! The pre-shading has done the trick.
That "grainy" effect looks the biz😍
I think… It's looking superb
Thank you fellow Sci-Fi travelers!

I had to walk away for a couple of hours, and upon my return, it seems the grey base color has settled-in a bit more. Maybe the paint just needed more drying time to cure.


—mike …

Primed and ready to paint. 3-D female soldier figure bought online and printed by @James_Lee.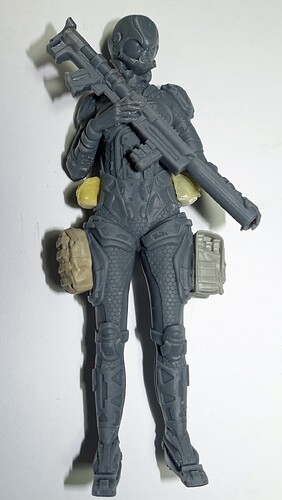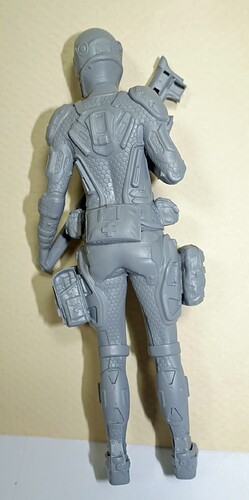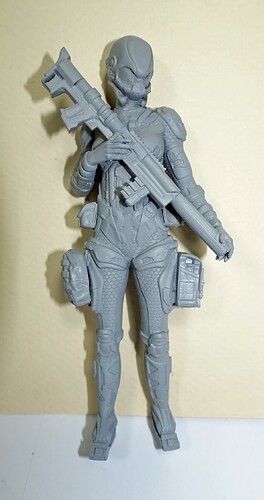 Green legs and Spam…
Massive masking session happened today!
Vallejo Interior Grey Green (71.305)
Struts will be hand-painted with metallics later.
Here's the reveal. Doors will be installed after the struts are finished.
Did someone mention wheels? … Yeah, there's that, too.

⎛



⎞⎛



⎞⎛



⎞⎛



⎞
—mike …