Thanks Petbat, and the flak is over too. Now the hardest job for me, the painting of toy soldiers …
Hello.
Marino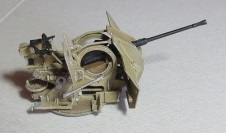 You and 99% of the rest of us…
I like the addition of the trailer - thanks for thinking of that.
Also that dio base is out of this world!
Thanks guys, and I can declare this job finished. I'll start another job shortly.
Marino
Excellent work. It was a joy to watch this one come together Marino.
Fun to see it finished and it turned out very well
Many thanks guys … now the next work will be the T 28 always in 1/35 scale.
Marino
Nicely done Marino , nicely done !!!
That sure looks really good, well done!