There are dozens of broken picture links. Starting as far back as May 1.
Thank you very much for your attention and warning.
I corrected a part, but I don't have the right to edit in the old topics. I'll try talking to the admins.
Photo-etching BT (Zvezda, EE)
The aftermarket assortment for BT models allows for a very smooth transition from tracks to photo-etched. And the product from the Polish Aber will help in this.
35 A005 Parts to construct movable tracks for BT-5
Rather rare, but meeting the type of photoetching. In the current realities, the set is clearly for masochists, but in 1995 there was no alternative to it.
Etching is most often designed for a specific model of a specific manufacturer. Since I started with BT-5 Zvezda, I will continue like this.
35 003 Soviet tank BT-5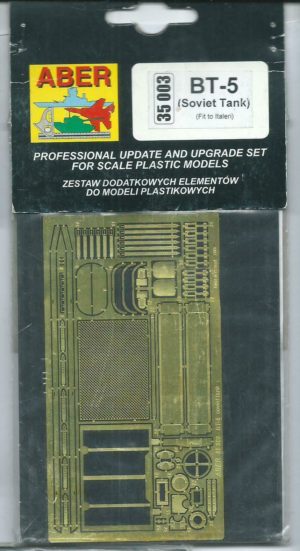 Czech Eduard has an obscenely old set
35 107 BT-5 for Italery Zvezda kit

So old that they have such a poor picture of the frame on their website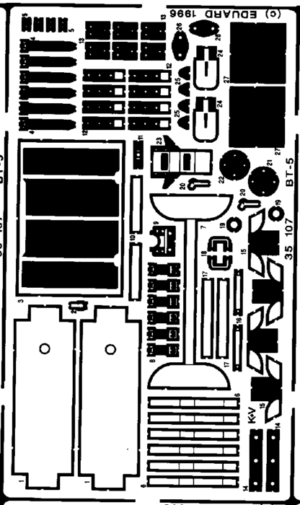 Although, on the other hand, it is only a little younger than the set itself: 1996
Small etched boards were produced by British Airwaves
AFV35040 Soviet BT-5
by Spanish Alhambra Models
35.006 Russian Fast Tank BT-5
by Ukrainian Mars Models
35002 BT-5 for Zvezda/Italery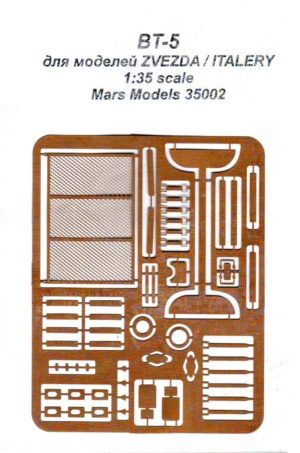 by Japan The Show Modelling
059 BT-5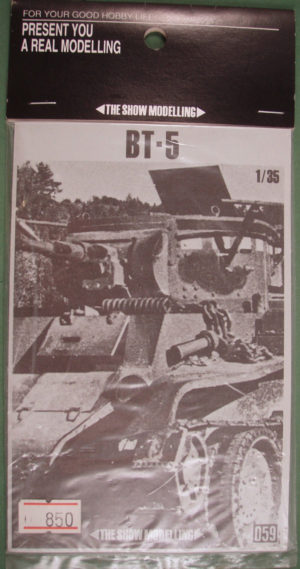 And everything would be sad if not for the Russian Microdisign
MD 035355 BT-5 (Zvezda)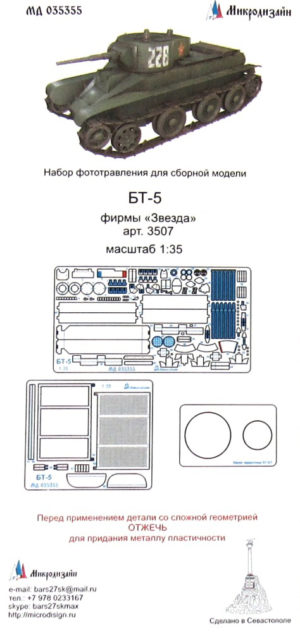 MD 035356 BT-5 fenders (Zvezda)
И есть даже нечто вроде конверсии
MD 035367 Grids for BT-5 with M-17 engine
Interestingly, Microdisign is not listed as a brand on Scalemates, none of its products are listed there. All the more reasons to support a domestic manufacturer by a domestic buyer.
We remember that in addition to the BT-5, Zvezda also has a BT-7. Let's see what we have for this.
Chech Eduard
35 407 BT-7 (Zvezda)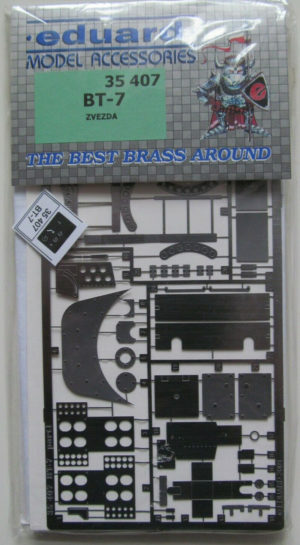 Again, Ukrainian Mars Models, but with a wider range
35003 BT-7 Interior for Zvezda kit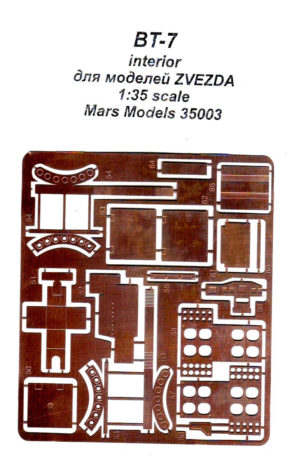 35006 BT-7 Exterior for Zvezda, EE kit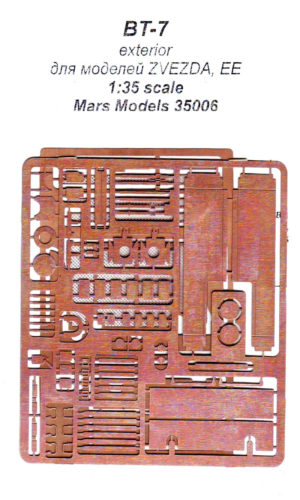 And Russian Microdisign
MD 035357 BT-7 (Zvezda)
MD 035358 BT-7 fenders (Zvezda)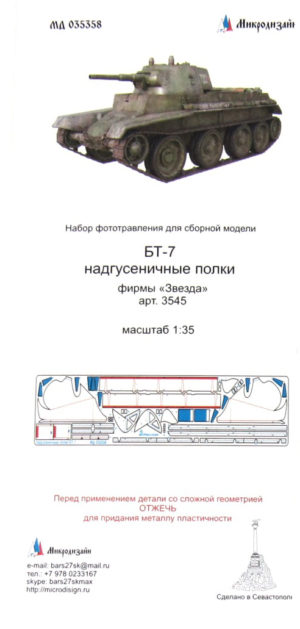 Not much. However, against the background of the range for models from the Eastern Express, it's still not bad, because there is generally only one set
35 421 BT-7 for Eastern Express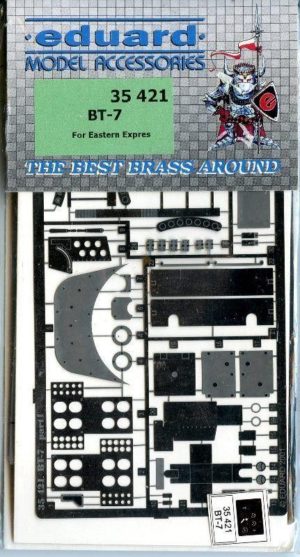 And if at first they still wrote the name of the manufacturer of the kit, then they generally designated it as "SOVIET".
But they took into account the entire range of modifications from the Eastern Express.
I'm going to digress a little from the main storyline. And then then this stub will have nowhere to insert.
Despite the rather recent release of BT-2 models, or maybe because of this, I could not find etching kits for BT-2, except for one, and even one for a terrible combo kit from the Polish Mirage. There is not much from BT-2 in the kit itself, but there is nothing at all in the etching for it. So I will not take it into account in this kitography. Moreover, it is in the T-26.
To be continued…
Photo-etched BT (Tamiya)
The undoubted leader in the attention of aftermarket manufacturers are sets from the Japanese Tamiya.
The classic photo-etched design for tank models is two sets: the main and fenders. There are many exceptions to this rule, but the basics are this.
Let's see. And let's start with the Polish Aber
35 245 Russian light tank BT-7 - vol.1 - basic set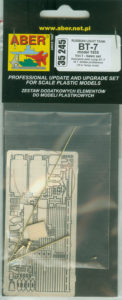 There is a suspicion bordering on certainty that this set was replaced in 2013 by a new set
35 258 BT-7 (1937) vol.1 - basic set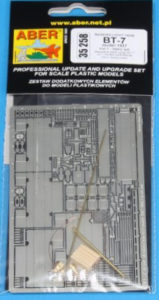 and the second member of this ensemble
35 246 Russian light tank BT-7 - vol. 2 - additional set - fenders
Although in terms of products of the Czech Eduard, the above rule does not really work. Initially there was one set with elements of both interior and exterior,
36141 BT-7
Which after three years expanded and split into two sets
36253 BT-7 Interior
36257 BT-7 exterior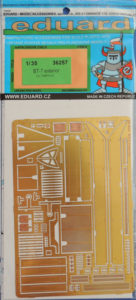 An almost classical distribution in the Chinese E. T. model : base set
E35-064 WWII Soviet BT-7 (Mod.1935) Basic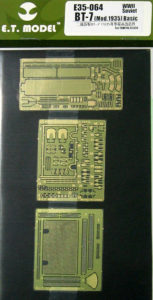 separate fenders
E35-065 WWII Soviet BT-7 (Mod.1935) Fenders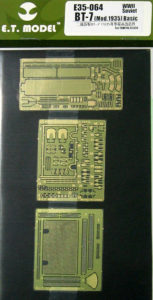 But there is also a combo set that combines all the sets of the company on the topic
S35-007 WWII Soviet BT-7 (Mod.1935) Basic Value Package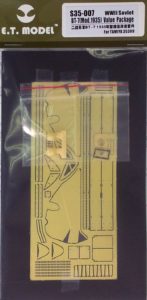 these two and an additional set with infrared headlights, included in the catalog for T-26
EA35-039 Soviet BT-7/T-26 Night Fighting Search Lights
Their compatriot VoyagerModel did the same: the main set
PE35391 Russian BT-7 model 1935 (For TAMIYA 35309)
fenders set
PE35392 Russian BT-7 model 1935 fenders (For TAMIYA 35309)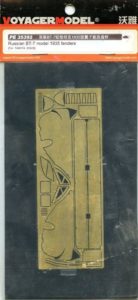 headlights "combat light"
PEA223 Russian BT-7 night fighting lens (For TAMIYA35309/Express)
and all this together
JO35064 Russian BT-7 model 1935 (For TAMIYA 35309)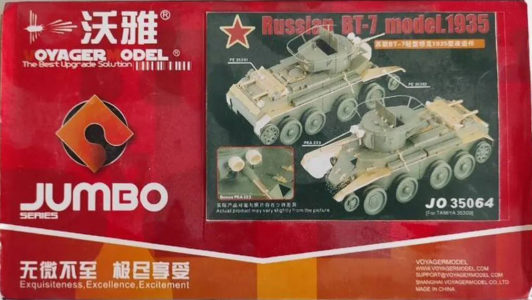 Domestic Microdesign did everything according to the classical scheme
MD 035368 BT-7 basic set (Tamiya)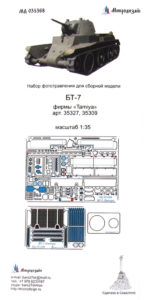 MD 035369 BT-7 fenders (Tamiya)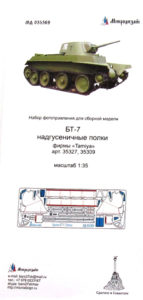 There are similar duets for BT-42. From Polish Aber
35 247 Finish army assault gun BT-42 - vol.1 - basic set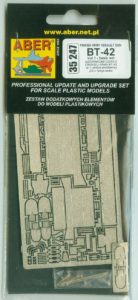 35 248 Finish army assault gun BT-42 - vol. 2 - additional set - fenders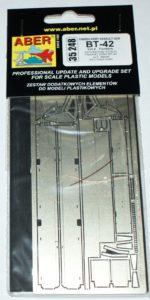 and Chinese VoyagerModel
PE35455 Finnish Army Assault Gun BT-42 Basic (For TAMIYA 35318)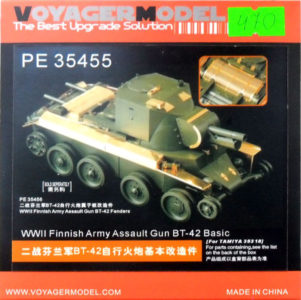 PE35456 Finnish Army Assault Gun BT-42 Fenders (For TAMIYA 35318)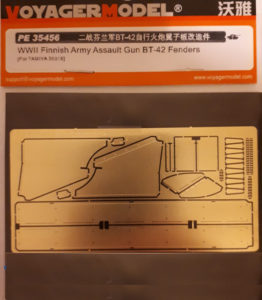 And in Japanese Passion Models, these two lines converged in one product.
P35-072 BT-7/BT-42 PE set for Tamiya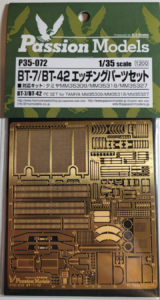 Since the case is rapidly moving towards completion, I decided to clean up the bins and post information about the various sets that did not fall into the previous sections due to subject or model inconsistencies. Well, or missed due to sloppiness, like this set from the Polish Aber
35 G27 Grilles for BT-7 or BT-42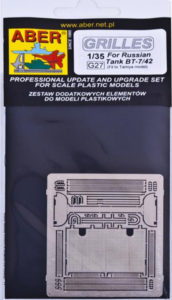 Grilles, but not etched, but 3D printed, are available from the Spanish FC Model Trend
35732 Bt-5/7 Engine grille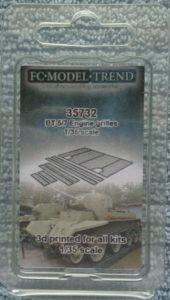 Here's another interesting find just made. The Russian company Мир моделей is known for its etching kits from VoyagerModel. So when I came across this set,
T35029 BT-7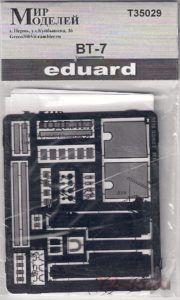 I thought it was a repack. But Eduard has nothing like it! If you take a good look at the board, you can see that along with the manufacturer's brand in the lower left corner, in the upper right corner there is Мир моделей brand. Plus, the product index on the frame does not correspond to the packaging. Now the firm has a completely different product under this index.
It turns out that Мир моделей at one time ordered Eduard to make his own photo-etching. Uniqueness and authorship is confirmed at least by the fact that only they have a lattice given by two halves.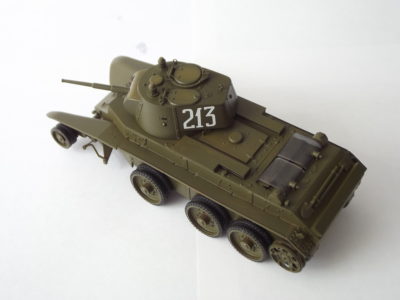 I love it when something interesting comes out of nowhere!
Canadian Hussar Productions has isolated the barrel and PE parts from their turret kits reviewed earlier into a separate kit.
HSR 35025 BT-7 & T-26 barrels set with MG bracket
Domestic Microdisign decided to make a set for fuel tanks
MD 035359 Fuel tanks of BT tanks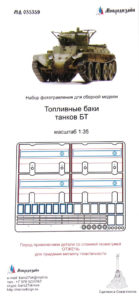 Russian Moskit produced a set of exhaust pipes created using some unique technology
35-27 Soviet BT-7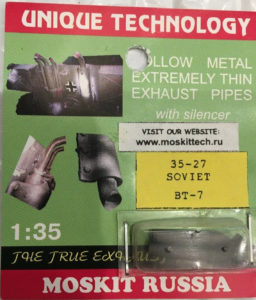 Several times, curiosity (what kind of unique technology?) was persuaded to buy, but their price successfully extinguished these attempts.
The Ukrainian Mini Tank has similar products, which I have not come across before.
G 35001 Metal exhausts BT-7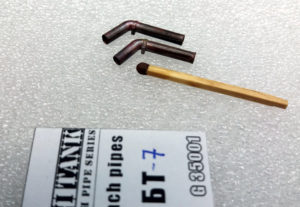 Most likely the commodity index G 35001 was assigned to another set
[
]((http://in-mirror-scale.ru/wp-content/uploads/2022/06/d8591e2d1377c4a864bddf9e06034729.jpg)
And the set, having expanded with photoetching, received a different index and name
G 35006 Metal exhausts BT-7/BT-42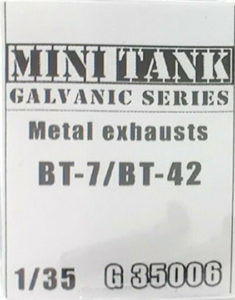 Latvian North Star Models releases a set of etched belts for the entire family of tanks
NS35044 Straps for canvas-cover for Soviet BT tanks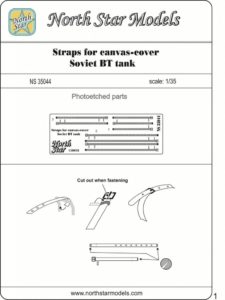 The Ukrainian Vmodels creates competition for them in this.
**35071 **Straps for canvas-cjver Soviet BT tank
From the remains of the resin, we have a mini-conversion from the German MR modellbau
MR-35404 update & stowage BT-7M Diesel engine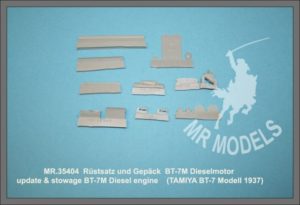 And another find from the domestic Мир моделей. They tend to photo-etch, but they also have some resin kits, incl. this
K35001 Gun mask 45 mm, commander's sight, fan, DT machine gun, signal conversion kit for detailing models T-26, T-35, BT-5, BT-7, BA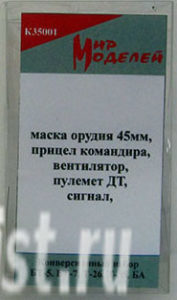 They lack conciseness in the name of products.
But the resin bases from the Czech black dog, in general, the product is unique
D35099 Destroyed BT-7 base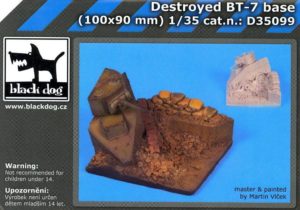 Well, I almost forgot the set from the Spanish AGV Models
35022 Detailed Russian T-26 BA-3 BA-6 BT-5 and early type BT-7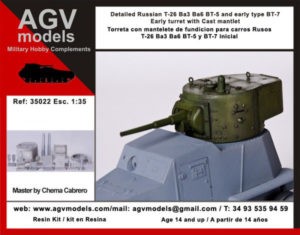 previously already taken into account in kitography on T-26.
This is such a great resource Yuri, thanks for posting. Perhaps a component of a future Encyclopedia? I'm not sure why none of the images are showing, but they are accessible by clicking the small "broken link" icon

I have pictures displayed and links work.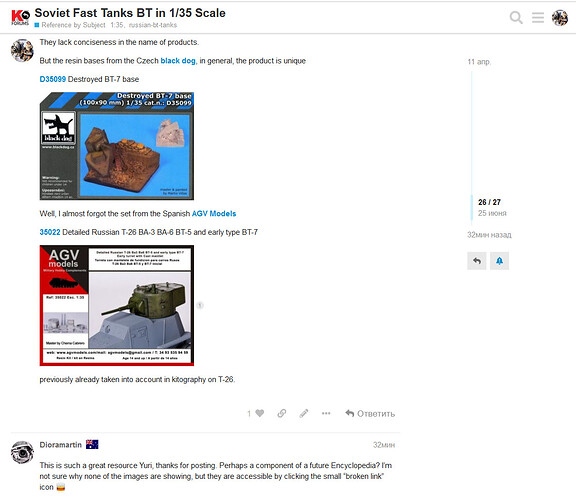 Can you take a screenshot of what it looks like on yours?
Who else is having problems?
Yes, then I will make a separate "printed" edition in PDF format and post it on my website www.in-mirror-scale.ru
I managed to achieve exactly the same result as you have in Chrome and Opera browsers. I myself use the Firefox browser. But I don't understand why this is happening. I will try to do the following material immediately in another browser. Although that probably won't help.
My apologies.
I see it fine in the US on my phone. Could be your provider blocking RU hyperlinks for a variety of reasons.
It isn't a problem, as I said I can get the image up by clicking on the small logo. So it can't be being blocked…even so, I also don't understand why it isn't functioning normally

Decals and masks BT
I will start the topic of marking and inscriptions on the model using decals and masks with an American loner enthusiast called Decalcomaniacs, at least because he is the only one who has decals for Christie's tank
DM-053 T-3 Christie Light tank
BT tanks have a rich combat history. This is where I'm going to post stuff. Personally, I like Spain. For this theater of operations, there are, or rather were, decals from the Swedish BisonDecals
35 134 Republican T-26 & BT-5. Spanish Civil War.
[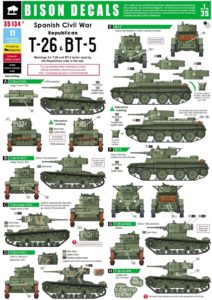 ]((http://in-mirror-scale.ru/soviet-fast-tanks-bt/?SingleProduct=2825)
And they were because the company was renamed and became known as Star Decals, respectively, and the set changed a little and became
35-С1174 Spanish Civil War # 6.
Another Spanish company FC Model Trend has a set
35220 BT-5 & BA-6 in Spain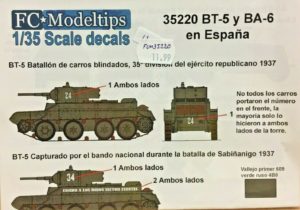 And another ancient Spanish company Hispacalcas produced
Spanish Civil War (1936-39)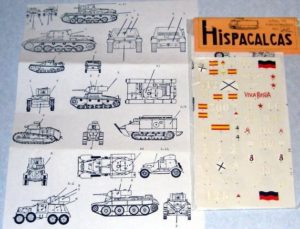 It was already included in the kitography T-26
Another foreign site for the use of BT tanks is Finland. The already mentioned BisonDecals has decals for this region.
35147 Finbish Tank Mix #1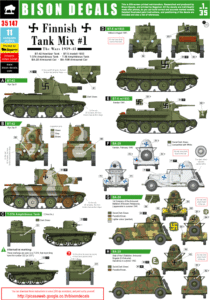 And her successor Star Decals
35- C1042 Finnish Tanks in WW2 # 6.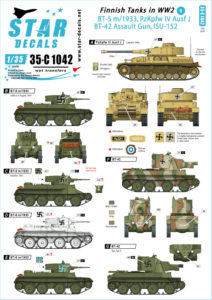 A rare guest in this field is Chinese BT. The decals on them are made by the Chinese company Bestfong.
35004 Chinese Tank in WWII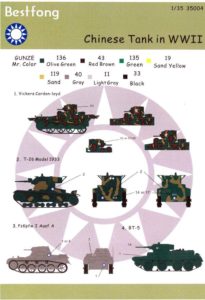 There is also a marking for German captured tanks from the Polish Jadar-Model
Armo 35418 Captured Vehicles vol.2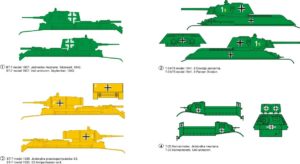 D356163 Beute BT-7
The bulk of the markings and inscriptions refer to the Soviet theme. Continue with the same manufacturer
D 356161 BT-7s Model 1935, 1937 & BT-7M (53rd)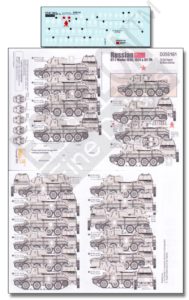 D356167 BT-7 Model 1937 (War Hero)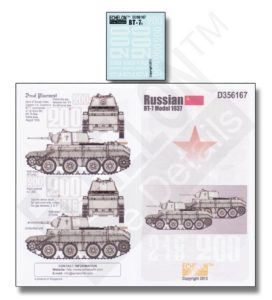 D356169 BT-7s Model 1935 & 1937 (34th, 1st)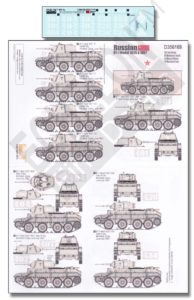 The Russian online store A-model has products of its brand, incl. decals on the topic, and even in two parts
135009 BT-5, BT-7 Tanks. Part 1
135010 BT-5, BT-7 Tanks. Part 2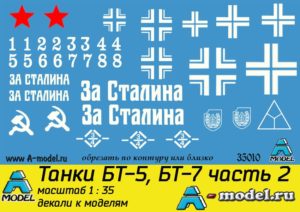 Russian Colibri Deals also have decals
35016 BT-7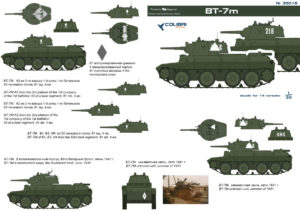 35071 BT-7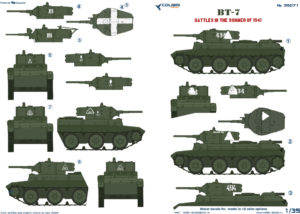 35072 BT-7 М
And I will complete this subsection with the products of the now defunct Russian company Travers
35-002 BT tanks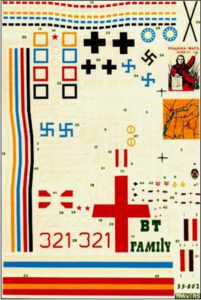 Then it began to be called Begemot and may be known to you under this name, but this decal was not repeated.
But not only decals can be used for tactical marking. For geometrically simple things, I personally prefer stencils. This opportunity is provided to me by the Czech Eduard
XT048 BT-7 Markings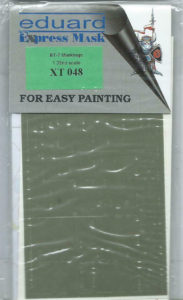 The production of kits from the Belarusian HobbyPlus has been discontinued due to the closure of the company.
SU35073 BT-5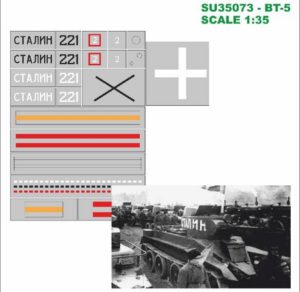 SU35074 BT-5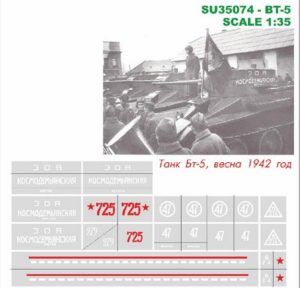 В наборе есть и декали.
SU35118 BT-7 mod.1935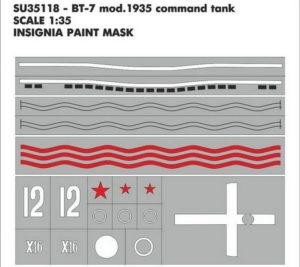 and in conclusion, a mysterious stencil from the Spanish valejo.
ST-AFV003 Soviet Numbers WWII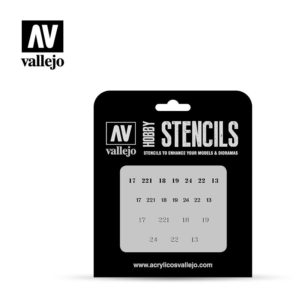 Firstly, the material is not clear, there is a suspicion that this is etching. Secondly, only from the commentary on the site it becomes clear that this is for BI and T-26 tanks
Thank you so much. I thought it was photo-etched. Such stencils are mostly made from it.
The most attentive readers must have noticed the absence of such an important section in the description of tank models as tank gun barrels. Indeed, I have listed everything, including decals, but there are no barrels.
Here everything is simple or, on the contrary, everything is complicated. I started doing the corresponding section, but stopped when I came across painfully familiar sets. I met with them while forming kitographs on multi-turret tanks, small Soviet armor and T-26 tanks. I will meet them at least once again when I do kitography on pre-war armored vehicles.
The 45-mm tank gun model 1932/38 (20K) is a product of very wide application. Due to the technical features of the database used on the site, I will either have to create copies of the same entry for different kitographies, or allow an orgy in the "Tags / Tags" used. Both of those are bad.
Therefore, for this gun and, perhaps, for the 76-mm tank gun model 1927/32 (KT, KT-28), I will make a separate kitography a little later, where I will transfer the corresponding sets from all the above sections. Degtyarev machine guns will also be added there.
Thus, here we are left with a 37-mm B-3 (5-K) model 1930 tank gun, the barrels of which are produced on a scale:
Russian ModelPoint
3570 B-3 (5K) 37mm barrel
and Czech Elefant
35.339 37mm Gun for BT-2 (Mirage kit)
And the German MR modellbaru has a metal barrel in the kit
MR-35620 Soviet Fast Tank BT-2 early prod. with gun turret (HOBBY BOSS)
already mentioned earlier
The Finnish modification of the BT-42, of course, has absolutely no Soviet weapons. Barrels for the Finnish howitzer 114 H 18 114mm, nee British 4.5-inch field howitzer model 1909-1917 (English designation - Ordnance QF 4.5 inch Howitzer Mark I) produce
Polish Aber
35 L-119 114mm H/18 Howitzer barrel for Finnish Army BT-42 Assault Gun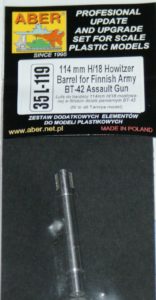 It is interesting that earlier there was a tiny PE in the kit, but now it is not.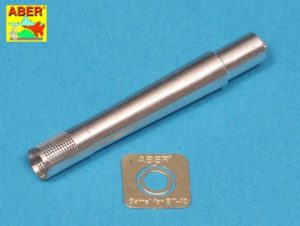 Chinese LionMarc
LM10044 114mm Barrel for BT-42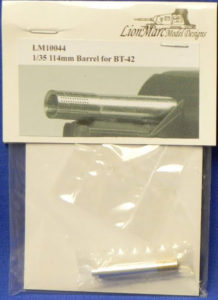 Japanese Passion Models
P35-077 114mm Barrel for BT-42 for Tamiya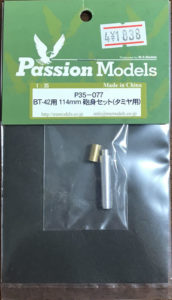 Here, in fact, that's all! A little over 3 months and almost done! A little short of two hundred kits in kitography, but, over time, this will obviously happen.
Now I will start to form a "printed" version of the catalog in pdf. I will definitely inform you about the release and availability for download.
As promised, I will separate the universal barrels of pre-war armored vehicles into a separate catalog. How and when it will be I do not know yet.
I will also think about the topic of the next kitography. Of the pre-war ones, I still have KV (there is a very large volume, much more than this), armored cars (but trucks will definitely have to be included there), non-self-propelled artillery (but it goes beyond the historical period). I also keep one eye on armored personnel carriers with an underlying desire to collect something.
Somehow the images problem is fixed – from your post #34 forwards they are all showing with only 1 or 2 exceptions. Extremely useful collating research, thanks again for sharing
Alas, I did it by hand. I want to contact the administrators so that in a week they will give me the right to edit this thread. Then I'll fix everything.
I would have been able to fix it earlier, but next week I have a trip to Nizhny Tagil, where I plan to visit the Uralvagonzavod museum and here is such a museum object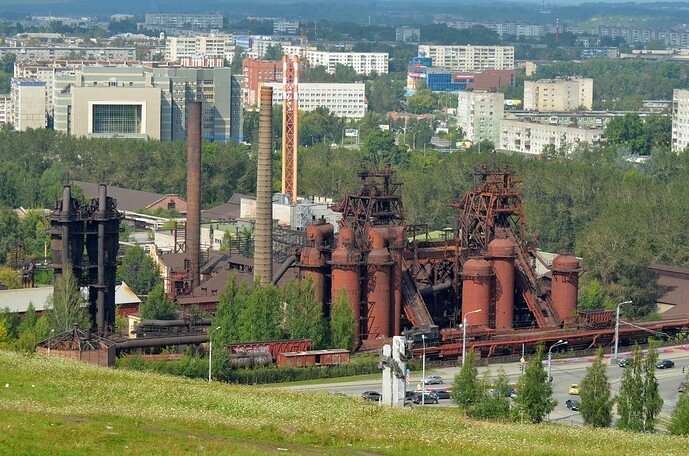 It turned out not very big: 196 products from 72 companies - 40 pages. And this is good: the golden mean.
Kitography is available for download on the site www.in-mirror-scale.ru
I started posting the description of the process in the Chronicles section of this site in mid-April, and now it's mid-August, it turns out 4 months.
For the first time, I conducted a bilingual reporting on the formation: in Russian and English. 14 topics were published under the heading "Soviet fast BT tanks"
At the moment, the Russian-language page of the catalog was visited by 5,263 visitors, the English-language one - 8,145. For evaluation: the attendance of similar resources on the T-26 tank at the moment is 34,693/41,935. Actual figures can be viewed on the corresponding pages.
The materials came out with duplication, respectively, on domestic and foreign resources. The topic has 4027 views on Panzer35, 1600 on KitMaker. Naturally, the tank is Soviet. Everywhere there was a favorable attitude of readers, for which many thanks to you all.
And although no one asks me about my creative plans, I will nevertheless answer.
For the military and pre-war Soviet periods, I did not cover the KV tanks, the family of armored vehicles and cars, as well as towed artillery and, in the kit, tractors and tractors. It turns out the list is very finite.
To expand it, thoughts are swarming in my head about the BRDM and the armored personnel carrier (I want to glue it myself). I have a pdf edition of the Czech-German Pz.Kpfw 38 (t), but there is no catalog on the site, which is not systemic. I'm hoarding material. It is extremely logical to supplement the T-26 catalog with relatives: Vickers and 7TP. It would be necessary to update the catalogs for the IS tanks (late 2017) and T-54 / T-55 (early 2019). The last one is just scary to take.
There are dreams for figurines. But for this it is necessary to buy another copy of foreign software. For now, this is not possible.
I myself can not name the topic of the next study. Whatever gets into your head is what will happen.
You, too, cannot exactly name what exactly you will collect after the current model.
PS Right now I don't have permission to edit posts older than one month, but when they do, I'll fix all the images on this page.