thank you Sir. Lots more to do.
J
Thanks man, glad you enjoyed it.
J
Is your middle name Patience?
Wow. Great work. Look forward to following the end result.
Thank you Sir! My sainted Mother used to say" You are not born with Patience, you must learn it".
So, every day is a learning experience for me, heheheheh,
J
More layers added. The e-tool was re-worked and added along with the missing webbing and canteen. Began settling the BAR down. I will add putty to help make it conform to the clothing better. Next up is putty to complete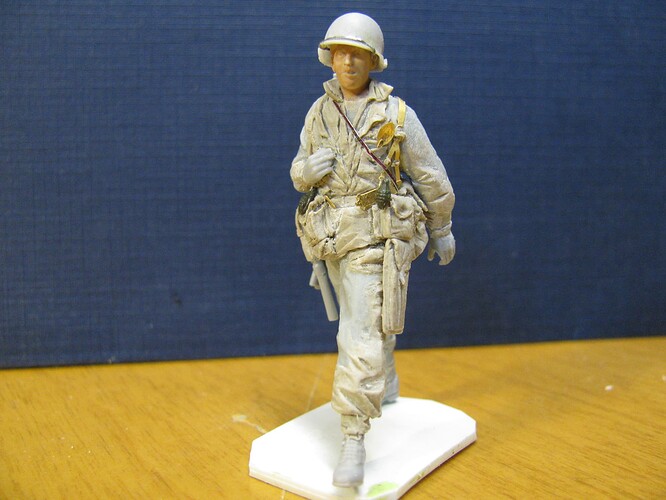 the left leg and adding some minor items as far as dings and dents, etc.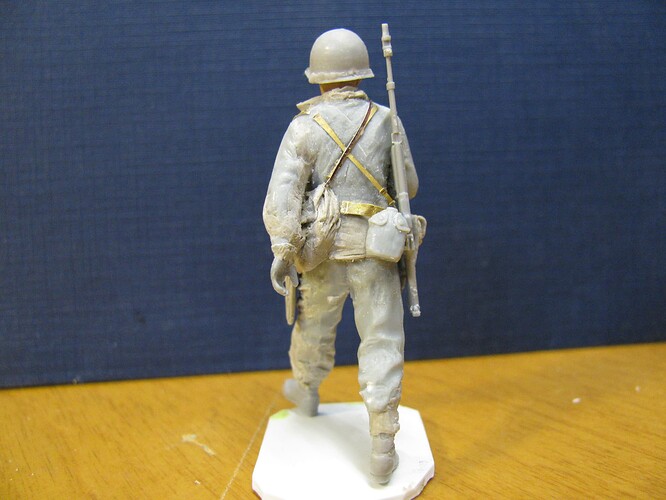 I replaced th dragon grenades with Italerei ones that looked more in scale and also added the strap for the gas mask bag. Getting close.
J
Very very skillful
A young BAR gunner from the 30th Inf Div strides confidently down a frozen road near LaGleize,Belgium in Dec.'44.
Man, that is good!
Love it…
That was very well done. Great interpretation of the picture
Beautiful to see the pic brought to life in this way- the look and pose are captured so well and I think you have got the uniform tones spot on as well.
@Taylorri-thanks buddy!
@Johnnych01-thanks for the kind words mate
@Karl-thanks as always for the very nice remarks old buddy!
@Cheyenne-finally achieved the coveted PBR award after all these years! I would like to thank the Academy…oh wait…
Wow,remember those punch a hole cans ?
J
OK, here we go with a dump of all the pics I took of this new little dude.
Copied from a pic in the "Life" magazine back in the 1940s.
Helmet-Dragon
Head-Hornet
Arms,legs and torso-Dragon
Boots-RoyalModel with the buckled straps added on top in putty.
Pistol belt and left side of webbing-Passion Models
Canteen,e-tool (modified by me) and BAR-Dragon
The uniform,under garments and the rest of the webbing,including pouches,etc were done with ApoxyClay
Grenades-Tamiya
Paints-Andreas,Valejo and LifeColor