Dennis,
Could be worse and you could have bought a used Yugo. That has to be the worst car ever sold in the USA. I drove one for a test drive, and you couldn't even find 2nd to 3rd gear.
joel
Congratulations



!!!
While maybe not quite as bad as a Yugo, a 1977 AMC Hornet is pretty horrible car trust me on that.
There are manly reasons for owning a Prius see example below.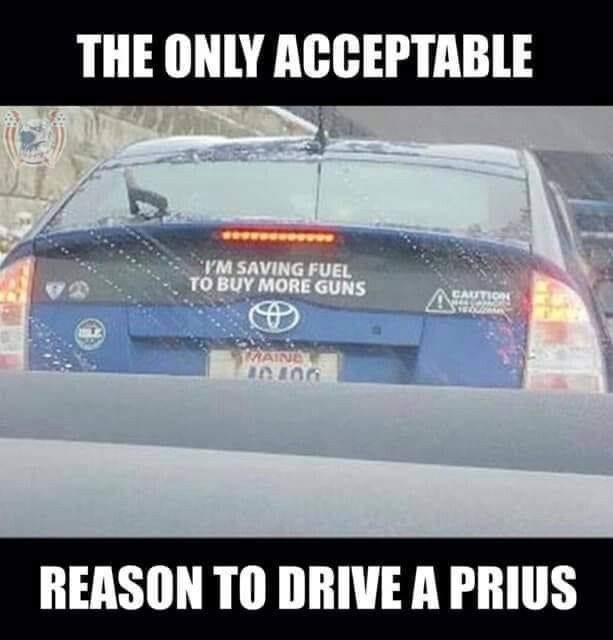 It's always fun to hot rod or modify any car to suit personal taste.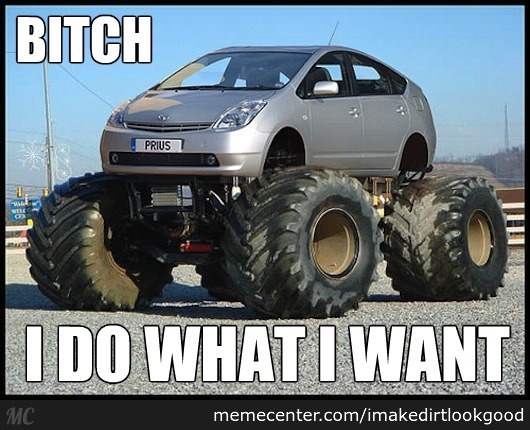 Never mind the haters.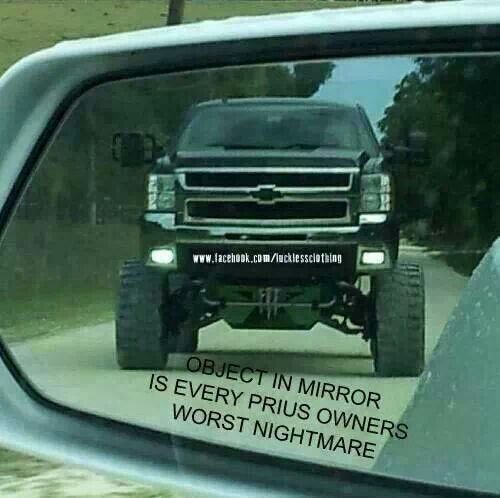 Or the comedians.

And don't forget the hummus lol
@Joel_W You know what you get with a 4 door Yugo? A Wego. You know how you make a Yugo faster? Hook it to a tow truck. I'll be here all week, try the roast beef, and don't forget to tip your waitress!
Joel,
After test driving a Yugo with my friend, i certainly concur that hooking up to a tow truck was not only faster but a lot safer.
joel
After the wall came down, I did a walking/hitch hiking trip through the DDR from Berlin to Dresden. Got to see the church in Wittenburg where Martin Luther nailed his thesis to the door. With my high and tight and by ALICE pack, I didn't even have to hold my thumb out. People would stop and say, "American? Get in!" Of course, every single one of them was driving a Trabi. Now there is elegance on four wheels.
If anyone should doubt the quality (Robert Pirsig would roll in his grave at the use of that word in regard to the Trabi) then have a look at this video:
Yugo jokes: made from recycled Lada/Skoda jokes.
What do you call a convertible Lada? A skip.
What do you call a convertible Lada with two exhausts? A wheelbarrow.
What do you call a Lada at the top of a hill? A miracle.
What's the difference between a Lada and a golf ball? You can drive a golf ball 200 yards.
What do you call a Lada owner who claims to have received a speeding ticket? A liar.
Why does a Lada have a heated rear windscreen? To warm your hands while pushing it.
What do you call a Lada with brakes? Customised.
Why does the Lada Owners Handbook have 500 pages? The first two are about the car, the rest are Bus and Train Timetables.
First prize in the raffle is a Lada. Second prize is two Ladas.
How do you double the value of a Lada? Fill the petrol tank.
What's the difference between a Jehovah's Witness and a Lada? You can shut the door on a Jehovah's Witness.
What is the definition of a miracle? A Lada that starts.
A man goes up to the counter of a car parts store and says: "Can I have a hub cap for my Lada?"
The shop owner thinks about his request for a minute and then replies: "Yes, that seems like a fair trade."
How do you make a Lada more sporty? Wear trainers while driving it.
How do you make a policeman laugh? Tell him your Lada just got stolen.
Why are Ladas and babies similar? Neither go anywhere without a rattle.
What is the difference between a school and a Lada? Schools break up and a Lada breaks down.
How do you overtake a Lada? Run.
There's now a 16 valve Skoda. 8 in the engine, 8 in the radio.
Why did the Lada cross the road? It was supposed to be going along it but the steering failed.
Why did the chicken cross the road? To help push a Lada back into the dealer's show room.
The new Lada anti-theft system: bigger badges.
Why are Lada dealers giving away a dog with each one sold? So the owner has a companion to walk home with.
Why do they fit ABS braking systems to the latest Ladas? So the driver can stop quicker to pick up the fallen off parts.
What is the difference between a Lada and a shopping trolley? A shopping trolley is much easier to push.
"Speed kills. Drive a Lada and live forever!"
"That's not a leak. My Lada's just marking it's territory."
What is the difference between a Lada and a tampon? A tampon comes with it's tow rope already attached.
Cheers,
M
@MoramarthT Tom, thank you for the education on Lada/Yugo humor! What most people do not realize is the Yugo is a Fiat 128 that has been "Balkanized"! and is not a really bad car :<) The major problem is what was typical of Fiats of that era, The bodywork was made out of very thin metal with no rustproofing from the factory! Thanks again for the humor, Joel.
Fiat?
I recall the Fiat X19 Bertone from my youthful days. An older friend bought one new. It was nice to look at but an absolutely horrible unreliable car.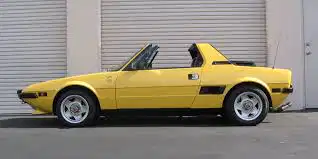 The car pretty much single handedly destroyed Fiat's reputation in the USA it seems to me.
It was based on the mechanicals of the Fiat 128 moved from the front to the middle…
Cheers,
M
The Lada was a Fiat 124 that was beefed up the same way the Gaz AA was a Ford adapted to the conditions in Russia. There is some question as to whether the thick metal for the body panels was intentional or just all there was available; it did make the Lada next to bulletproof. My former boss had one and had a coming together with a mid-size Ford saloon on country back road. The Ford was totalled, my boss drove the Lada home, unbolted the wing and beat it back into shape with an old hammer… I also had a friend with a Skoda, again much reviled but appreciated by those who didn't mind working on their own vehicles.
Regards,
M
I'm sure we have all heard this before but in the unlikely event that someone hasn't…
FIAT - Fix It Again Tony
Richard,
That's a good one.
Way, way back in my glory years of being single, in college, racing, and fixing sports and imports as a P/T mechanic of very questioning skills, the head mechanic that worked on the expensive imports was named Tony. So how on Earth did you know that? Ha, ha, ha

joel
H.P.
H.P.
LOL the Fiat was inspired by cankles


clearly the design vision of a depraved mind.
Only one thing for that…

Loved my x19.
Mechanics hated working on it. Claimed it was too hard to work on. Then I met one who knew how. There was the hard way and the easy way that wasn't obvious. The car was actually designed for easy access for maintenance/repairs if you knew how.
Example to adjust the carburetor they would try use a very short screwdriver in a space almost too small to fit their hand. The proper way was to open the trunk. There is a approximately 1" square opening covered by a panel held by one screw. Loosen the screw , turn the panel aside (don't remove it) and use a long screwdriver to reach and adjust the carburetor…
Replacing light bulbs was very easy. For instance dash lights. No awkward position while reaching blindly under the dash board. Sit in comfortably in drivers seat, remove some screws, pull the panel towed you The lights were then easily seen and accessible.
The exterior lights Head, Tail, etc. were all easy to change. unlike other cars i've had that required partial disassembly for access to them.
My only real reliability problem was the clutch. That was actually my fault. Replaced twice, in first 60,000 miles. Had over 100,000 on third (and it was still good) when I gave the car to my dad after 5 fun years. Life changes -I got a pick-up truck. Dad drove it for over 3 years.