Who's going to Telford this weekend.
Sadly no. After chatting with Mal at the Penzance show, I was really hoping to make it up there but work issues have reared their ugly head and it is a no can do this weekend as I am on standby for a possible tasking. I hope its a good turn out though.
I will see you when your able to attend.
I will be heading that way with Horsham Modellers Club.
I'm floating around , kitmaker bulldogs, modern British armour sig, Wirral IPMS,
Cool, we will most likely cross paths.
OK sorry. I won't make that mistake again,
J
Yes. Sad that many EU traders are missing - again.
I'll be there
Sadly - "No". Telford seem to me to be more of a trade fair than a model display – not that this isn't welcome in its own right. Club tables are mostly doubled-up ie 2 deep, which means any interaction with a club member, assuming they are actually manning their stand - is very difficult as the distance precludes any meaningful dialogue. It is good for a one-stop shop and is probably good for that alone, but as a show, it leaves me a bit flat. In fairness, I haven't been for a number of years so am woefully out of date.
If this makes me sound a tad curmudgeonly, then so be it. I personally feel that discussion with modellers is the most enjoyable aspect of any show, but as described above, is often awkward. Perhaps it's just Brit shows, but often the stand is manned by those either actually intent on modelling – and in a way why not – or those who refuse to make eye contact and are reluctant to speak!
Anyway, my observations are neither here, not there; I hope those who do go enjoy themselves and report back, ideally with some inspirational pics. Good luck!
Excellent… Nice build and a deserved award… Well done. How was the show ?
Congrats.
Will try to get to you tomorrow, only managed a quick walk around today, judging got in the way.
Hi ya Frank! Went looking for you on Sunday, but no no avail, better luck next time.
Nonetheless it was a very busy Saturday, Sunday was remarkably quieter, hence me making the tour.
Overall the displays and stalls were excellent!
Had a totally wierd experience where I met my names sake who happen to be two tables down and harkens from the same area as my family. Possibly or most likely a distant cousin.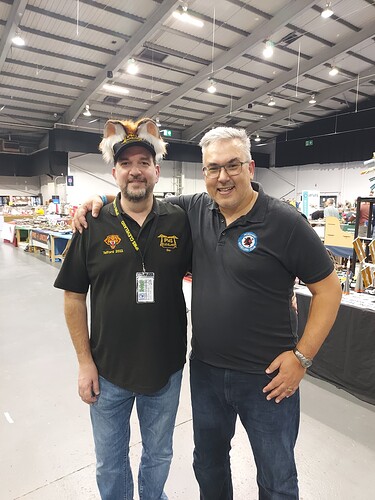 The highlight was the winning of a Silver for my R8 Samba Sleepah. I can tell I was quite concerned about my chances after putting down my build amongst all thos shiny kits, then I spotted a rusty tractor and caterpillar. OK, I will not be the only rusty contestant. You can only imagine my surprise at the results.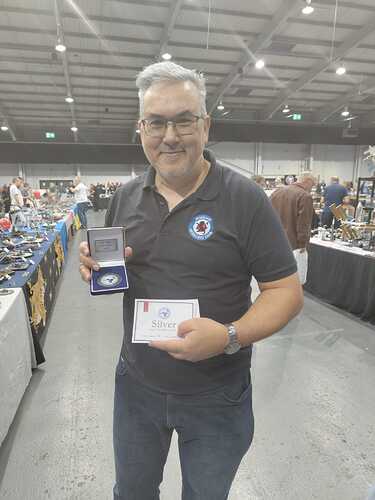 My fellow club member Ron, won a Silver for his truck and trailer and a bronze for his miscellaneous display. My Destroid Defender did not fair as well, thats probably because I had it in the wrong Sci-Fi category. Live and learn, eh?
Overall it was a great weekend, just a pity about the lack of seats for the tables.1 chair for five members, so it was musical chairs for the weekend, but had a great time.
Already looking forward to next year.
Nice to see it turned out ok. Will definitely try very hard to go to it next year.
Sorry I missed you, I'm a member of two internet clubs, that have tables at the show,
and the Wirral IPMS,
I got knobbled this year for judging armour, so was short on time, to shop and see all the other tables and people I know, as didn't go last year,
No problem matey, I never took it personally. I figured you were spread out thin. I myself walk past friends table without greeting on Sunday so engrossed with the table tops, I missed them. Dohh!
Better luck next time.
Are you at Bolton show. I have a club table their.
Sorry, no. This is the furthest north we go, us southern shandy drinking sh!tes.

Got that from a pleasant Yorkshire man.