Test successful, nice one
Thanks for the comment, took a while to figure out I have to use desk top veiw so I can see the whole widow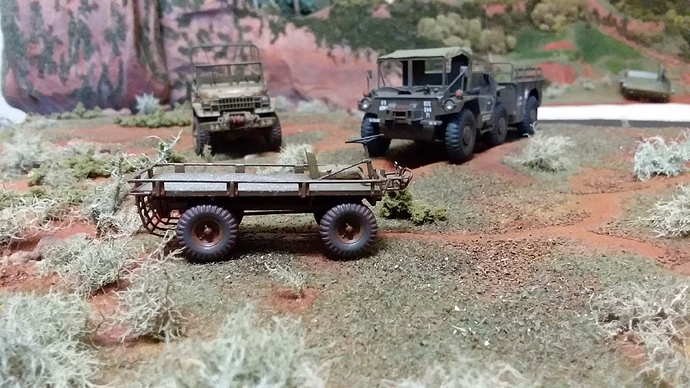 in order to post a pic, as far as my cell camera it doesn't know what to focus on . . . gonna see what happens when I post a pic with text . . .
Usually, if you touch the screen the camera focuses there.
What scale is it ? It looks like it will be impressive when completed.
It's 1:35th, about 6x6 in real time, the whole diorama is a running WIP.
That's big. Now I'm really interested. What will it depict ? Is it Vietnam ? Now this site is up and running, have you thought about running its own build forum here ? I'm sure there would be interest in watching it develop and some full pics to see it's whole dimensions ??
It's suppossed to be a dipiction of the different AFV's used in 'Nam focusing on the 11th Armored Cav, theoreticaly somewhere south west of Quan Loi. I ran into a hiccup with that intention when I discovered the M561 wasn't actually deployed in country, well bummer, I like the 'Goat so "Houston we've got a problem". It's a bit premature to show the whole dio but I'll throw somemore pics in here. I've been following Armorama since around '06 but never joined until recently so participating in a forum is new to me eventhough I've been builing models since '68, any way here goes with some more shots . .
Wow, that is really impressive Terry … And very very large lol… That's alot of kits your planning. I think a great many will be interested in this and your progress, keep up the great work.