Amid the manic clutter on the work desk is the Horch and 3.7AT gun for the operation snow white campaign, and the Panther is for the build a photo campaign, soon to be finished.
Clutter is good! Finishing is better! Looks good so far.
Well the Horch is finished now, I admit I forgot to put here but it's over in the Snow White forum on the other site.
So desk is far less cluttered now lol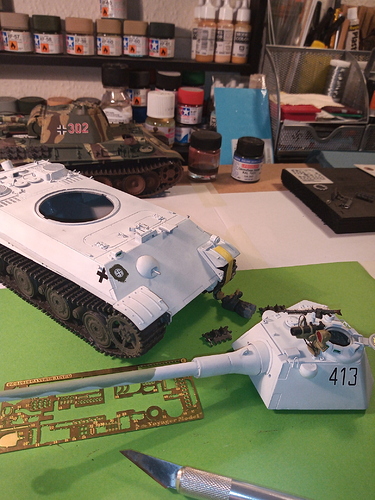 Well the clutter has appeared again lol… This time in the form of the almost finished Panther 2 for the Sci fi / what if campaign…
Well the Panther 2 is finished for the Sci fi and What if campaign so thought I would put a few of the images up here.
It was an old kit, but I enjoyed it towards the end.
I was going to do a block camo on a white background, but it all looked very bright so went off that plan.
Then decided to do an abstract 4 tone camo ( NATO black, neutral grey, flat green and NATO brown) over white. I then thought I would do an reverse white wash and applied a slightly thinned dark yellow wash, the idea being that would wash away towards end of autumn to show the proper white cam for a far north fighting environment.
I also went for a heavy weathering and some damage.
Bins are spare CVRT bins and a spare IR sight for the Commander.
Looks fantastic. I like the camouflage paint.
Thanks , it was just all very random…seems to work over the base white though… I had forgotten all about this thread …