This is great! The upper pic was from my HD… and the lower one from imageshack. Much easier than the old threads.
Great to see you sorted the access Gaz, have fun exploring!
Cheers, D
Thanks, Damian.
I'm wondering if this means that we won't have to post stuff to a gallery of any sort for campaigns.
Hoping!
Gaz
Gaz, I don't believe that there is any sort of Gallery here with direct-to-post images. What we have been doing on Automodeler for a while is creating a Photo Feature of completed builds at the end of the Group Build, not using the Gallery at all. We will continue to do that here, and maybe that will flow on to the other forums as well.
Cheers, D
That's a great idea, Damian. I can't count all of the posts I've seen of peeps struggling with the old gallery.
Gaz
Yeah, we discussed it and agreed that having to navigate away from the forums to find the Gallery was counterproductive and too difficult for some. The photo feature concept works well and it is much easier to browse through than the old gallery.
Cheers, D
@AussieReg can you tell me more about this photo feature that you briefly mentioned and possibly give me a link to one of your previous ones please
Hi David.
On Automodeler, our Group Builds run April-September then October-March. This year we ran the "Strip. Track & Trail" Race theme Group Build April to September, and I am just about finished processing the images of the completed builds for that one. I'm hoping to create the feature as a last hurrah on the old forums before they are archived. I crop and resize the images to a fairly standard size and then label each one with the builders Username, first name and brief description using Microsoft Paint as seen below.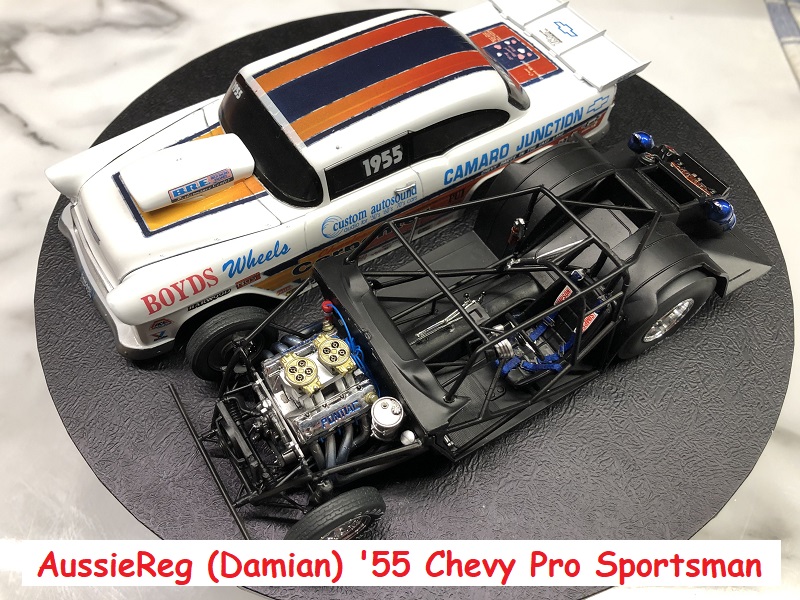 Prior to that Group Build, we had the "Blue Oval - Ford Vehicles" Group Build. The Photo Feature on the old forum is here - https://automodeler.kitmaker.net/modules.php?op=modload&name=features&file=view&artid=7997
I hope this helps, please let me know if you need more info.
Cheers, D