You're welcome. I used this as reference for my Hellcat build.
Looking at some of the ref pics out there, I may have to do a dry brush of silver over the gunmetal on the engine as it appears quite silver in most of the shots
Bit more of the fiddly engine loom done (fully glued down) and the mounting bulkhead and frame for the engine
I ended up just giving the engine a very light dry brush with chrome silver to highlight a few areas. I may give the loom a thin black wash to take away a bit of the glare.
And the engine rear.
Mounting bulkhead and frame
Will try and get it all fitted tomorrow
Nice… I used a mix of brass and grey to reduce the shine of the loom…
That could be the way to go, will try that I think
Some swift progress tonight.
Fuselage is together, landing gear struts built up,

Engine installed and part of the tail plane is done.
Also got the wings together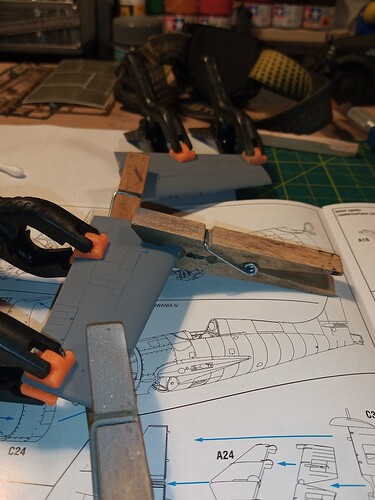 Bit more added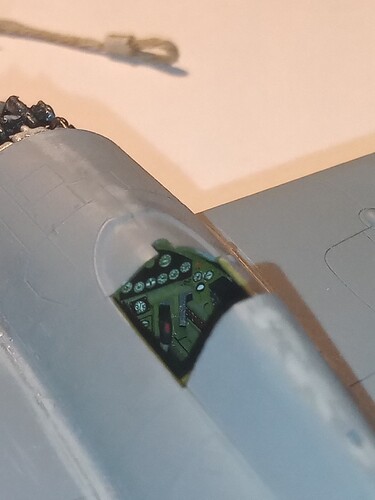 Inside looks nice. Decals for the instrument panels make a big difference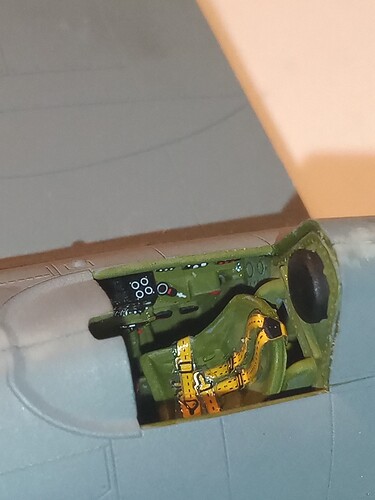 And wings on, tailplane on, and engine cowls put together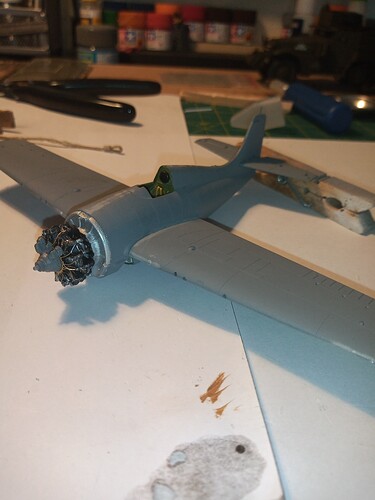 As promised - I fight with matter:

Got some paint on the little feline.
Ended up using Tamiya XF20 which doesn't look to far off. I think I got the wrong timeline AK set for US Pacific aircraft… Hey ho…
Had the same issue with upper blue … I was going to use the intermediate blue, built it looked to light so I ended up mixing a bit of 2 together
And came up with this, which again looks ok to me.
Apologies for the slight sheen, bit paint is still a bit tacky/wet.
There's a few bits to tidy up and then I can do some detail painting.
Just slowly starting on the detail painting, thankfully there isn't much.
I was a bit miffed, when I sprayed the canopy (with a kit supplied mask) I couldn't of put it on perfectly straight as it sprayed through about a 1mm strip on the top of the front section above the gun sight.
I will be leaving the canopy open though so you can see the details inside.
The green you can see on the canopy is the interior green on the inner surface of the canopy frame
Me again lol…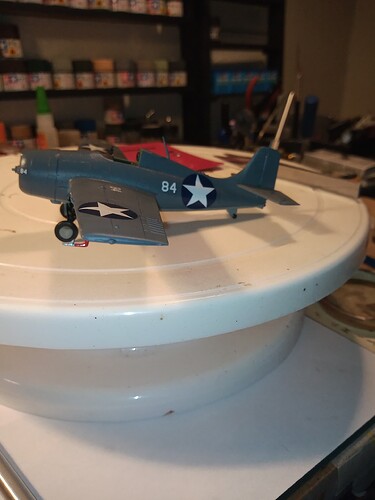 Almost there now …
On the prop, was it metal or wood, would it be chipped, show wear ??
What about the wing leading edges, chipped , wear ?
And bearing in mind the airstrip conditions on Guadalcanal, would there be like dust, dirt on the undercarriage areas ?
All help appreciated guys
Aren't you, like, an armor guy? How come you are able to crank through this both well and quickly. You've been holding back on us, haven't you?
Cheers Phil, yeah, armour is my normal comfort zone, but I always dip into all the categories to see what's happening and I wanted to do a kit for each one, so as you say, loads of armour, the beetle for cars and armour, Victory for the salty sea dogs, this Wildcat and the forthcoming F16 C and my AT ST for all things Sci-fi…and of course I'm doing the Big 3 universe campaign coming up as well…
I will of finished the wildcat in the next hour or so hopefully and then that's bench clear lol
Ok I lied, it was just over 30min lol…but who's counting


The F4F Wildcat is finished. I'm not an air guy so please forgive any glaring errors on the build or finish, but I have it my best shot.
The aircraft belonged to. Capt Joe Foss during the Guadalcanal campaign during Oct/Nov 1942. I believe his aircraft when through various numbers during that time. This is meant to be one of the.
The kit was the Arma expert set, which I was very impressed with, from the PE, detailing through to the well laid out instruct which were 100% idiot proof
. It also had a very comprehensive decal sheet as well.
The bird…
Paints were a mixture of AK and Tamiya.
Also used black soot pigments, Vallejo dark steel pigment and some earth pigments on the wheels.
And I used some .3 ammo MIG rigging line for the aerial…
It was a fun build that went better than I hoped… Thanks to all for the support and tips and advice
Beautiful bird there John! Your talent has great scope!
Cheers Matt @SSGToms and Phil @phil2015 … kind words and much appreciated chaps. My eyes are pretty much back to normal now after this little fella almost ruined them lol
Johnny, Beautiful build!
One suggestion could be to add a coat of varnish after the decals and before weathering. That will hide the decal edges a bit better. Just a thought, it is an absolutely beautiful build as it is.
Very good point Jesper… I can guarantee I always forget that lol