Looks like it's going to be a nice diorama. Like the barrel very much / good luck
Tank , all done .
Be careful handling the front with the Letraset transfer letters and numbers , they will lift off if you slide your fingers around on them .
Beautiful work… as usual! My only question is the brass plate for the spigot. It seems kinda pristine compared to the rest of the tank.
I bet there's a guy who's job it is to polish those.
Thanks man , painted it bronze and totally forgot to do anything to it .
Added a light wrought iron black wash and a soft pass of Baltic Green for verdigris .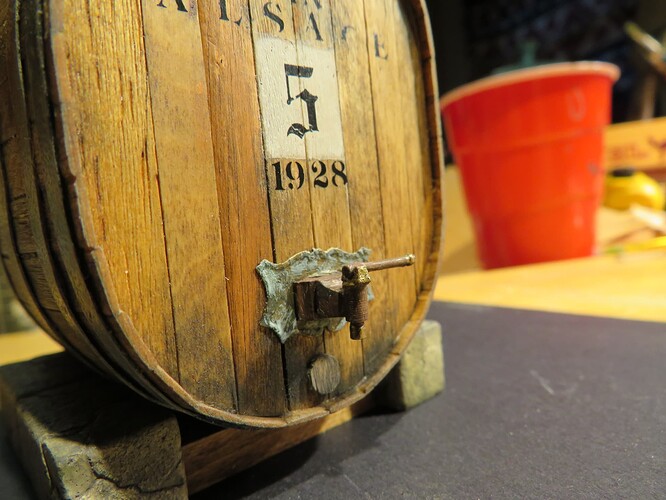 Outside of awesome, I am at a loss for words to describe the cask work.
That whole deal is looking spot on! The wood grain and staining,etc is really impressive!
J
I got thirsty man! It's looking very very good! /Erik
Awesome work! Up to the stand… very convincing…!
The mailman just dropped @Cheyenne work off. A huge thanks to Glenn for building the cask, he didn't have to. It's a thing of beauty. I need to get cracking on the other bits.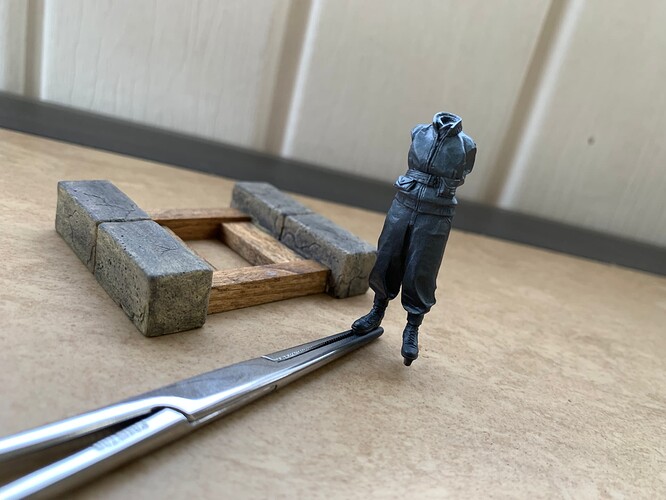 Thanks again Glenn.
This one slipped under my radar Ryan, what a great idea for a small vignette, and I really liked your scratch built table for the barrel, really looking forward to following this build,

.
Really impressed with the cask Glenn built for you, and such a generous contribution,

.
G,

Ryan , finished the round barrel .
I will mail it out to you in a few days , snow storm coming …
Outstanding work Glenn, a piece of art, but then I would expect nothing less from you

. Does your generosity extend to filling it with booze for Ryan to enjoy,

.
G,

Both casks absolutely beautifully rendered!


—mike
I'm guessing they've been emptied since holiday cheers are over.
Just a simple question: If the round cask can be filled through a plugged hole at the top - how's that done on the oval one?
Sorry for being the nit picker, but what comes out must've gone in …
Gobsmacked and loss for words.

Thank you doesn't seems like enough.
G,
I need to send him full casks to enjoy for the labor.
Yup forgot , pm'ed Ryan to put one on the oval cask when I told him he'll have incoming soon .