Two military officers wearing "sound finders", designed to detect the direction of approaching enemy planes.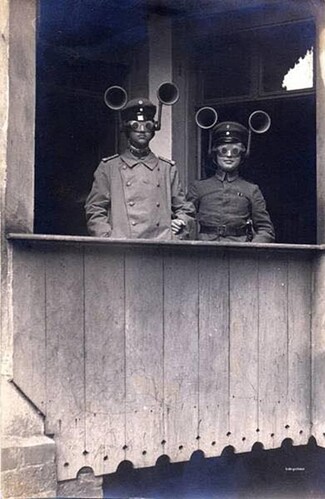 Did Walt Disney pay them for the design?



Beat me to a comment about being members of Mickey Mouse Club - the original Mouseketeers!


Provokes in me a strange compulsion to sneak up to them with a couple of air-horns and…


Could also do "Earthman, take me to your Leader!"
This looks like the start of a Monty python skit
Every time I see this photo it just looks like a scene from Allo Allo.
Herr Flick of the Gestapo and assistant Vonn Smallhausen, using Gestapo listening devices to spy on Renee, in another attempt to find out the secret hiding place of the British airmen.
Well, before we scoff too much, sound location was just about the only method of approaching aircraft detection there was - prior to radar; German efforts eventually evolved into such equipments as this:
A British effort here:
The Brits even experimented with concrete "Sound Mirrors", some still surviving on the coast today: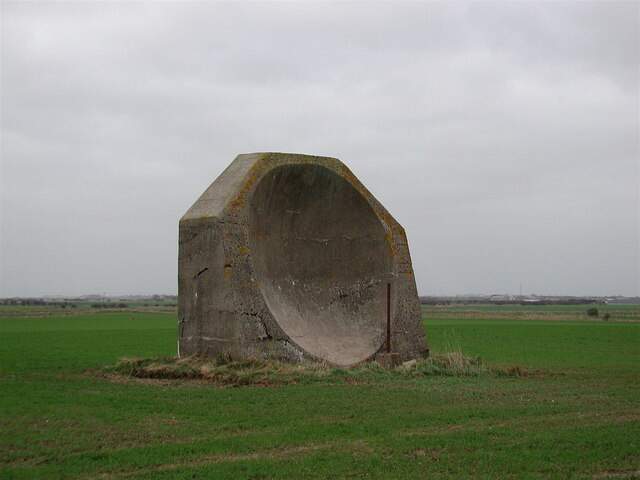 Now that is really cool. Never saw one of those before.
Thank you for sharing.
Randy
Randy, theres a bit on Wikipedia about them all; see:
I've only seen the ones on the SE coast - they're not unimpressive(!)
Thank you Brian.
I went and started looking at pictures of them as soon as I learned about them from reading your post. Very interesting. They are a lot bigger than I realized.
I thought this picture was cool.
Thank you again for sharing. I have a whole new area of interest to research now.
Randy
That is a good picture; I find it quite gratifying in that although there was a lot of dereliction of duty (when it came to national defence) during the 20s and 30s, in some areas, the Brits were quite scientifically bold and not afraid to experiment.
Fe fi fo fum I smell the plaster-casting of a cool diorama er -man


M-I-C . . K-E-Y . . . . . . M-O-U - - - - - - -
---
The software is DEMANDING I form a complete sentence so here it is.
As I indicated earlier, the Brits were quite innovative in a way; I find it interesting - and reassuring - that the command and control established for the acoustic system transferred across - apparently effortlessly - to the Chain Home system once radar (although not called that at the time) devices were established. I suspect that 1940 may well have taken a different format were it not so.
I like these two as well :
A Czech locator, 1920s. When tested at the Dutch military research station at Waalsdorp it was found it "contained fundamental deficiencies".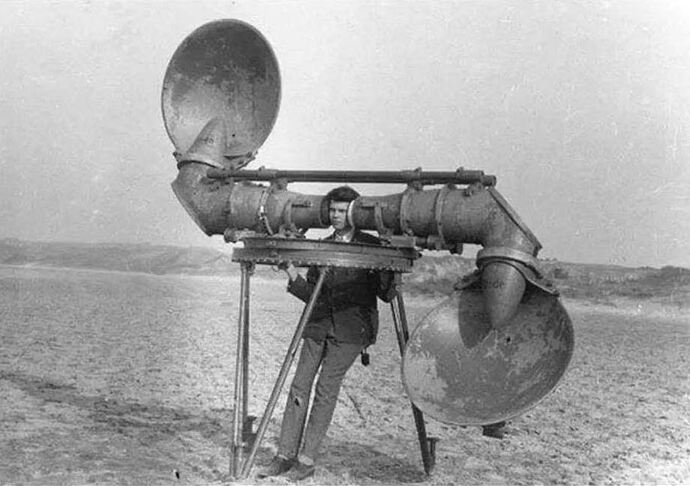 A two-horn system at Bolling Field, USA, 1921 :
H.P.
I wonder in a 1000 years how the 'intellectual brains or the tinfoil hat club' will tie those things to Stonehenge.
Cheers



And yet there was a much cheaper and possibly more effective device - it was called a dog. As a teenager in 1940-1942 living in Weston-super-Mare my mother remembers (yep she's 98) how their pet terrier would suddenly leap into the air for no apparent reason around dinner time and scurry under the table to the furthest corner against the wall, refusing all enticements including food to come out. Some time later the local (Weston) air-raid sirens would go off, heralding the approach of yet another blitz of Bristol docks 25 miles away. So I guess pooch picked up the formation at around 100 miles distance.
All they needed was a chain of kennels along the southern & eastern coasts
(Luckily for y'all I'm temporarily right out of canine puns…no wait there's one at the back of the shelf : the breed they should have used - German pointers, shorthaired of course)