Looking forward to seeing that octopus cam. Don't see it very often.
Cool stuff with the remade Lowe! Looking forward to see more
I have made some more progress on my panzer walker. Things are really moving forward with the painting.
More to follow soon
So has there been a decision on how ribbons will be done on new future builds? I thought I had read something on ribbon migration happening also. Was that right?
It is clear from Staff Jim that there is no transfer of previous campaign ribbons. Very sad but it is what it is.
Staff Jim is working hard to work out something for future campaigns. What I understand is that we should not expect anything until the end of the year.
However, I hope and believe Jim will find a solution. There are a lot of builders wanting to have medals/ribbons for future group builds, so it would make sense to find a solution for the supporters.
For now I think we just have to wait.
Ok fellas, finally finished up and got some pictures taken. Here's my take on the Pzkfw VII Lowe. Forgot to mention and take pictures, but I also re worked the detail on the front fenders.

With a King Tiger for comparison: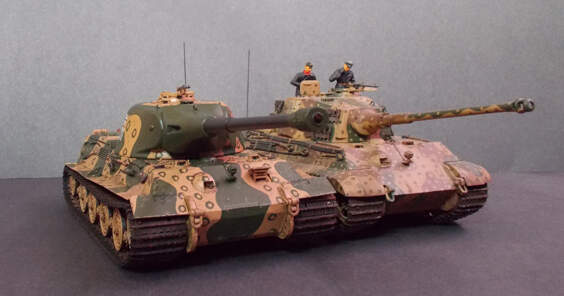 Tracks aside, pretty easy and quick to build. Around the same time started this kit, I also started building the Amusing Hobby VK 30.02 DB which also sat for years until I started working on the tracks recently. Hope to finish that one up soon too.
The Lowe looks fantastic. A bit like a love-child from at Tiger 2 and JS2. Love the quirky octopus camo scheme too. Thanks for joining in. Looking forward to seeking the VK 30.02 DB too.
Beautiful Lowe!
I finished my Panzer Walker. Glad to have it done after having it standing around unfinished for months.
Looks Fantastic Jesper. A very unusual subject. You have brought out the detail well and the end weathering is great. Thanks for Joining in the campaign too.
Thanks for the comment, Peter.
Is there a place I need to upload the pictures?
I have tried for some days now to get into the old photo galleries, but all I get is "server busy".
@SGTJKJ Jesper, the Gallery has been a pain in the butt for some time. I can't upload anything there either.
Never fear though, when I allocate the awards I'll troll back through the thread and pick up anyone who has finished a build but been unable to add to the gallery.
Cheers Peter
Thanks, Peter. Much appreciated
Well after a long slog in PE and scratch building to get this AMX-13 more IDF and less French I am finally updating my progress here. Next stop primer and then painting.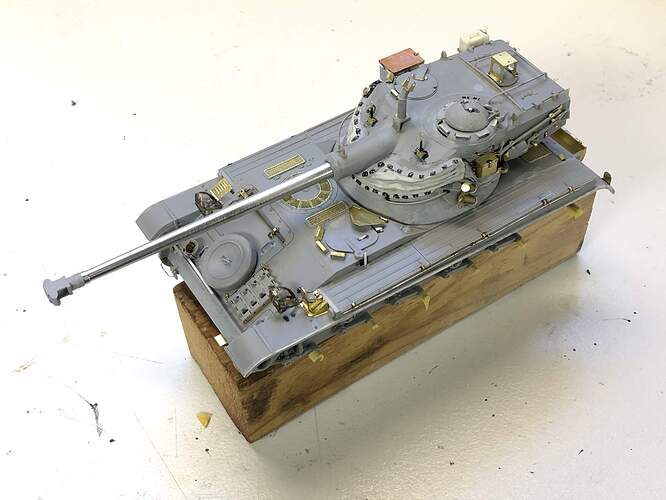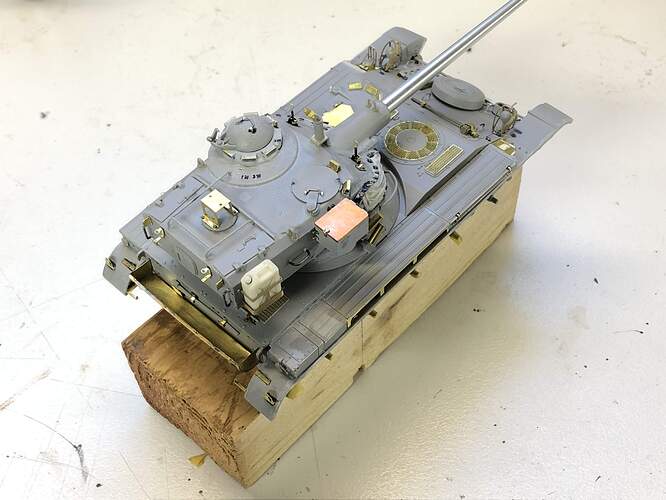 Fantastic work Chris. A lot of very intricate work aded to it. Love it.
Thank you sir! My first modern armor piece but won't be my last, really enjoyed researching this one and have some others in the hopper from the same era.
Great build, Chris.
Looking forward to see more soon
Glad to see that the photo issues seem easier here. Posted a pic to the Antique Antics campaign…trouble free.
Found my way to the new forum! I was a newbie there so I guess I'll be a newbie here.

To recap, Here's where my Tamiya M1A1 was in August. She's been sitting in that state for over 10 years.

OOB build for parts. Echelon (3-69 Armor, C Co) M1A1HA Abrams in OIF decals. Adding the lightening holes in the drive sprocket wheels with a pin vice, then filing to shape, was task done with a lot of sweat on my brow. Was worried I was going to screw it up. Will be adding a few simple scratch build parts to finish her out (smoke grenades and antenna).
A couple of in progress pictures.
Getting really close to a completed model.
Looks fantastic Brian, really coming together very nicely
The end of the month is fast approaching…along with retirement…a full plate indeed! Knowing the campaign ends the end of the month, the pressure to finish is there, but I also understand patience is key. So, some update photos of progress thus far on my Jordanian M47.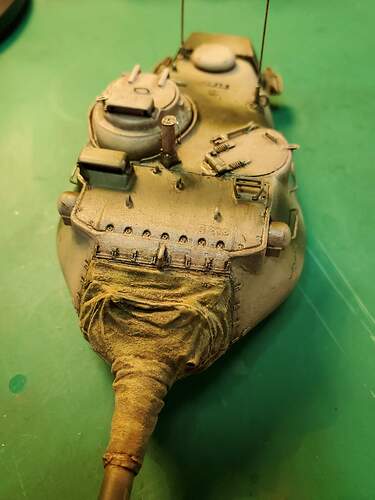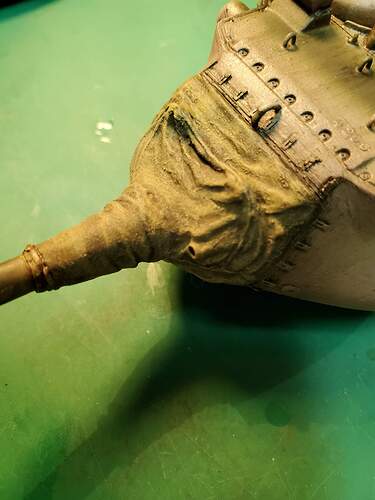 First and second photo: featured is the mantlet cover and general black/brown wash…pin wash as well on the turret (note foundry marking on top of the turret at back of photo). The mantlet cover was treated with Mr. Surfacer to replicate fabric and the roughness, wear/tear, and fading, associated with the exposure of the worn canvas fabric to the elements. Then painted and washed in at least 5 combinations of greens and light browns to show that wear. I felt like had to distinguish the cloth feature of the cover vs. the metallic structure of the vehicle. The third photo: black and brown general and pin washes to the chassis structure and bogies. All progress photos are not 100% to my satisfaction, but I'm getting there!
John, the M47 is looking fantastic. Can't wait to see it completely assembled. The pressure is definitely on!! Slow and steady wins the race!!