Nice video.
I did a border mission on the Czech border in the spring of '88.
Quite a experience.
Makes me want to read "team Yankee" again.
Well that's my freedom boner satisfied for the day
I got to go to the border once, when I first got to Germany. After that, us regular troops were not allowed into the 1k zone. I am so glad that's all gone now.
Ken
A very good novel! As were all of Harold Coyle's books.
I only know of this one.
What are the others like? Same style/narrative?
Great film there! I visited the Hof border camp on a tour in the summer of '86. Excellent tour. I have some pics laying around somewhere. I'll try to post them.
Hi Richard,
would be great to see those pics. I lived near Camp Harris, Coburg for 31 years. Did my first photoshoot in 1988, M1A1 (brandnew). Something you never forget!
What unit was it?
I was in Erlangen and we got our brand new A1s in September 1987.
Up in the brit zone I recall very early on in my first posting to germany, we were all shipped up to Helmstedt - truck or minimbus - I can't quite remember and were given a tour of the border by the British Frontier Service (who confusingly, to me, wore a Naval type uniform. Seeing the opposition at very close hand made quite an impression on me (as I suppose, it was meant to). There they were - the NVA Grenztruppen, photographing us, and there we were, photographing them, all at a distance or around 3 metres or so - totally surreal, but also sinister; a clash of ideologies and all the shameful evidence of how to keep a people in. The could proclaim it as an anti-Fascist barrier or whatever, but we all knew its true purpose.
Funnily enough, as we moved on, and out of sight of the BFS guide, some of the blokes threw over some packets of cigaretes; I think perversely perhaps, we sort of felt sorry for them.
I wonder what happened to all the pics taken by the East Germans?
Hi Dan,
it was 2/64 Armor Charlie Company.

Some fancy markings then. At that days I bought Tamiya M1 kit and AEF Designs M1A1 conversion. It was a mighty fine conversion, they even managed to cast the handles for the turret stowage boxes.
Thanks, I was with 1AD.
I still remember the smell of the insides of the brand new tanks.
Yes as I think I told Dan, I was at Erlangen from '85-'87 at Ferris Barracks. D Co. 2/6 Infantry, 2nd BDE 1st AD. Loved it.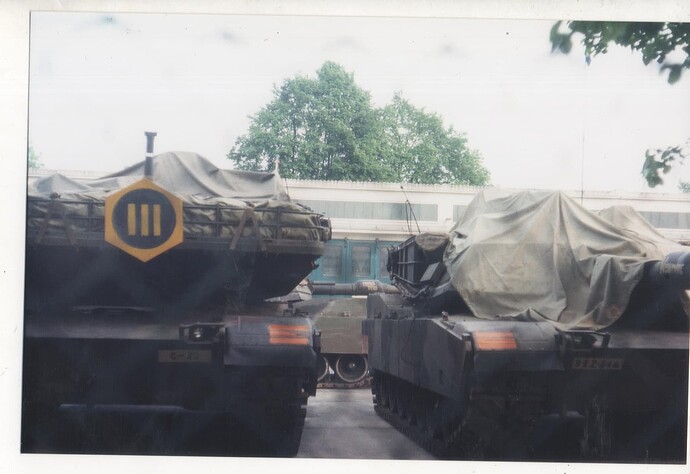 Damn, that's my old tank number, C-32. Where were these pics taken?
We had the first M1s in Germany, back in 1982.
Here is the original, M60A1, from 1981.

Ken
Harris Barracks, Coburg. September 1988
Very cool video. Thanks for posting it!