USS Arizona Battleship Model 1:48 $43,000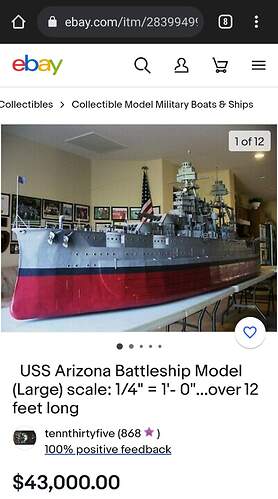 Pretty expensive 1/48 model ship.
Is it scratch-built? (Most likely!) Is it accurate? (Possibly!) Does it come with a base and cover? (Hopefully!). Obviously only for serious buyers.



A cover and a base??? for that scale and price, I hope it come with a boat trailer for it too…



At 7.4mm in scale, you could arm it effectively too! It'd be the terror of the boating pond…
Broad side Salvo of twelve 30-06 (thirty-aught-six) rounds ought to get someone's attention, maybe even sink that pesky 1/96 scale Yamato too.
You can see the build log on youtube. It's massive and extremely well detailed. Bit out of my wallet size though