looking for the campaign posts in the new forums? anything in here yet?
They're slowly being ported over. From the kit maker page you'll see the different forums Laid out with sub forums underneath. Campaign's are under group builds.
If you're already within the armorama page you'll have two drop down menus at the top. The first is to select which kit maker forum you want - armorama, aeroscale etc. The second on the right hand side, just below your login icon is for the sub forums. Campaigns is under group builds in this menu.
Think there is still a bit of planning to see how they will look exactly work on the new forums.
I must admit now that I've (just about) learned how to post photos, I may be tempted myself; the Golden Memories campaign has piqued my interest - just not too sure at the moment how to track it down!
I'll get on the case.
Brian
Brian, just look under the Armorama section here, and then Group Builds, Angel started a new topic link here.
John,
Thanks; I did pick that up but upon re-reading the criteria I realised I didn't quite qualify (ie not a fresh build, no construction pics etc). For the record it was a model of a Land Rover and me folks (!) which I made a couple of years ago depicting yours truly on Ex Summer Sales 1974.
Brian
Hi Brian,
I have provided a link to the Campaign in the old forums and you can check out participation builds and their progress until new forum took over.
The Campaign runs till Dec. 31st, so there is still plenty of time for some new builds to be incorporated.
I for myself will post my progress on the new forum, while linking my post here to the old forum as well. Sure it is a duality, but that's how it goes with 2 different environments that co-exist side by side(at least for some time).
I'm also eager to find out how tracking of new GB/Campaigns will happen here, but I guess we'll need a bit more time to find out- the change from old to new forums is a substantial one, so we'll need to go the learning curve as well.
Cheers,
Angel
Thanks Angel, but as mentioned my entry would have been flawed - that said I suppose there's nothing to stop me posting it as a singleton post. I appreciate there is still time and God knows I've more than enough projects buzzing around my brain, but I doubt I'll finish one in time, not least given that I hare off at tangents all the time! The downside in a way of such an inspirational hobby.
At least the new site allows relative ease of posting pictures, which must be an improvement apart - from the sheer technical necessity to replace the old; I think it is clearly the way ahead and will flourish once everybody gets on board.
Brian
Brian, if you want to post a few pics of it in the GMemories thread on this site don't have an issue with it. It's a nice memory of yours and your not in it for a campaign ribbon, I would class it as general interest, so feel free ok. I have had more than my fair share of Landrover escapades over the years so know how you feel lol. John
Roger that - here goes (only 2 x pics at the moment)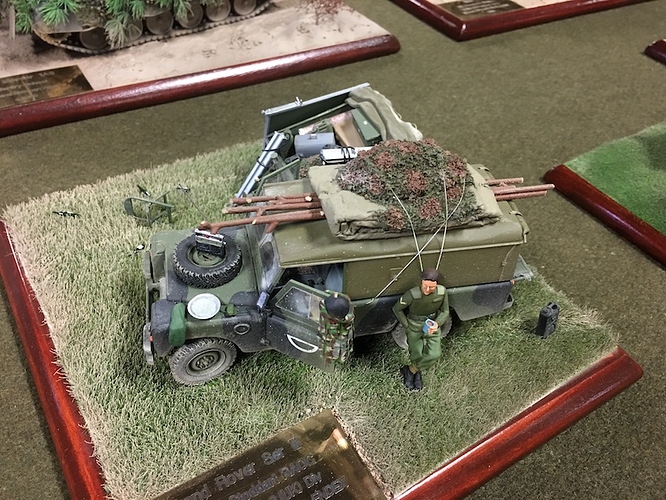 Back story - and here your eyes will glaze: I was a young (20 year old) Lance Corporal posted to 3rd (UK) Div which at the time was, amongst other tasks, a reinforcement formation earmarked for BAOR. Consequently we were often on exercise in Germany or Denmark and Schleswig-Holstein. My trade was as a Staff Clerk within the Royal Army Ordnance Corps; what that meant was, essentially, was that I was employed within formation HQs - Corps, Div, Brigade, even Army Group - but that's another story and model. Anyway, in 1974 we were to exercise with the annual 1st British Corps Command Post Exercise named SUMMER SALES which for us, started at Goldgrund training area - part of the Sennelager complex - and lasted for about 2 weeks or so. Anyway, at the end of the exercise after usual round of punishing moves, NBC alerts and endless Operation Orders to produce, for whatever reason the Chief Clerk left me off the return manifest (that is we returned to UK by Landing Ship Logistic sailing from Bremerhaven to Harwich); upon reflection I think I'd p***ed off the Chief Clerk during the CPX as back then I was inclined to be, how shall I put this? Somewhat forthright in my views. In any case, I was earmarked to return with an Army Air Corps unit a couple of days late. I knew one of their JNCOs quite well and we went shopping in a German supermarket and came back laden with wine. The model shows me the morning after subsequent to my ablutions, hence the washing bowl, my washing holdall, towel etc and having the first brew of the day.
The detritus from the previous evening is scattered in the vicinity of the vehicle. The Land Rover wing mirror is angled for me to use as a shaving mirror. The kit is the Italeri/Revell one, and wasn't that difficult to model apart from aligning the canopy. I've shown the cam poles (from fir saplings), the folded hessian (a ton when wet) and the cam nets; if they seem disproportionate in comparison to the vehicle that's because we carried sufficient cam for the HQ complex as we were an all tented HQ.
The trailer is from Accurate Armour and I scratched most of the contents apart from Jerricans viz: map boxes, traces, more cam nets, a Gestetner duplicator (surely a first in 1:35?), map boards, map board lights and cables - including a 3 pin plug and that's about it. On the tailboard - not yet shown as I haven't any more pictures yet - are a mess tin and stove. The rear of the vehicle is rammed with classified waste, a document security box, my personal webbing, typewriter, steel helmet and sleeping bag; I'll try and get some extra pics soon.
The figure is from Firing Line and although we never wore '58 pat belts over pullovers, I left it be; the head is from Hornet and bears no resemblance to me as such, but at least it has hair, which sadly is just a memory these days.
Sorry for banging on but I thought I needed to set this in context a bit.
Brian
Sorry Chaps - 'realise I've posted this in totally the wrong bit. I have no idea how to rectify that.
Mea culpa.
Brian
Great little Dio Brian. I know the Goldgrund well, spent a fair bit of time there on Chieftain and Chally when I was in Athlone Bks Sennelager… And puttees… Those were the days lol…
Looking forward to more images. Love the little bits that I have done as well… Using the front wing as a base for the wash bowl and the wing mirror as the shave mirror… Memories indeed.
How did you do the actual cam net. It's probably the most realistic one I've seen for UK kit.
John,
Many thanks! It's a funny thing, when I started on this particular model, the more I did the more I remembered, it was really quite weird how much I'd forgotten but the kit helped me remember - if that makes any sense at all.
The cam nets are nothing more sophisticated than used tea leaves (fresh, not bags). In this case I moulded a blob of Milliput, then added bandage gauze soaked in PVA glue. The netting is just there to emphasis it is indeed a net, as you well know when cam nets are compressed for stowage/transit netting is hardly ever visible. After it's all dry I then apply more PVA glue though not quite as diluted, then add the tea leaves. Some inevitably fall off so I normally apply an extra coat of glue after they've dried to sort of plasticize the leaves and this seems to secure them better. Some however still escape when painting but that just means a couple of coats. That's about it; I also use it to replicate draped cam on vehicles such as this Belgian AIFV (though it's a bit of a leap of faith to cover most of the vehicle):
Sorry the photo's not up to much. I'm currently working on a Leo 1A1 also crammed up using this method; I'll probably post it in due course.
Thanks again for the interest.
Brian
Thanks Brian, that's a fantastically simple way of doing a cam net. And it really does look the most realistic I've seen for a British one. Very clever. I will certainly try that next time when I start my CVRT Striker build (my old wagon ).
Looking forward to seeing more images of the Rover and Leo now.
Pleasure John; it's quite useful to, say (depending on the vehicle/effect) apply a sort of sausage of Milliput first to provide the bulk of a rolled net before the gauze, but I'm sure I'm teaching you to suck eggs here.
I'll try and crack on with both pics and the Leopard; my problem is I keep going off on tangents and tinker with something else. I just wish I had the will power to focus on one kit at a time.
Brian