Something else for your viewing enjoyment (I sincerely hope).
I just finished this project. It helped me survive mid-summer in Arizona…
Many years ago, Cromwell Model Productions produced a set of 1/35 German crew, in full winter gear, intended to be riding a Sturmgeschütz. In the set, there were a dozen figures, in total. They were sold in pairs.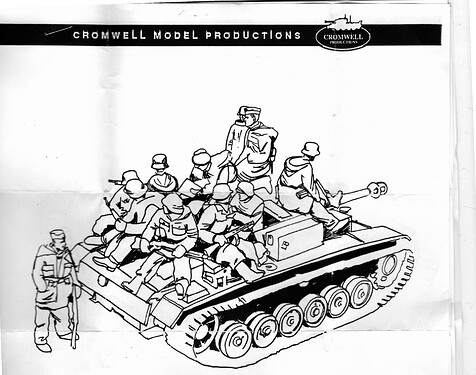 I stumbled upon a bunch of them in a bin at a dying hobby shop, somewhere, and bought them for just a few dollars. I wasn't able to find all of the sets. I did wind up with a couple of duplicates, though.
They're a surprisingly high quality, and an interesting collection, in natural poses and well-cast.
I used some of them on a now retired diorama, and along with the ones that remained in my stash, I assembled a Dragon Stug IIIg. and put them all in place. As the original paint job, on those figures was weak by my current standards, I had to do quite a lot of repainting and touch-up on the previously used ones.
Of course, I had to build a diorama around them. So, with the help of a wrecked, Tamiya T34/75 and a laser-cut building I found on Amazon, here's the diorama, just completed.
I was overdue for a winter, snow scene. And I wanted to try the new AK Terrains products. It took me a while to get used to the Snow, and Snow Sprinkles, but it did come out okay, over the top of a lot of plaster/spackle. The Wet Mud, in the roadbed worked well, I liked it a lot.
I'm afraid there's no clever story involved. Just a bunch of Germans riding to battle in the snow – although I thought the little snow-man, wearing a Russian tanker's helmet, provides a bit of a smile to an otherwise chilly scene.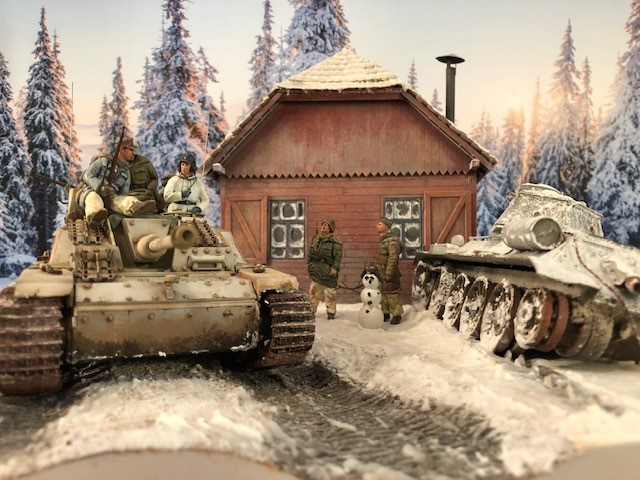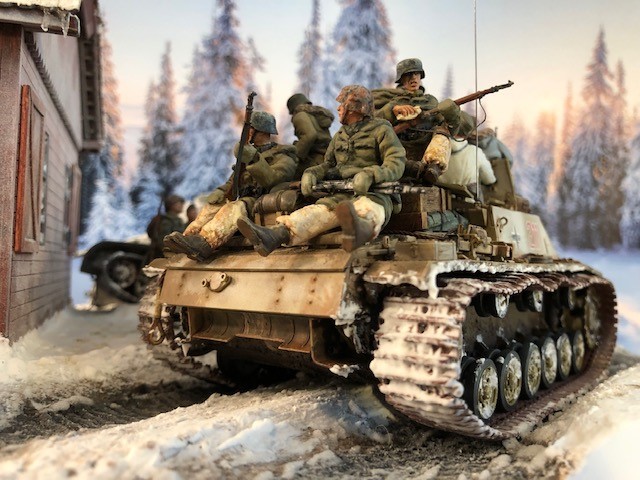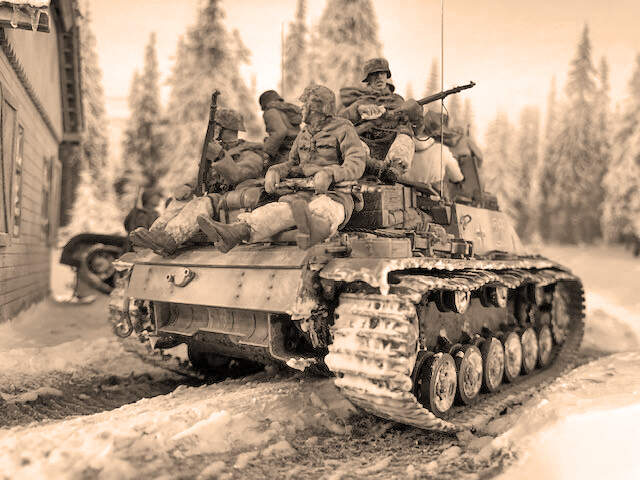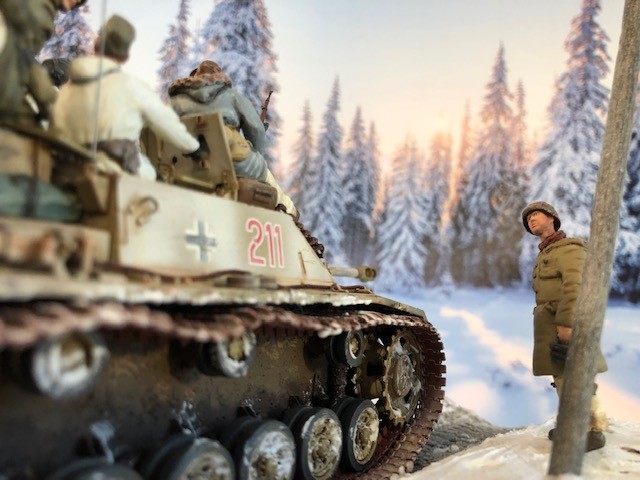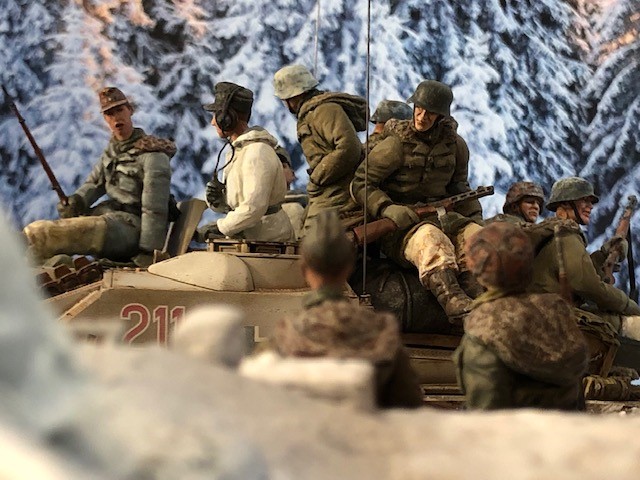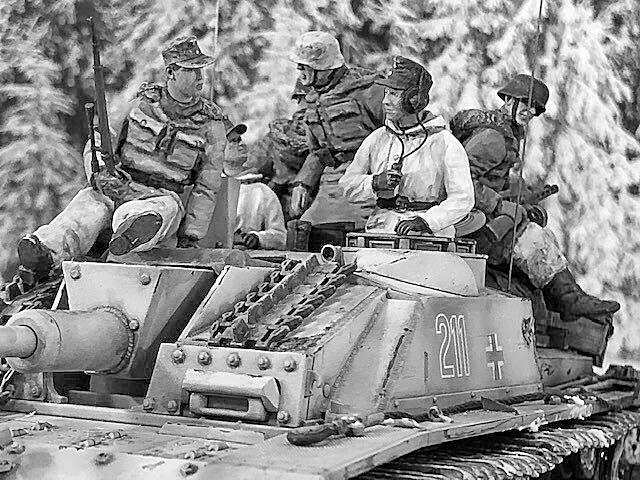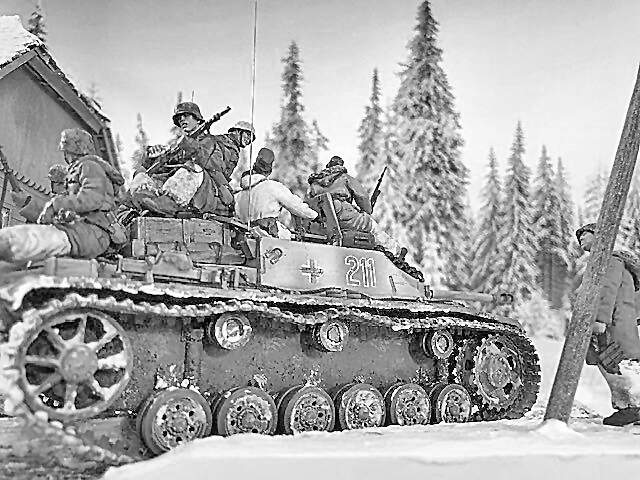 The Stug is loaded down, beneath the riders, with one of the ValueGear, sets. Always perfect additions… I'm not confident that my Strumgeschutz is up to PanzerMeister36's (YouTube) standards – he loves Stugs like I love Panthers - but I think it, and its white-washed finish came out decently.
The Ostketten are from Riich. They're plastic and therefore much less expensive than the metal variety. Don't believe them when they describe the things as "workable". I had to assemble them like "MagicTracks" with liquid cement and then form them around the roadwheels. (BTW: I prefer Testors liquid cement for that approach as it takes longer to fully dry, than say, Tamiya.)
The rider's (so called) Kharkov parkas reportedly came in a number of colors & shades, based on manufacturer and production date, so I took the liberty of substantially varying their looks, to add variety.
The building adds a splash of color, to what would otherwise be too much white. I wound up using the hair-spray technique on it. I first stained it with normal wood stain, then I coated it with a flat clear coat, hair spray, then the red, finally the chipping. Seemed to work…
All comments, welcome… What doesn't look right to you?
Ralph