Looks great Mike. Look forward to seeing the other projects.
A great little vignette Michael, everything about it is a testament to your skill, from building to painting…a class build,

.
G,
@ barnslayer. I added bigger exit wounds per your suggestion. Funny… It was difficult to resist air-blasting the wood shards away. Ultimately, I glued them in place with diluted White Glue. Thank's again for that very useful input.
@ Tank_1812. Thank's! Really glad you like it! Hope you were entertained with the puzzle. Thank's for playing. Here's yer award.
@ G-man69. Thank you for those kind words. I really appreciate the compliment.

Hi lads, been a bit busy lately, what with the 1/16 Marine and the wife nagging me to get stuff done around the house, I haven't had much to contribute here lately.
After seeing Rich's Italian Para with the Telo Mimetico camo, I've been dying to have another crack at it. So, what to do….? After going through various sites, trying to find something, I remembered this wee chap.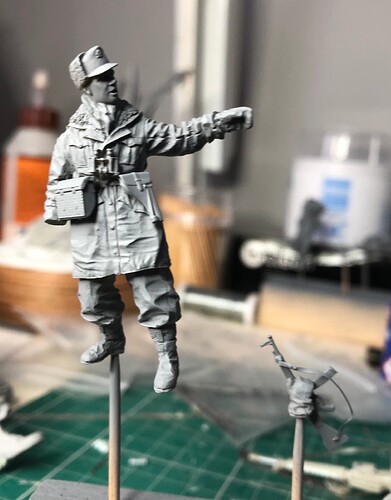 He's one that I converted, maybe 2-4 years ago and forgot about. Alpine figure with Hornet head. The parka was changed to the 2nd pattern, so is perfect for what I want to do.
As soon as I get the MMM Marine in primer, I can clear the bench and crack on with it. Hopefully, this time, I can make a better job of it


G.
Some terrific builds and painting going on here… Sadly mine isn't one of them lol… Anyone know the actual colour that the German webbing was in WW2 … particularly for this chap…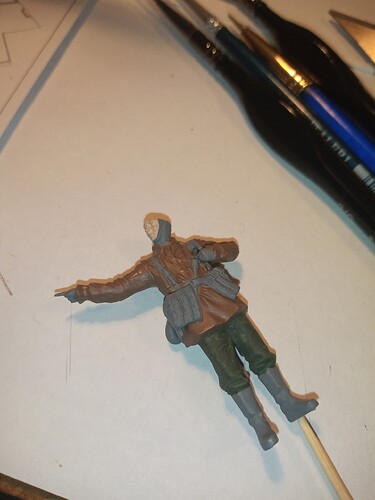 Hello! Following some wonderful work here for awhile. Thank you all for sharing these great ideas.
Thought I would join in on the fun at the invitation of [Tank_1812] "Have you thought about posting that figure in the figure campaign?"
This is a stick built 1/35 scale tree stand

with a scratch built Centerpoint 370 Sniper crossbow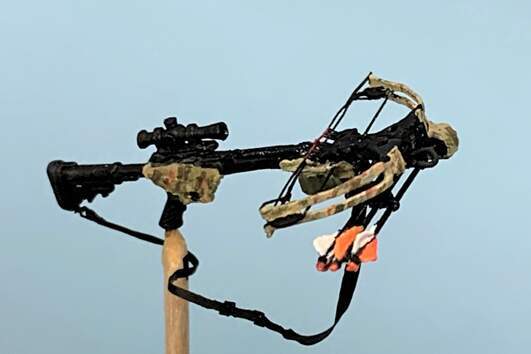 and a hunter created with a "Polite" head, spare box parts, Live Resin boots, foil, and Milliput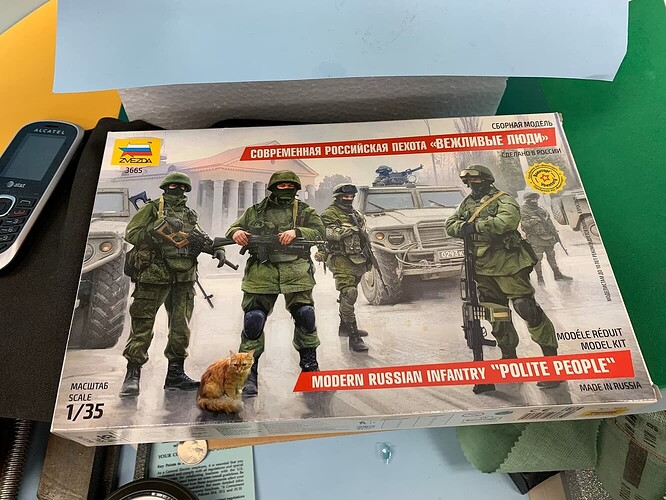 This figure work started (and continues) over on https://forums.kitmaker.net/t/let-my-heart-be-still-a-moment-and-this-mystery-explore
The real challenge is creation of a proper representation of a western Kentucky white tail deer starting with a highly modified 3D printed figure from Shapeways made by PRINTLE SHOP "Printle Thing Deer - 1/35"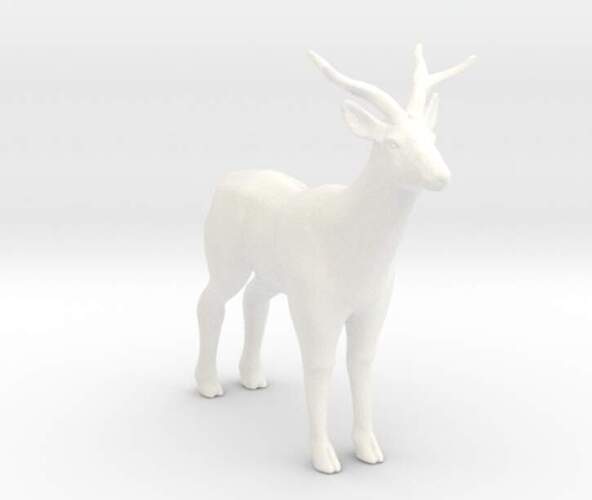 More to follow soon.
Wow! That crossbow looks fantastic!
Thank you sir! That was a lot of fun
John, it looks like late war canvas gear. This could be all colours from green to khaki. Quick google should sort you out, mate. Just look up images for "German webbing WW2".
G.
Great to have you aboard, Stuart. Looking forward to seeing seeing more of your stuff
.
G.
Damn, you saw through my lazy ploy of not searching lol
That is done excellent work there! Great subject too!
Excellent work as usual Lazarus and can't wait to see the German fig from Alpine!
Hi Stuart. I've been following along on your other build log. Very original concept and nice scratch-building. It's great to have you onboard here as well!
—mike
@ Lazarus, John and others. Keep 'em coming!
—mike
Thank you all for the kind welcome and words! Yes. Looking forward to seeing more of your figures ahead. As the man said "Keep 'em coming!"
Bob: Nice eyes!


Sally: My eyes are over here.