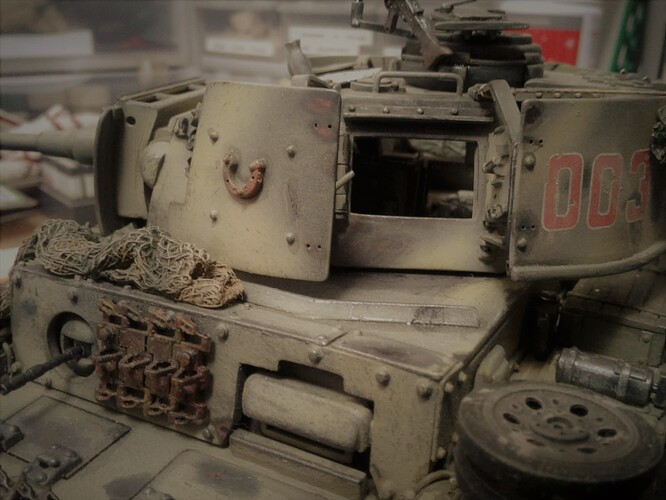 Uploading: 20190624_112652.jpg…
Some of you may have seen this in Las Vegas. It was "poo pooed" my IPMS
It looks fantastic if it is scratch built. I'd like to see more pictures. What do IPMS know? Presumably they didn't like it as it wasn't plastic! When I first started in the hobby, many, many years ago, the range of kit subjects available was much more limited, so if you wanted anything a bit out of the ordinary (e.g. almost anything British in 1/35th or 1/32nd) you had to build it yourself. In the loft I still have a cardboard Panzer IV I had started building from scratch. I had scaled it up from the Airfix Pz IV. I was flummoxed by the wheels and suspension, so it never got finished. Fortunately, Tamiya came to the rescue! Whitney is to be congratulated in keeping an old skill alive.
Firstly, Welcome Whitney @Whitney_Foreman to the crazy madness here in Kitmaker. hope to see more of your so far exceptional work.
Secondly, as Hohenstaufen @Hohenstaufen says, it really does look fantastic, so hats off to you for the build. Would also be great to see more images of it or other stuff you have done and the build process. Great work and thanks for showing it here
Lovely work, in-progress pics would be cool. And re IPMS: I'm used to getting poo-pooed myself: I find my models constantly beaten by well-assembled and painted OOB stuff with lots of AM stowage. Maybe one day IPMS will take into account the difficulty of the build itself.
Gentleman, FIRST and FOREMOST Many thanks for the compliments. Please be careful about what you wish for… I have over 600 pictures of this being created.
Here's a small selection

To answer some of the questions, I took this to IPMS nationals in Las Vegas. I was a LONGTIME 1/35th scale guy. I am also a Shep Paine disciple, and lucky enough to have known him. Then one day, like a lot of modelers, (way back in the late 80's and 90's), I got really annoyed with all the after-market, resin "this" and photo-etched "that", it made competing useless because it seemed no one could delineate between scratch and conversion. So I took up 1/25th scale. Since then I have "scratched" a German Lynx, (WWII), a corrected BergePanther, the PzIII, a 8,cm German mortar, and am working on both a Sdkfz 263 8 Rad, and a Krupp Protze with the LeIG 7.5cm gun
Very impressive…going back to real basic modelling 101… Proper scale engineering…
I totally forgot the Ferdinand

Sir, you hit the nail on the head, out of box with aftermarket… I call it the "shinny penny" syndrome
Nice work

Definitely see the Shep Paine inspiration! A++
FWIW- I like some nice after market bling slapped on the OOB kit, keeps me from wasting lots of valuable time reinventing the wheel!
Armor Buff,
I guess I am an "old Futty Dutti" I like reinventing the wheel, at least some of the time…
THANK YOU for the kind words. One of my regrets is I never got to show Shep this build…
@Whitney_Foreman can you elaborate on showing Shep Paine armor modeling works? I thought he'd moved on into mostly shadow boxes & fine figure painting.
Major respect for Shep and select others who are positively, The Giants of military modeling. Those that followed in their footsteps have had broad shoulders to stand on.
Sure,
Shep was a friend and mentor, sadly he passed before I could send him pictures