Absolutely stunning build, great attention to detail!
I've been playing with the photo edit feature on my iPad - I'm not sure the changes carried over - let's see…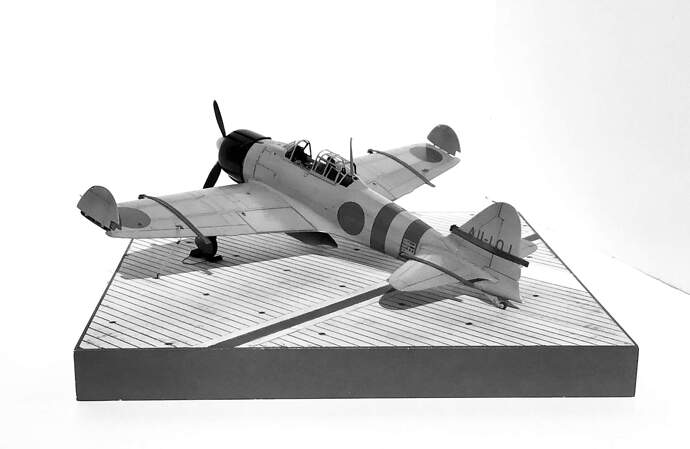 Yes it looks like they did !
Beautiful in color… beautiful in b&w as well!


—mike
Beautiful build!! I am beginning on two…an A6M2 and a M3 both in 1/32nd as my eyes are not what they use to be. Two questions…the interior color for the canopy and one that's baffled me. There is a small oblong opening just aft of the antennae on both canopies. What is that? Can't really come up with a plausible explanation.
Thanks for the interest and kind words.
The inside of the canopy framing was matte black along with all the fuselage decking inside the canopy as well as the headrest/ rollover structure.
Nick Millman's guide " Painting the early Zero" is an excellent work and well worth the modest cost .
It is available from his excellent " Aviation of Japan " site.
I believe the opening behind the mast is simply a vent to equalize static air pressure and to give the air funneled into the aft canopy section an escape path when flying with the canopy open .
I hope you will post pics of your builds - always interested in Japanese aircraft.
Cheers - RT
Superb. Inspirational. When I build my Zero soon, I won't even attempt all that you have, but I'm going to use your buid as a guide all the same.
The carrier deck, you scratch built it? Years ago Kinetic had a Japanese carrier base for 1:48. By the time I tried to get it, it was unavailable anymore. Big loss for me!
Nick Millman is my go-to for anything about Japanese colors. His research is extraordinary. He Is a really nice guy too
Excellent. I had a gut assumption that black would be correct but, after running into the colors were decided by the two different builders for their interiors and wheel wells thought I would ask. The opening was a bit different. I felt the relief of air inflow could be one reason but when I considered other A/C with the somewhat same configuration I just couldn't put it away without knowing for sure. This will be my first attempt with Japanese A/C. At 72 I have done almost everything else. To be honest the last Japanese build was, I believe an old Aurora kit where the silhouette of the pilot was molded on both the left and right fuselage. And in the middle of the last century. I do some 1/48th but not to your expertise. My last All Out build with 1/48th was a D model B-24, marked and built as a Ploesti bomber, the Death Dealer. Went through and scratch built in the interior and rebuilt the upper and rear turrets to period configuration. And the nose and bomb sight area supports built in and the Norden replaced with the Doolittle version. This was also helped along with a major amount of P/E and resin engines. Now a calm attempt at first the weathering of the Zero with a slight build to the cockpit. Then on to a better build of the second. Thanks for the info and keep those great builds coming!!
@JPTRR - Hi Fred - Thanks for the compliments .
I did indeed scratch build the carrier deck - details are covered in this thread . IIRC I used 3/16" scribed basswood sheet for the deck . If needed I can measure it - LMK . Also , I believe Eduard offered a Japanese carrier deck in 1/48 which included an elevator section - you may be able to find one on e bay but scratch building is more fun - Tom's Modelworks has the tie downs in photo etch.
Agreed on Nick Millman - a very dedicated scholar on this subject and indeed a nice guy - very generous with his hard earned knowledge.
@combatengineer82 - Hi Swede - Thanks again for the interest. Regarding wheel wells and gear door interior colors . If you are doing a Mitsubishi built aircraft then the wells and gear door interior surfaces should be The same Ash Grey as the exterior. This means cockpit interior should be Mitsubishi Green . Nakajima built aircraft cockpit should be Nakajima Green ( obviously) and wheel wells/ gear door interior surfaces are Aotake.
I can sympathize with the eyesight fading- I am 68 so not too far behind you .
I hope you post your builds .
Cheers - RT
Richard, great build and an inspiration. I'll be looking at this build for my own although it will be a smaller 1/72 Tamiya A6M3.