10 Things You Might Not Know About Union Pacific's Big Boy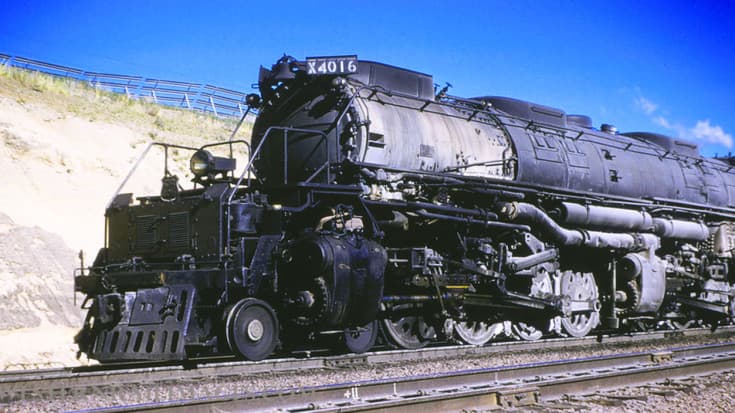 1. The entire Big Boy Fleet #4000-4024 would have cost over 100 million dollars to build today!
UP ordered 20 class 4000 engines in 1941 and then 5 more in 1944 at $265,174 per engine. Adjusted for inflation this totaled a whopping $107,620,056.25, each engine individually running $4,304,802.25!
2. No one knows for certain where the Big Boy got its name!
While no one knows for certain, it is said that an ALCO employee had stenciled the name onto the first 4000 class engine constructed. Wahsatch had initially been its planned name but Big Boy stuck around!
3. Big Boy #4024 was a representative for Union Pacific!
During 1948 the first Chicago Railroad Fair was held, in order to commemorate a staggering 100 years of rail history west of Chicago, Illinois. Union Pacific chose #4024 to represent the company!
4. UP's Big Boy made an appearance in a Japanese Anime Series!
The Galaxy Railways, a 26-episode anime television series tells the story of futuristic galactic society that uses flying trains to travel through the far reaches of space. One of the most important trains in the series is known as 'Big One' based on none other than the illustrious 4-8-8-4 UP Big Boy!
5. The Big Boy and its tender is only 100 feet shorter than a Boeing 747!
It takes a sedan, a school bus, and a diesel engine to match the length of the Big Boy and its tender. With a height of 16 feet 4 inches, and a length of 132 feet, it falls short of the 232 foot Boeing 747 by 100 feet!
6. Big Boy's were cleared for more than just freight in the midwest!
While Big Boy's were intended for pulling freight, they were sometimes used for passenger service, and had even been cleared for service between Ogden, Utah and Los Angeles, California!
7. Not every Big Boy ran on coal!
In 1946, #4005 was converted to burn oil as a test project due to a coal shortage. Testing lasted two years, and was deemed unviable, as the firebox design did not allow the oil to produce sufficient heat!
8. There has only been one wreck in Big Boy History!
In 1953 Big Boy #4005 was the first and only Big Boy to wreck, having derailed after jumping the switch track at 50 mph!
9. Every single class one Big Boy had traveled over 1 million miles!
The class one big boys, #4000-4019, all traveled over one million miles #4016 coming in last place with 1,016,124 miles, and #4006 in the lead with a total mileage of 1,064,625!
10. The last Big Boy to drift down Sherman Hill was #4005!
After the retirement of the Big Boy's, #4005 was donated to the Forney Museum of Transportation in 1970, and was the last Class 4000 to take the Sherman Hill route en route to her new home!