Delbert,
Excellent job on the interior. Can't wait to see the body painted in that custom color.
joel
Got a little bit more done… Mostly was a lot of waiting for paint to dry really good…
Working on the upper color of the two tone paint job. The first coat of paint went on a little rough, so I had to sand it down and redo it… looks pretty good now…
The color is suppose to be Corinthian Cream… I mixed my own version using about 50% Testor's Cream, and 50% Gloss White with just a few drops of yellow.
The historical photos of this car show it mostly in bright sunlight, and the roof in them is hard to see and looks to be an off white/ ivory kind of color, So I think this will look pretty good with the darker blue body color.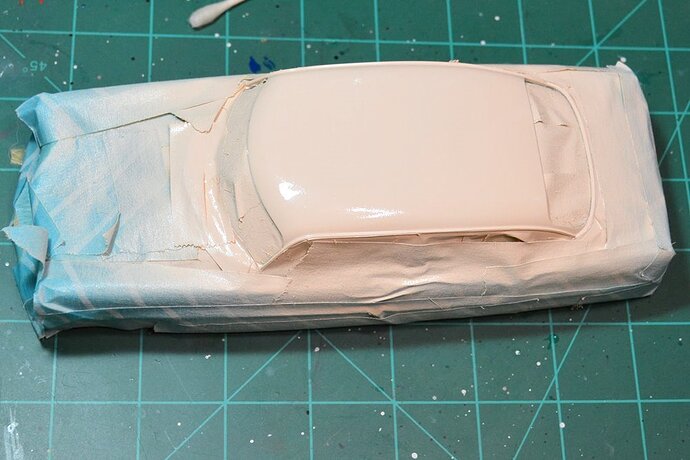 That's all for now
Delby
Delbert,
From the pics the paint looks smooth and shiny, as enamels should. Looking forward to seeing Hornet without the masking tape on.
joel
On a roll now… got the blue color done on the Hornet… now just have to get ready and mask off all that 1950's Chrome Trim… may take me a bit… the rest of the car is waiting for the body painting to be done…
Well here is the latest photo…
later everyone… keep watching… so far so good is all I have to say.
Delbert
Hey everyone. its been a while… I know… just been working on the Hudson this last week doing what is most daunting for me… masking off and painting 1950's era chrome… takes a lot of time and multiple masking steps to get this done… I am now at what I'll call a stopping point for this… it looks pretty good and I don't want to mess up what I have got, by trying to get everything perfect.
Here is a photo of my first masking runs.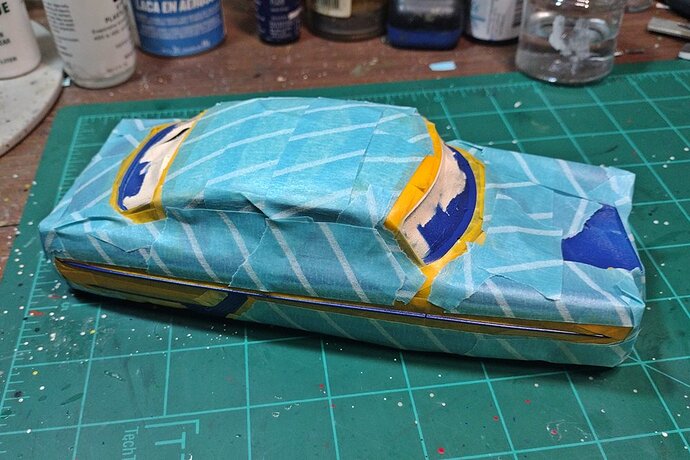 And here is a photo after I am calling the chrome done.
This is the best I've ever done on painting chrome trim on a car… so I am happy.
Delby
The trim looks sharp from here
well done
Delby,
The Chrome came out looking spectactular. Well done my friend, very well done.
joel
Looking nice. There sure was a lot of chrome on those 50's cars.
Jim
Me again… not so long on the update this time… Spent the first day of the new year working on my models… Today I did the main decaling… got a couple more to go but they are in the engine compartment and a couple of badge decals, nothing major.
After these get good and dry I'll spray a coat of gloss, then start adding the chrome…, lots of chrome… LOL… Did the rear side window decals and decided not to use the "shoe polish" decals for the windshield… they caused a little blurring. And have started gluing the chassis and passenger compartment together and doing the little bits there… Hope to show more soon. this project is moving along again.
Delby
Delby,
The decals really came out looking great. You're making great progress towards crossing the finish line.
joel
another photo got the windows in now and the chassis parts glued together, just waiting for some glue to dry and will start the final assembly process in a day or so, I hope…
Delby
Ok here it is… just some quick photos of the finished Hudson Hornet on the workbench… I'll do some better ones later. I think this is one of the best model cars that I have done to date…
Delbert
Debert,
The Hornet came out really looking outstanding for sure. Looking forward to your final set of pics.
joel
Ok I got out the professional photo studio and took some final photos for my website… Here are a few of them…
Link to my Hudson Hornet Model gallery.
here is a photo of the actual car
Later everyone.
Delbert
Car? What car? … Oh, I see it now.

Kidding aside. Very nice work!
—mike
Delbert,
Congrats on closing the finish line. Love the Photo spread of your best build yet.
joel
Great looking Hornet. Really well done.
Jim